The Theory of Everything
Tuesday January 27th, 2015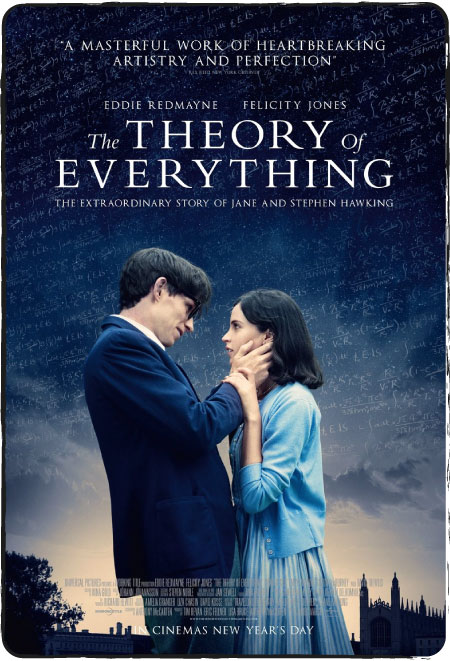 Have you ever heard of Stephen William Hawking?
You probably have, right?
The most important, well-known and respected living scientist in the world. If not the most, definitely one of the top 3!
Not that I have some deep knowledge on the subject or that I am familiar with all the other important names in the field. But that's my feeling after watching his biographical film.
I already knew the guy was a big deal. Very big. Genius. But after the movie… Man… He's not big, he's HUGE! Like, REALLY huge.
He was born in 1942, in Oxford. When he was 21, in University, he was diagnosed with amyotrophic lateral sclerosis, a degenerative disease of the motor neuron system. The doctor gave him two years to live.
Stephen, who had just begun his life, full of ambition and in love with his first girlfriend, had to manage the news and move on. I won't give spoilers, I promise!
I mean, the guy is still alive, and we obviously know that beforehand, but I swear it doesn't make us less involved with the story, not even for a minute.
Eddie Redmayne (whom I already loved so much!) was responsible for the leading role. No doubts the part of is life! Exquisite. Fucking awesome (sorry about the language, but it doesn't even come close to describing it!) Genius. He already won the Golden Globes and the SAG awards, and, as far as I'm concerned, the Oscars are his as well.
I haven't seen all the movies whose leads were nominated for Best Actor, but still, I think it's impossible for someone to touch me more than this guy. The movie is all about him. The transformation he goes through while the disease progresses is unbelievably real, honest, true. The stare. The body. The breath. So strong and yet so subtle.
Not convinced yet? Well, Hawking published a text about the movie to his Facebook page, saying: "At times, I thought it was me." How does that sound to you guys?
Felicity Jones, who plays his girlfriend/wife Jane Wide is also fantastic!
The film is gorgeous! Poetic. Very well-told story.
I'm a biography lover, and I can say I was absolutely delighted! And mesmerized by the performance of the actor most likely to win the 2015 Oscars.
Rush to watch it!