Birdman
Wednesday February 11th, 2015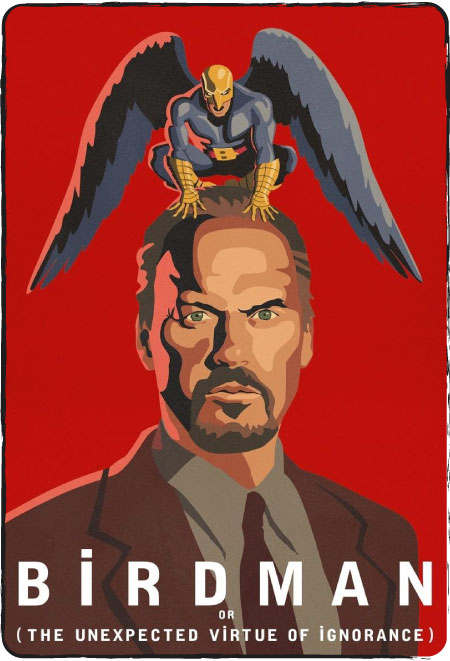 After almost three days without being able to post here, we're back on our regular schedule!
I'm keeping up with my Oscars Marathon! It's good to have so many great movies to watch during my post-surgery days at home!
I saw a few more… Not to mention Game Of Thrones, which, as I told on instagram, I got SO addicted. Amazing! I'm almost done with the third season, but let me finish the fourth before I get to talk about it!
Back to my movies…
I saw a bunch of new stuff! But I'll write about them one at a time so those who are not much into movie reviews don't get sick of it and tell me off once again!
Let's move on to the amazing Birdman which I saw last week? Ready?
Beautiful, beautiful, a thousand times beautiful!
I went to see it with my whole family, and I was the only one who was actually touched by the movie. Everyone enjoyed it, o.k. But I was moved. I Loved it.
This movie for me is almost like a love letter from the director for all the actors out there. Film and theater ones. For those who are pursuing a significant career, scenic deepness, survival in a rough environment. Maybe that's why I related to it much more than the rest of my family. I share a lot of the anguishes and uneasiness shown. So it made a lot of sense to me.
It's the story of an actor who became very famous in the 90s playing a superhero called Birdman, and, after passing on the fourth movie of the series, wasn't able to pick up his career. So, years later, he decides to write, direct and star the adaptation of a well-known text for Broadway. Like all-or-nothing.
The lead is played by Michael Keaton, who's exquisite! I don't know if they thought about it when they cast him, but the irony of the actor's story being so similar to his character's makes his work even stronger, more intense. After playing Batman a few times, Keaton's career also slowed down a bit, do you remember it? I guess this film came to him as the play came to his character. Like a turning point, really.
The movie was filmed to look like one continuous shot. Of course that you'll find some cuts if you look for it. But the takes are super long and VERY well crafted. Makes us feel like we're inside it all. Very nice!
And all the actors look great! It was a pretty hard task, and the result was flawless! Astonishing!
I really like Emma Stone and Edward Norton. But I don't think they're Oscars material. Maybe the director. But Keaton won the Golden Globes for best actor – musical or comedy. Comedy? No… It doesn't look like a comedy to me. As for the Oscars, he is running for Best Actor, competing with Eddie Redmayne in The Theory of Everything. A thousand times Eddie!
I also enjoy the way they mock the relationship between talent and success. The way some guy becomes a celebrity just by posting a video on YouTube. The relationship between actors and art critics. The superhero blockbuster magic.
The end got me a little "wtf", kind of looking for some extra explanations. But they leave wrapping up the story to us. Which is also good!
Great movie! Really enjoyed it!
If you haven't seen it yet, rush to the movies!