The Rum Diary
Saturday May 12th, 2012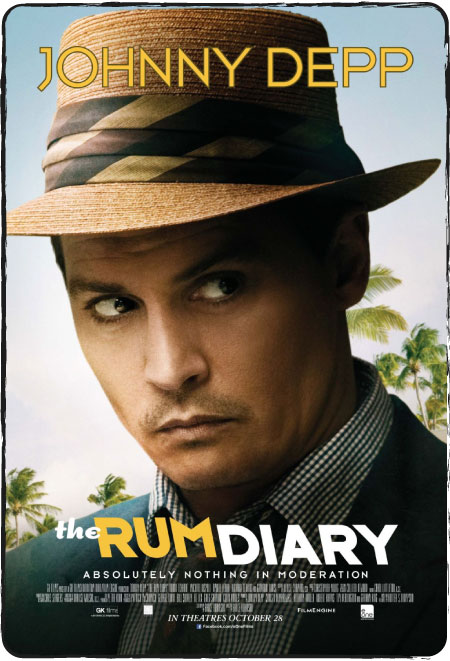 The Rum Diary is the kind of film that I enjoy from the moment I buy the tickets. I got so psyched when it came out. First, because it's starred by Johnny Depp. I'm crazy about this guy, huge fan. Second, because he's not "just" an actor in the movie… Nope. He produced it too. Which means he got really passionate about it. And if he felt so, there's a 99,9% chance I feel it too. I felt the same way when I went to see Santoro's Heleno. If those guys bought the project with such passion, it's probably because it's incredible, right? That's what I always think. And it makes my expectations three times higher.
It's the story of Paul Kemp, the alter ego of Hunter S. Thompson, whom Depp has always been a fan of. I read they even lived together. I have to admit I didn't know who he was… I found out after I saw the movie that he was a pretty famous journalist, with zero boundaries. In every sense. He drank too much, had too much drugs and killed himself when he was 67, in 2005.
Through the film, we get to know a bit of the beginning of his career. A young Hunter Thompson. Before he dove deep into drugs, when he was still trying to be the journalist he aimed to.
The lady in the movie, Chenault (Amber Heard), is so, so, so gorgeous! Breathtaking… Astonishing!
It's a pretty well-written film, with great dialogues. I don't know if I was too tired, though, because I got a bit sleepy. We went for the 11 pm session. The story took a little long to take off. Fê Vasconcellos, who went with me, disliked the most part! I bought some of it. I was delighted about seeing Johnny Depp play a character he loves… Paying tribute to a friend… I liked it!
How about you? Saw it? Tell me about it!