Reaching For The Moon
Monday September 2nd, 2013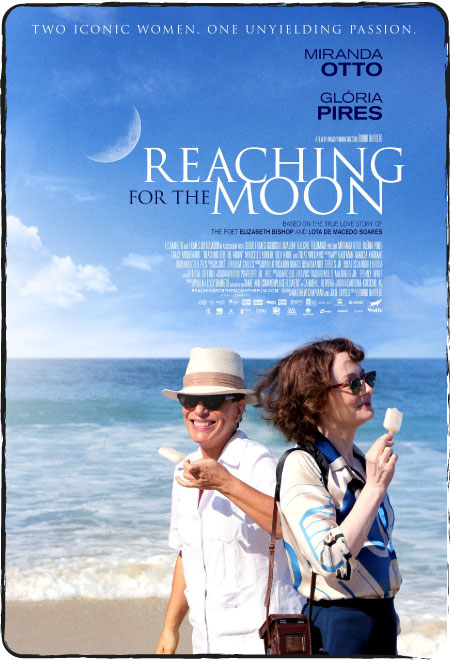 I've said (a few times!) before how much I love to watch biographies and true stories. I love to listen to the history of people. Learn more about them. Know that all am seeing is real. Legitimate. That it actually happened. I also love fiction, sure, but I do have a special appreciation for the "based in a true story" thing. And Reaching for the Moon was another one of this kind on my list!
It's about the relationship between Brazilian architect Lota de Macedo Soares (Glória Pires) and North-American poet Elizabeth Bishop (Miranda Otto). From beginning to end. And, along with that, the development of their careers. From luxury to decline. For both of them. Floating through life's ups and downs.
Gay love is not a specific matter in the movie. There are no scandals or taboos attached to it. It's beautifully portrayed by Miranda and Glória. With high sensitivity and no frills. The exact measure. The way it should be.
When I was leaving the movies, I heard a couple talking and the husband said to his wife "she's so good that she'll be forever a dike to me". It was a compliment. To Gloria Pires' fantastic performance (in Portuguese and English!). One that makes us feel the desire her character had for that other woman. A sensitive yet strong lesbian. Intense. Exquisite performance. From both of them, of course. But I had to praise Glória… She nailed it..
I also have to mention the cinematography. A beautiful portrait of Rio de Janeiro in the 50s and 60s. So proud to see our vintage Rio. So beautiful. So poetic.
Now what stroke me the most about the film was to see their relationship from the outside. The whole path. The way it begins and the way it ends. Intriguing. Every dog has its day. The side that seems weaker is not necessarily the one that falls apart in the end. Life's full of surprises… It's surprising, frightening. You just have to dance to the tune of life… And not drop the ball.
I loved it. It was beautiful. Touching
Give it up for our national cinema!