Wild
Monday March 2nd, 2015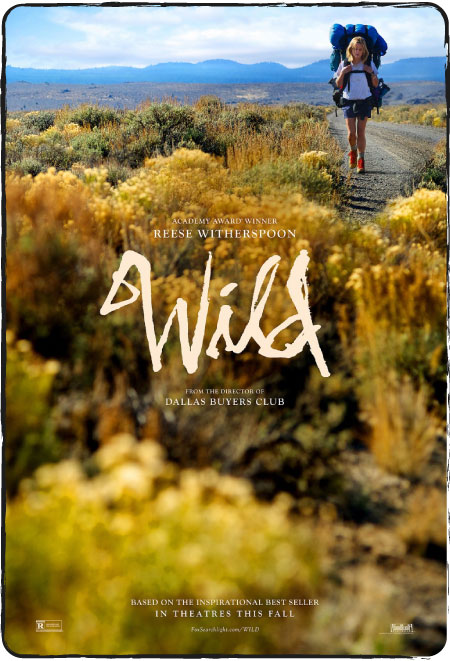 The Oscars are gone but I'm keeping up with my marathon! Alive and kicking.
I won't rest until I don't cross out my entire list of nominees.
This weekend was for Wild. The movie that was supposed to be the turning point of the cute Reese Witherspoon's, aka Legally Blonde, carreer. Does anyone else out there also look at an actress and can only see the character? Because that's all I can think of… Like with Alicia Silverstone and Clueless? Impossible to detach the actress from the movie!
And this time it was Reese's…
I have to admit I was a bit surprised when her nomination was out this year. But after five minutes working on my prejudice, I loved it. Of course! So stupid of me… I hadn't even seen the movie yet. And again I thought Jennifer Aniston should have made it to the list. That's another actress I'd love to see endorsed by the Academy after 10 years of Friends. I'm dying to see her movie, Cake. I heard she nailed it!
Back to Wild now!
They were nominated to Best Actress in a Leading Role and in a Supporting Role. Didn't get any of the awards. But both actresses did a pretty good job.
It's an adaptation of the autobiographical book by Cheryl Strayed (played by Reese) who, after losing her mother really young, loses herself and her husband amidst her self-destruction crisis. The outcome? She decides go all by herself on a 1,800 kilometer-hike. Super easy (not). Good enough for you guys?
Hike to dive into oneself. To have enough time to go over past choices, again and again. As well as those yet to come. To grow. Accept oneself. Forgive oneself. Forgive the other. Plowing the field before sowing all over again.
And it's not just any hike. The primary idea is to go from the Mexican border all the way up to Canada through the Pacific Crest Trail, one of the hardest ones in the U.S., which one can go through only by foot or on a horse.
Heat, cold, snow, no water…We follow her the entire time. And I read somewhere that the movie won't show even half of what the author's been through. Gosh… I can imagine. When you see the movie, you definitely can imagine!
Director Jean-Marc Vallée juxtaposes the hard times the character goes through in the trail with those she faced in the past. It's all really tied up. To make it very clear that, at a certain moment, she is processing a certain situation.
I didn't love the film. Wasn't touched. Also didn't love Reese's performance or find her nomination really fair. There are some pretty good scenes, yeah. But other not so good ones. In which I still see Legally Blonde Reese, you know? Nothing serious. But not breathtaking either. And I was really hoping for it since I'm do like the cut of her jib!
Anyway, I just thought it was an ok formula. Nothing special. Just by the book.
Has anyone seen it?
Loved it?
Please tell me!
And I'll be right back with the next one!