Mourning For Grey!
Wednesday October 17th, 2012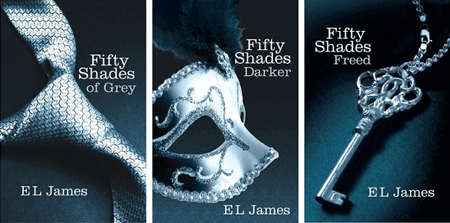 I've finished Fifty Shades Freed, the last book of the trilogy. You know that all-good-things-come-to-an-end deal? Yeah… I miss it already!
I loved the first one. There was all that new erotic element, a universe I knew very little about, as well as the intimacy and attachment we develop towards the characters. I devoured it, and wrote about it here, for those who haven't read it yet.
After the second one (also wrote about it here!) I was a bit worn out. I found the sex scenes too long, and, once we know what Grey's deal is, some paragraphs sound a bit unnecessary. I wanted to see more story! I wasn't even feeling much like writing about it, I don't know if you recall that… I kept putting it off…
Now the third: back to loving it. I might even say it's my favorite… Of course, there would be nothing to it without the first and the second, since at this point we're completely immersed in the story, wrapped up with the characters for a while, but this was definitely the one I most related to. All story. You become completely absorbed. Rooting. Pulsating. I didn't get bored at any moment. A fair amount of erotic scenes, pretty exciting criminal case going on… And what about Grey (SPOILER ALERT!!)? Oh, Grey… He gives in to love… He learns how to love… In such a sweet manner… So deep into it.
Another thing I really enjoyed about this book was the way they overcome their differences. When I wrote about the second book, I called off gave some advice to the boys, and now it's time for the girls: did you see how Anastasia reacts when her husband looks for his ex's shoulder to cry? And not any ex, right? Can you picture yourselves in this situation? She nailed it… Just one example among the many times in which the couple teams up to sort things out. Respecting each other. The way it should be but most of the times it isn't… Nowadays people give it all up at the first sign of hardship… Anyway…
I'm a hopeless romantic and I sighed over the third book. I really miss it all now… Grey, Ana, knowing that I had them both waiting for me at home… And, of course, I'd kill for a Grey to call my own! Who knows?
How about you? Did you enjoy it?
I'm expecting your comments, since I know the posts about those books always make for some good conversation, so… Dig in!