Matisse at the Moma
Wednesday October 22nd, 2014
Art overdose around here, right? Yeah, I know…
And I also know that this is not the most popular post subject among you guys. On the contrary… That's the kind of post that receives fewer likes and comments. I don't know if it's because you don't have much to say or are just not interested. Only you can tell me…
Anyway, I just can't go without talking about it!
I'm not an art expert! I'm far from that and I've said it several times. I'm just like most of you. My relationship with art is limited to looking and finding it beautiful or not. Looking carefully. With love. Reading a bit about the artist I'm about to see. Going briefly through his story. Grabbing a friend who's more of a connoisseur to go with me, or just an audio guide, really, and dive in. Seeing if it speaks to me. If it touches me. If it makes me flow.
I love the environment. Museums are for curious people. Interested people. The exact kind I want to be around. People who might not know a thing about the subject, but takes the invitation and goes for it. That works for everything in life. That's how my days go… I wake up and think: what can I do for myself today, you get what I'm saying?
Of course, living in NY really helps… But I guess that, when you're interested, the place you're at doesn't matter much. It's really about ourselves and what's inside us. So I'll never be able to make someone who hates museums feel like trying it. I don't even have that ambition. I really don't! But I'll keep sharing with you guys the exhibitions I visit (only the best ones, I promise!) so that even those who are not very much into it can know what's going on in the art world, you know? A tiny bit (to be really humble) of knowledge. Culture. Sharing what I just received. I don't know… Trying somehow to bring this world closer to those who don't know it and are curious about it, but don't have the opportunity to get to it. Or sharing it with those who do know it but won't be in nyc while the exhibition is on. Basically just sharing my feelings and thoughts (and those things only!) without any special authority on the subject. Really just to share. After all, that's what I'm here for, right?
That said, let's move on to the exhibit I went to see yesterday at the MoMA.
I don't know if I've said that before, I probably have, but MoMA is my favorite museum in nyc. I just LOVE their permanent collection: Dalís, Mondrians, Monets, Fridas, Van Goghs, Warhols…
LOVE it! So I went to see the exhibit of Brazilian artist Lygia Clark last month and spent an entire Sunday there. Seeing everything again and again, in details. So many strong pieces! Must go. Mandatory!
And then… I went back there yesterday! Out with Lygia, in with Matisse. That's what I'm here to talk about.
The exhibition"Henri Matisse: The Cut-Outs" was a hit even before getting to nyc, due to its huge success at the Tate Modern, in London. Endless lines. A real smasher!
Same here in nyc. You have to arrive early, get your timed entry tickets and still wait for a little while in line before you get in. That's how crowded it gets!
But it was worth every minute and dollar spent!
Henri-Émile-Benoît Matisse (1869 — 1954) was a French artist who dedicated himself almost exclusively to collages.
According to a very nice guide who was leading a group of Chinese people (I'm always paying attention to other people's guides, since the museum audio guide doesn't go through all the pieces) said he was, along with Picasso and Duchamp, one of the three most important artists of the 20th century.
He used to paint on paper sheets, mostly birds, and then cut it, assembling different organic forms into rich, simple combinations. That's the phase the exhibition focuses on. His last working years. And there are over 100 pieces from that time, the most important of his work. The biggest reunion of those pieces!
I didn't know much about it… And I was astonished!
Listening to the introduction and explanation of each piece at a time certainly helps, right? Makes you understand and pay attention to things you wouldn't notice were you wandering aimlessly around the exhibition. That's how I fell in love with Matisse, little by little. Painting by painting. There's a video of him in one of the rooms, which I spent some minutes gazing at. It shows him working. Cutting the paper molds he used to hang on his studio walls. With his sharp scissors. Playing a ballet with his hands.
This was the first time these paintings from the Blue Nude series were hung together in the same room. All on the same wall. They are variations on the female body, cut by Matisse's own hands! I was just dreaming of sending them all to my place…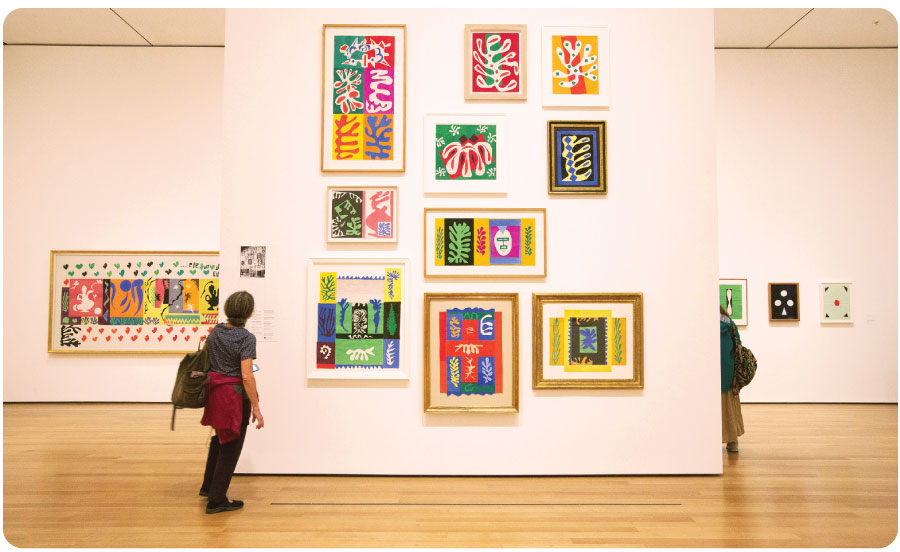 All the pictures were taken from the MoMa website and other websites since it's strictly forbidden to photograph the paintings!
Another artist for my list of favorites!
Thank you, MoMA! I owe you one more!