Memories of storm king
Monday October 20th, 2014
I got to New York this year with a list of must-dos! Stuff I hadn't yet done and I just couldn't go without! Sometimes I think "moving" somewhere makes us a bit accommodated. We feel like we have so much time to do stuff that we always end up leaving it for tomorrow. Has this ever happened to you guys?

I came to stay for a few months. Carrying my list with me. But since I had "a few months" to do it all, why rush, right? "I have the time… I can do it another time!" And suddenly I realized I had only another month ahead of me. Five months had gone by in the blink of an eye. How's that?Who let time go by so fast? We have to pick up our pace… And that's what I'm doing!
Speaking of culture, besides the countless mandatory museums in Manhattan and Brooklyn, I got here dying to see Dia:Beacon and Storm King. I started at Beacon and went nuts. They have an outdoor and an indoor area. Contemporary art. So, so amazing. I wrote about it here! And yesterday was for the magical Storm King.


It's an hour and a half away from Manhattan. You can go by car (best option if you have more people with you! You get there faster, can come and go as you please and if the car is full, it's even cheaper!), by bus (that's what I did! 46 dollars both ways + park tickets! Super easy, it goes into the park. The only thing is that you have to go at 10am sharp and leave at 4:45 pm) or train (I didn't try it so I can't tell! But I heard the stop is a little far from the park, so you have to take a cab) Click here so you can see all those options in detail!  
So you've decided to head there, called your friends (actually, it makes for a pretty romantic day! Super, super romantic! Perfect for a date!), checked the weather?Yeah, because Storm King is 100% outdoors, so, if it rains, you're screwed! Well, then go for it! Super comfortable shoes and clothes to walk, walk, walk and throw yourself on the lawn without restrictions!

I went with a group of friends! I really think this is a the-more-the-merrier kind of activity! Pack some snacks and drinks and go for a delicious picnic on their gardens. Another advantage of going by car – you can pack all that stuff and leave in the car for later!
There aren't many spots to eat but you'll find some pretty comfortable tables to lay some wine and cheese. Delightful! Their café is pretty modest and also outdoors! A good pick is their organic, locally produced cola beverage.


There are over 100 gigantic installations (the one on the picture is called Suspended, by israeli artist Menashe Kadishman) from renowned artists on their permanent collection. All over the park, which is equally gigantic!
Total art-and-nature connection.
One of the most beautiful things I've ever seen…


Another interesting fact pointed out by a friend who's been to the park four times is that every season makes for a different park. The colors of the trees and leaves change a lot. Not to mention the climate. Very hot. Very cold. Windy. Dry. Humid. Anyway… The experience is always different. The sensations too. Every time of the year has its beauty, but if I had to pick one, it should be fall. Most beautiful season! Lucky me!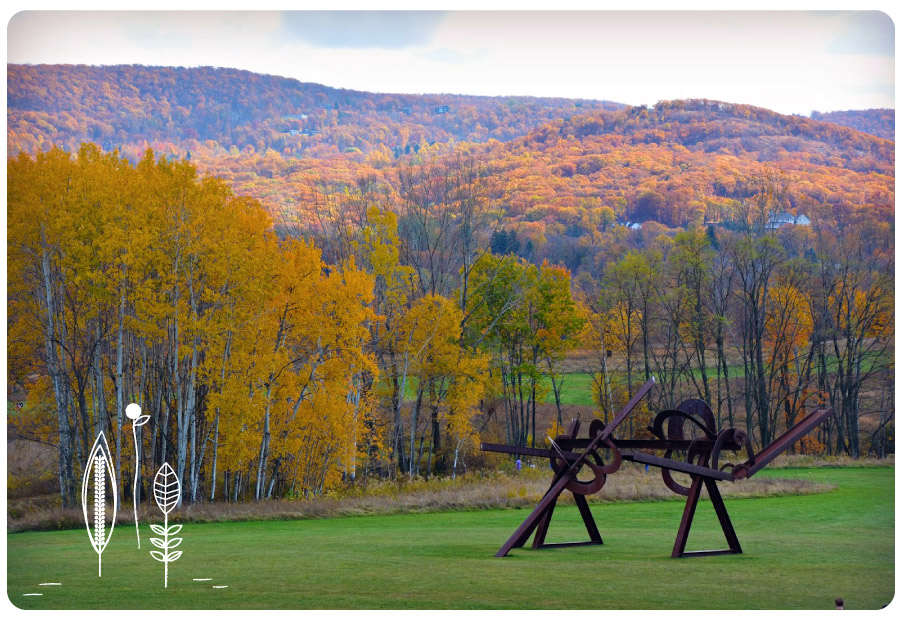 The trees are installations on their own right. They exceeded all my expectations.
They have a little train that goes around the whole park. I recommend you take it to take a look around. Or, if you're in for some exercise, a bike (10 dollars for an hour! A bit pricey, right?). And then you walk…
We did it all by foot. No problem… But everyone enjoyed walking. It's important that everyone is into it.
Some of the amazing pieces we saw around:

Three Legged Buddha (2007) by Chinese artist Zhang Huan.


Schunnemunk Fork (1990-1991) by American artist Richard Serra And
Mirror Fence (2003) by american artist Alison Shotz.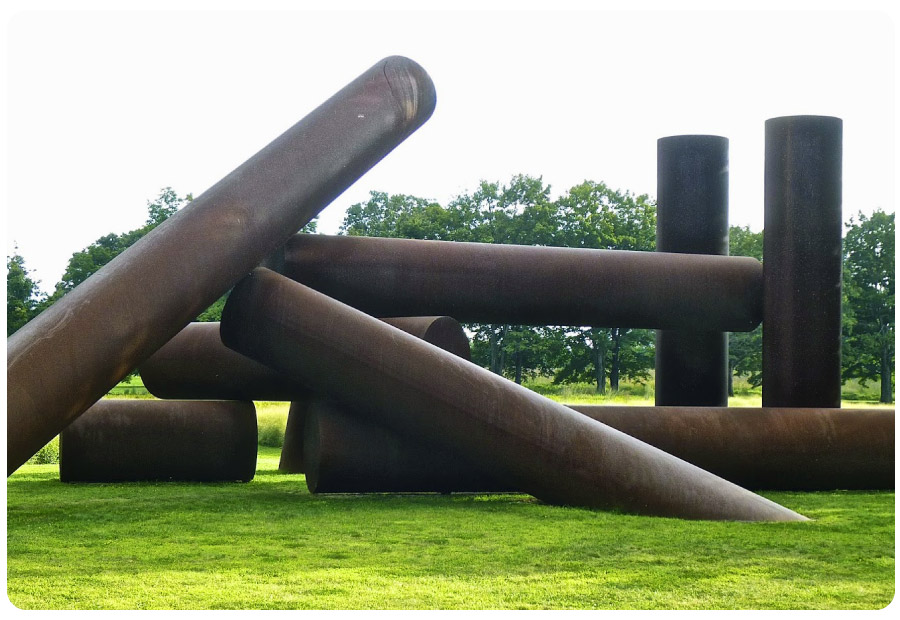 Adonai (1970) by Russian-American artist Alexander Liberman.


This is one of my favorites. Maybe my favorite. It's called Storm King Wavefield (2007-2008) by american artist Maya Lin.

Too bad the picture can't convey the magnitude of the piece. It's seven layers of grass waves. You have to walk up, down, lay on it… It's amazing! So beautiful!

Is a real synesthetic experience. So much beauty envolve…
Mandatory if you're in nyc!
And I say it again: one of the most beautiful things I've ever seen..

Thank you, God!