The Grand Budapest Hotel
Tuesday January 20th, 2015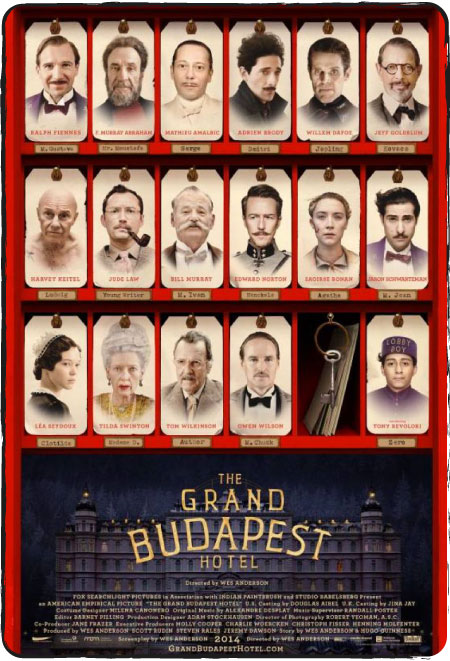 The list of Oscar 2015 nominees is out now and I'm already rushing like crazy to watch them all before the ceremony.
I think I have never been so behind with Oscar movies. I only watched one of the nominees for best picture, Boyhood, which I loved more than brigadeiro and wrote about here.
Then, after the list was out, I went after the titles I missed. And I started by the one with the most nominations this year: Grand Hotel Budapest, which I watched this weekend.
They were nominated for: best picture, director, original screenplay, film editing, production design (I didn't really get what that's about! Must google it!), costume design, hair and makeup, and score. That's a lot, right?
It's the love story (friends, fraternal love!) between the well-known manager of Grand Hotel Budapest and a young employee.
The manager is played by the incredible Ralph Fiennes. A crazy perfectionist, who knows about every detail of the hotel. The hotel and its guests. The female guests, to be more specific. He fulfills all their needs, including the most intimate ones, and earns a bunch of admirers.
Sophisticated. Narcissist. Speaks a lot. And fast. He shares most of the scenes with the young employee, played by the also amazing Tony Revolori, who barely speaks. Not with words, but he communicates a lot through his eyes and gestures. And that makes for an awesome contrast between both characters. Perfect chemistry!
The manager inherits (from one of his frequent guests) a pretty valuable painting, but her family won't accept it or give it to him, and so the story begins. Chasing, murder, mystery, set-ups, investigation. The two guys are up for all that!
It's not exactly my kind of movie. Not my thing. Didn't leave the movies feeling "wow", you know? But it would be unfair not to praise it.
(O.k., who am I to talk about the film with the most Oscar nominations, right? Right! But that's my personal opinion, so… Sorry, guys! I'll go on, alright?)
Didn't love it… Even though I recognize it's an amazing work. Such gorgeous cinematography. An artificial universe (which is completely intentional! That's the great thing about it! If it weren't like that we wouldn't flow with it!) which seems to be director Wes Anderson's trademark, and I love it. It's the first of his movies I saw. Found it really sophisticated. Well-crafted. Not to mention the actors, who are fantastic!
All things considered though, the agility with which he tells the story, the divisions, the layers in which the film is constructed, I don't know… I don't love it. Even with all the praise up here.
Go figure, right? Kind of hard to explain… Very personal.
Have you seen it? What did you think?
Any recommendations for my #OscarsMarathon?
Next on my list is The Theory of Everything!