Pina Bausch with Kontakthof
Monday November 3rd, 2014
Have you ever heard of Pina Bausch? German dancer, choreographer, dance educator and company director? This post is dedicated to her!
I don't know if I've ever talked about this here, but I'm a true dance lover. Really. I danced (classic and modern) ballet my entire life and since I was a little kid I'd go with my mom (who's also passionate about it!) to watch the big (or the not that big) companies' presentations in São Paulo.
I say Pina is dance-theater. Sometimes, more theater than dance. They tell stories while they slide through the stage and it all comes from exercises and experiments based on the dancers' lives. Most pieces were co-choreographed. They also came from the great inspiration she had during the tours and in the cities she passed by.
It's a process of reading people, you know what I mean? Human reactions. Interactions between masculine and feminine the entire time. It actually worked as an inspiration for Pedro Almodóvar's film Hable con Ella, in which Pina appears in a fantastic dance scene. Just so you understand how far her message reaches. Reached. Pina died in 2009. But her company keeps going and travelling around the world with a repertoire of many original pieces.
I went to see Kontakthof (or Contact Patio). It went on for a month (ended yesterday!) here in New York and it was sold out the first week. Expensive tickets. Gorgeous theater, in Brooklyn, same where Caetano Veloso played last month. It was a three-hour (with a 15-minute interval) presentation.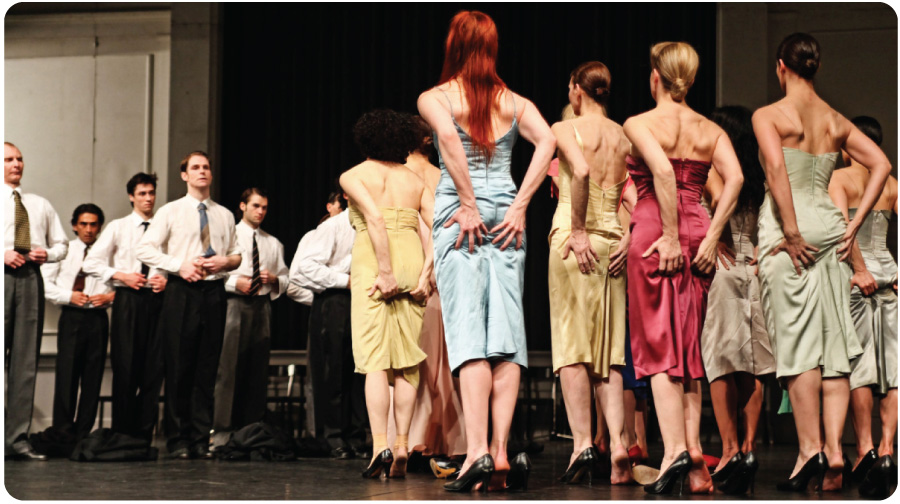 It's all about twitches, tics, habits. Types and tricks. She never not approaches a subject in the name of good taste. She points fingers, provokes. It hits each person in a different way. It depends pretty much on what your weakness is.
I read on the internet that Kontakthof was conceived with the dancers from the Tanztheater Wuppertal, in 1978. Then, in 2000, it was recreated by seniors, over 65 years old. I really wish I'd seen that version!
Then, in 2008, with teenagers between 14 and 18 years-old. This last process made for the Dancing Dreams (haven't watched it yet but it's on my list!) and now they're back with a mixed cast: "It doesn't seem logical to me to evaluate dancers with Miss Universe standards. Personality is much more important than a scale or measuring tape.", I also found this quote of hers on the internet.
And that's exactly what we see. Dancers of all ages and styles, all full of personality.
Genius!
I really enjoyed what I saw. Breathtaking. I fell in love. Rejected some. Sighed. Endless feelings throughout those three hours. And and left wanting more! Feeling like watching the whole repertoire!
So if the Pina Bausch company is in the same city as you are, please go.
I'm sure you'll see a show about the pains and the perks of being human in such a complicated world!
Thank you, Pina Bausch!
"I'm not interested in the way people move, but in what moves people!" (Pina)
♥