Who's afraid of Virginia Woolf?
Saturday February 8th, 2014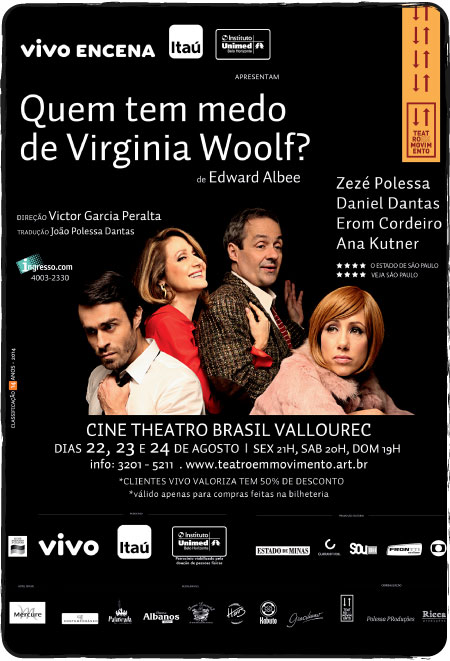 I went to watch the goddess Zezé Polessa on the theater. Her. Daniel Dantas, another amazing actor. Ana Kutner. And Erom Cordeiro, whom I'm a big fan of. Great cast. Great text. Expectations were high!
I knew the text was very renowned and that the author (Edward Albee) is pretty picky about the remakes. He only assigns his copyrights after it's all set: setting, costume, translation and the actors' rehearsal. It wasn't different this time. The show was ready, flawless, and the assignment was granted.
It was directed by Victor Garcia Peralta. We considered him when we were choosing the director for our play. And after seeing Virginia Woolf, I felt even more like working with him. I loved his choices. The text itself is brilliant. Long. But brilliant.
The translation by João Polessa Dantas (son of both leads!) is pretty good. The play had two acts, which they decided to turn into a single one. The result is a two-and-a-half-hour play, which can make the the eyes of the less involved spectators a bit heavy – even the most involved ones may feel a bit uncomfortable on their chair – but it's definitely worth it.
The set design (by Gringo Cardia) is fantastic. One of the most interesting I've ever seen. The stage makes a 360º turn, allowing us to dive into the characters' madness and drunkenness. Oh, the characters. Let's talk about them! Fantastic performances. I had never seen such an interesting Daniel Dantas. Complex, deep character, full of amazing divisions he plays poetically. Poetry of pain. Of love. Of defeat. What a beautiful work! Zezé is exquisite as well. Perfect. So good to see her perform. Great body. Beautiful. Intense. Strong even in her character's weaknesses. Striking.
If you enjoy theater, it's a must see. To contemplate the work of those two fantastic actors. Ana and Erom (as I said, I'm a fan!) are pretty good too. But the play is all about the other couple. It couldn't be otherwise.
The story makes for a good post-play dinner discussion. It makes us think, once and again. It touches us. It touched me, at least. A lot. And I'll love to hear about the impressions of those of you who decide to see it too!
WHO'S AFRAID OF VIRGINIA WOOLF: Teatro dos Quatro. Fridays and Saturdays, 9 pm. Sundays, 8 pm.