Churros (+ croquetas!) in NYC!
Thursday October 9th, 2014
When we're away from home for a long time, certain things become much more valuable. Things we took for granted and had no idea we enjoyed so much. No, I'm not talking about family… Not this time though! I'm talking about food!
I really, really miss our homemade Brazilian food! Boy, do I miss some breaded steak, rice, beans and fries (Hi, mom! Here's a hint of what I'll need when I'm back! See you soon!). I think I've talked about pão de queijo (cheese puffs) here, right? If I haven't, I've certainly have on instagram! Because on both times I've made it in NY (I found it in a Brazilian grocery store!) I posted about it!
So… It's this kind of stuff! I've always loved pão de queijo. I just didn't know how much!
Same with churros!
I've even wrote a post on how to make delicious homemade churros, remember that (Missed it? Here it is!)? I can't even think about it without craving it so badly! And nowadays there are so many restaurants with churros on their menus. Me (and many of my friends) go to Pobre Juan in Rio de Janeiro only thinking about the dessert! Those amazing churros immersed in a glass of dulce de leche. It's been on my instagram a couple times too! Because you can't just have the cake, you must instagram it too!
So… Last Sunday, a friend of mine casually said: "I'm craving churros! Let's have some?". And I was like: "Churros? How come they have that in nyc?", almost losing it. Real abstinence syndrome!
I'd never spotted churros here before! In fact, if anyone has any other tips of places that have churros on their menus here, or anywhere else in the world, just tell me about it on the comments! Let's make this list bigger together!
Anyway, off I went! Crazy about it! My mouth watering… And I got to a super cute place in the heart of Soho!
The place is really tiny! But super charming. They have sweet and savory options on their menu. But their pièce de resistance (their name can't lie) are the churros.
We ordered some croquetas (like our croquette, only round and stuffed with chicken) for starters. With a pinch of salt, though, since croquettes are made with meat, right? If it ain't broke, don't fix it… And, you know what? We had a second portion – that's how good it was!
But we let's not lose our focus, the churros – this is our #CandyCrush tag and it's the churros I'm here to talk about. I just couldn't let the croquetas go unnoticed… I'm certainly going back there for them! Even more than the churros (guilty!).
The place is really cute! Go for an afternoon snack. Before going back to the hotel for a pre-dinner shower. Or go for dessert! Coffee + churros? Sounds good!
Go and surrender to their treats…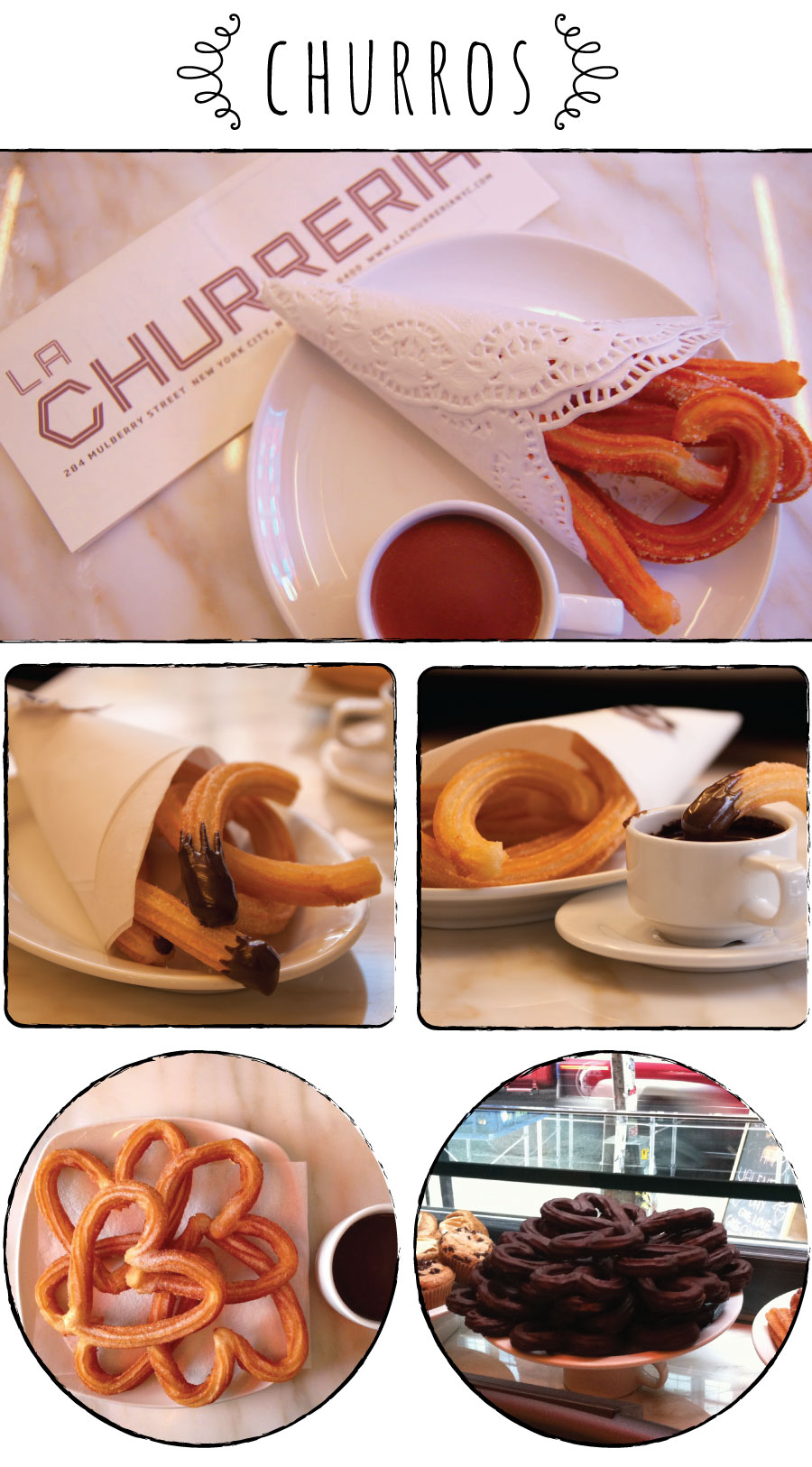 They have it with chocolate and the good, old dulce de leche.
I don't even have to say which one I ordered, right? Dulce de leche. Lots of it.
I even treated myself to an extra portion!
I enjoyed the churros. It was enough to ease my food-homesickness! Pretty tasty! It's just that they had to be REALLY fantastic in order to beat ours. And, well… They weren't. But they made me happy enough. Got it?
Hope so…
And don't forget about the croquetas!
😉