EMA, EMA, EMA
Thursday March 20th, 2014
Everyone knows their own delight. Their own desire. Their own hunger. Their own calories. Their own food orgy!
Yep, that's exactly what I experienced yesterday in São Paulo. A food orgy! It had been a while since I had such an amazing meal. In a place that was so me. And I'm telling you all about it!
That's my beloved friend Renata Vanzetto's new enterprise. For those who never heard of her, I'll break it down: self-taught cook, born and raised in Ilhabela (lucky her!), she opened her first restaurant, Marakuthai (still in the island!) when she was eighteen, can you believe it? Yep, eighteen. Go figure…
Then the business expanded, won a bunch of awards for best contemporary cuisine restaurant in the North beachside and she brought it to São Paulo.
Opened a new location. Then she started a wedding catering service. Then, she opened MeGusta (a bar, also in Ilhabela). As if it weren't enough, last fall she launched her latest enterprise along with her cousin (who's also a chef) Aline Frey: EMA! Which I was glad to get to know yesterday!
It's 27 seats. Only. Tiny. Just right. The feeling is of going down to a friend's place to grab a bite (talk about a bite!). There's a bar and five tables. Dim lights, just right. Good music on the background. Cute decoration. It's all very cute. Cosy. Perfect for a date. Or an intimate birthday get together. Book the entire EMA for you and your friends. Working on that!
Another fun fact is that all the little rheas (ema is the name of the animal in Portuguese!) painted throughout the restaurant (did you see the ones at the back rest of the chairs?) are by ms. Vanzetto too. She painted them all. And they're so cute! It was Rê's habit of painting rheas that turned into the name of the restaurant. The paintings were there before the restaurant. So, so cute.
Now let's get down to business! FOOD!
They call it root cuisine. Like a reinterpretation of Renata's childhood food, along with author dishes she developed in the last couple of years. The deal is the menu changes all the time. Like yesterday, she made from scratch two appetizers I ate basically while crying tears of joy. And they're not on the menu, she just made them up for us on the spot. Intuitively. Boy, they were good. Perks of sitting on the bar and being close to the chef! You're almost part of the preparation of the dishes.
The APPETIZERS! Try them all if you can. Get there, order your cocktail (I had the best sangria of my life! I'm not exaggerating!) and taste the appetizers. Impossible to tell what's the best… I tried almost all of them!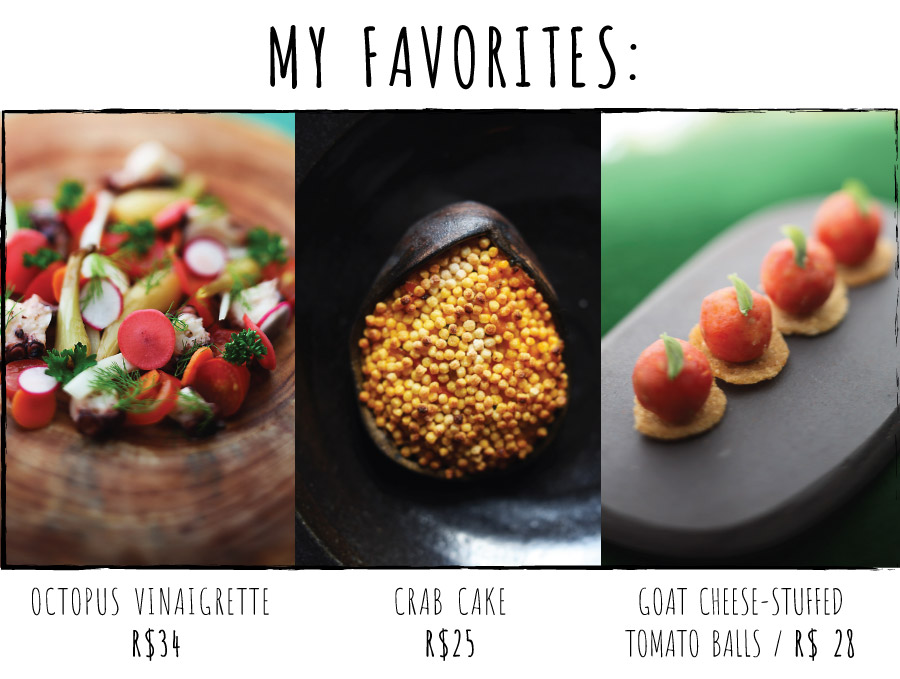 This octopus in from out of this world!
And the presentation is amazing! Crystals, leaves, pieces of wood.
The dishes we ordered:
Those mashed potatoes that come with the ribeye (my choice!) are unbelievable. The whole dish is, actually. So, so good! I grabbed a piece of my friend's cheeseburger and it was amazing as well. That means we have to go back and try it all.
I ended up not ordering any of the desserts, which are also pretty well-known. The conversation was great, so was the sangria, and I ended up not having any dessert.
No problem though…
Another of the many reasons for coming back!
EMA
TUE-THU, 8pm – 12pm
Rua da Consolação, 2902. RESERVATIONS ONLY!!!
55 11 3081.8358