Where to eat in London
Thursday September 28th, 2017
I made us a TOP 10 Restaurants in London here in 2013. I went back a few times after that, went to some new places to eat, tried again some I already knew, so my list grew longer. Same thing this last week I spent there. Went back for the favorites, got to know some new ones and finally decided to redo this list, after all, it's been four years. Fair enough, right?
So let's check out what it's still worth it, what should be crossed off or remain on the old list. Ready?
Oh, it's not going to be a TOP 1o since there are 12 restaurants. I wasn't able to cross any more off. So forget about TOP 10 and let's get down to the MUST GO places to eat when you're in London. Grab your pen and paper and take note: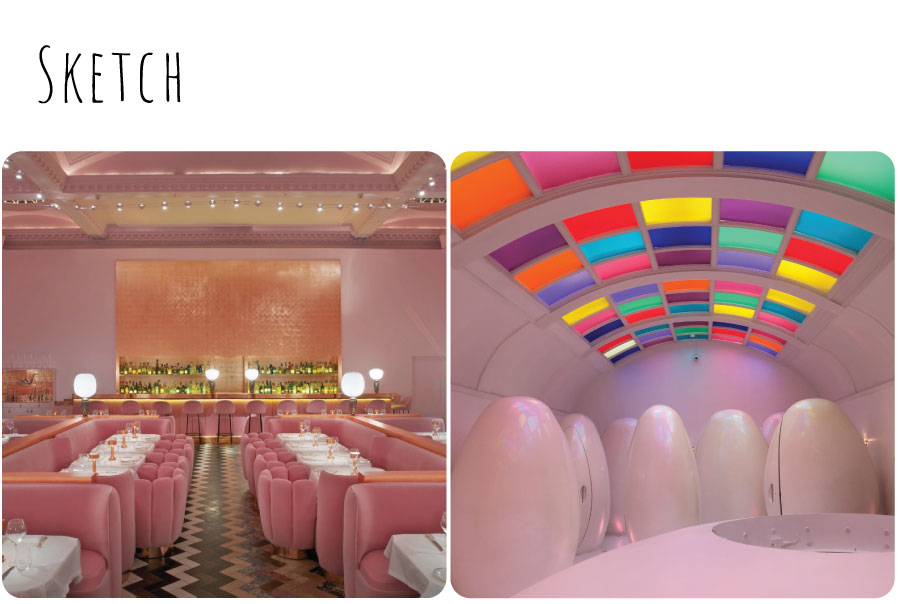 It's pretty touristy. But, yeah, it's a MUST-GO. It's such an experience.
There are several rooms, and the bar where you get to wait for your table (oh, you must book in advance!) is like a spaceship. So cool. The main room is beautiful, all pink, and the bathroom is the coolest bathroom I've ever seen, they're giant eggs. Each customer get to pee in their own egg (?). It's awesome!
The food is amazing, and so are the cocktails and the wines. Just go! Go, go, go!
I went there for lunch the first time and stayed straight for dinner, that's how incredible it is. It's super cool, beautiful people only. The weather was great, so we got a table outside, close to the fireplace, so cozy.
Food's pretty good and the bar is great too. It might be good to book in advance. It always is, right? So you don't risk missing out on the restaurant in the middle of your trip.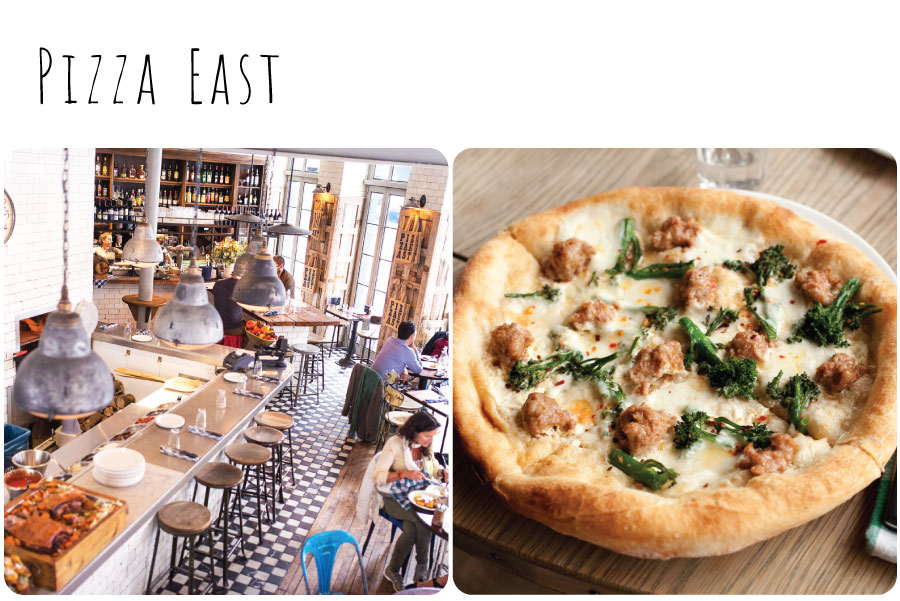 Best pizza in London. Need I say anything else?
There's one location in Shoreditch and another one in Notting Hill.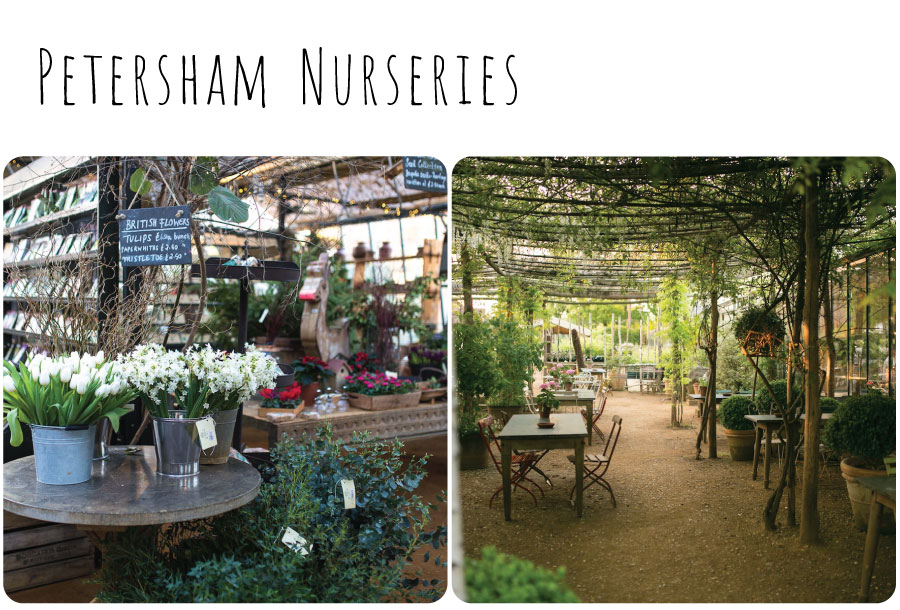 It's in Richmond, a bit far!
But it's the prettiest thing ever! It's inside a greenhouse!
Perfect for lunch followed by an afternoon stroll around Richmond Park.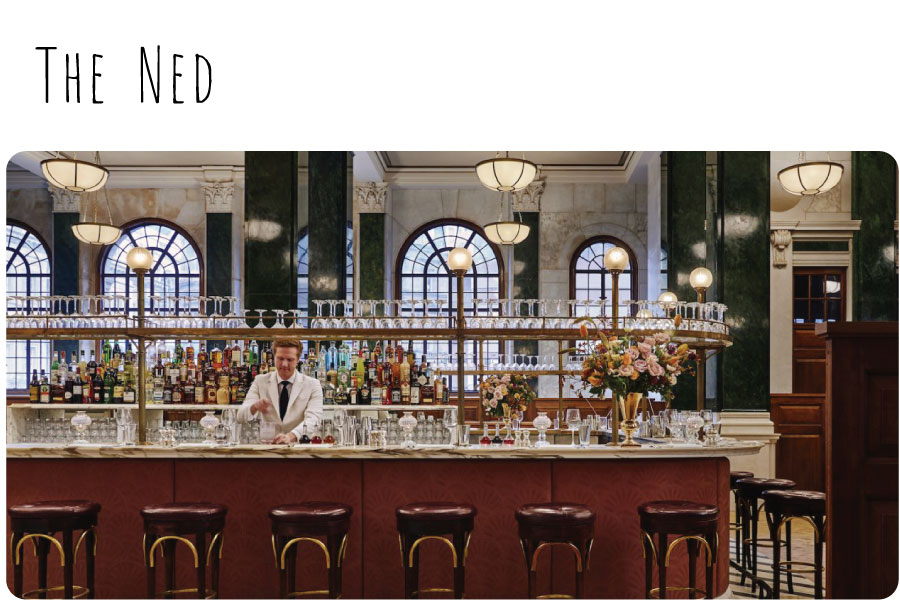 By the same investors of Soho House, it's an old bank that went through a renovation and nowadays hosts a complex with a hotel, nightclub and several restaurants, including Cecconi's – the place is unbeliveable!
A must-go!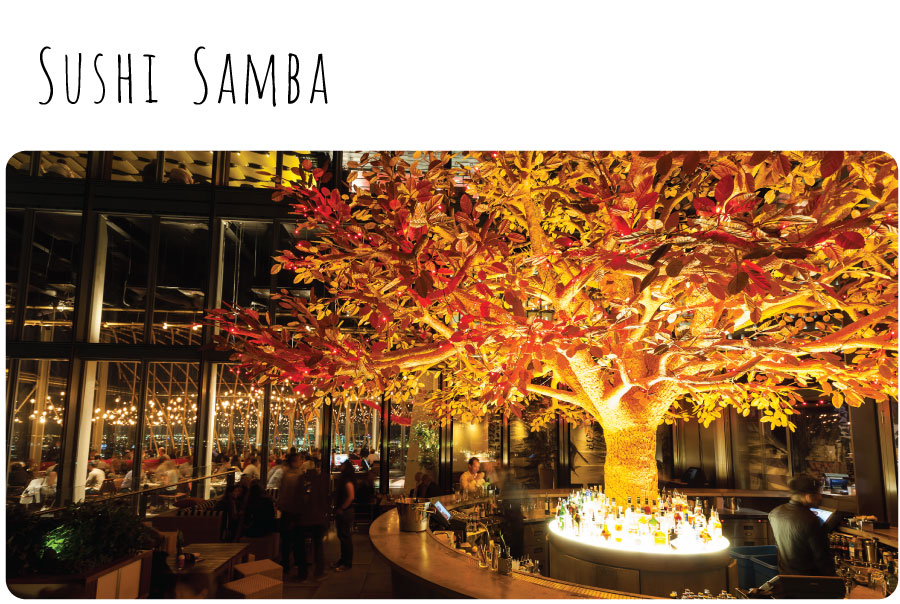 The restaurant is gorgeous and has an amazing view. This is the first one from my 2013 list I'm doing again. That's what I wrote about it the last time: I've never seen so many beautiful people in one place. Amazing food. It's on the top floor of a super high building, all made of glass, open bar, incredible. Go earlier, get there before your reservation time (reservation mandatory, as usual) and go up for a drink. So good!
Now, I wouldn't change a word I said in 2013. It may not be the trendy restaurant of the moment, but it's so cute and it has such good food that for me it's really worth it so it's still on my list.
Super super super trendy Chinese place. Try the carbonara noodles.
Another one from my previous list. But I can't ignore Zuma, right?
If I'm in a city where there's a Zuma, I'll definitely be there. Best food ever!
Again and again! Same as Nobu, we keep going back to it.
This month, I've been to the Milan, London and NY locations! I'm heading to LA this week and I'm certainly going to the Malibu one. I just can't get enough…
I had been to the Miami and New York locations. Not the London one, though.
So I guess it's like Zuma and Nobu, right? Wherever there's a Cecconi's, you can count on me!
Go for the one at The Ned's complex!
PDF NOVIKOV
I'm crazy about Novikov. One of my favorite black cods ever. And I've tried SO MANY!
PDF LA BODEGA NEGRA
Mexican spicy food. Perfect to order a bunch of tacos to share, you know?
Dim lit, the music gets louder and it turns into a kind of club. I love it there!
And, well, there some places from the old list I crossed off with a heavy heart. So, if you're in London for a longer period of time, click here and check the old list too!
Oh… And I'm making it even harder for you and share the ones I still mean to try! 🙂 I have this list of places to eat I haven't yet been able to try and a Brazilian-almost-British-knows-it-all-about-London friend of mine, who's super picky, sent me. They'll have to wait until my next trip. Maybe you'll get there before I do, right? There you go:
NEVER BEEN:

Bob Bob Ricard: Beautiful restaurant and the tables have a button that says "champagne, please".

Isabel Mayfair: Super chic and cool! The bathrooms are incredible.

Oblix The Shard: Pretty touristy, but the food is excellent and I heard the view is breathtaking.

Balthazar: I've been to the nyc location so I passed it this time!

Berners Tavern: Perfect for brunch and the place is gorgeous!

Bistrotheque: For the more alternative ones, it's in East London, in a shed, pretty cool and great food. 

Granger & Co: Pretty great chain, always packed. They have locations in Chelsea, Notting Hill and Clerkenwell Modern Pantry – pretty good and cool – much like Sal, in SP.

Pachamama: Peruvian, great food and great atmosphere. 
Sexy Fish: A bit fancier, but the food is pretty good and the dessert is exquisite – Hazelnut Chocolate Fondant.

Casa Cruz: Gorgeous restaurant.

B&H: A bit more alternative, pretty people!

German Gymnasium: A wartime gymnasium-turned-into-German-restaurant. 

COYA: Amazing! One of my Brazilian-almost-British-knows-it-all-about-London friend. 

ROKA: This one was recommended by a friend who's also pretty picky. She said it's her favorite Japanese place and it's always full of beautiful people. She was crushed I didn't make it. 

I can say I have more than enough reasons to go back, right?

Another 13 restaurants for my to-go list!

And if you've been to any of those places or have another one to recommend, just leave a comment and we'll add to the list. Let's help each other! I do it from here, you do it from there and so the list grows.

See you next time, London!

Miss you already!