MUST GO: FUERZA BRUTA + SLEEP NO MORE
Monday October 6th, 2014
Every time I get to write about something that's really obvious, a widely known subject or a cliché tip, I get a little scared of disappointing you. Like, "they probably know it all backwards, Julia". Get it? So I let some of the stuff go… But, with some other things, I have a feeling that I should mention it. Even if a bit late. Even if years later.
The Grey's Anatomy post was a perfect example of one of those things. I knew it was a pretty old subject, that I got to it with a 10-year delay, but I couldn't help it. When I'm caught up on a subject, I leave my pride behind and admit I'm late! After all, there might be a bunch of people who for whatever reason also didn't catch up on that.
Today's post is another good example of that. Two old (but still pretty alive) New York attractions.
Let's go through one at a time…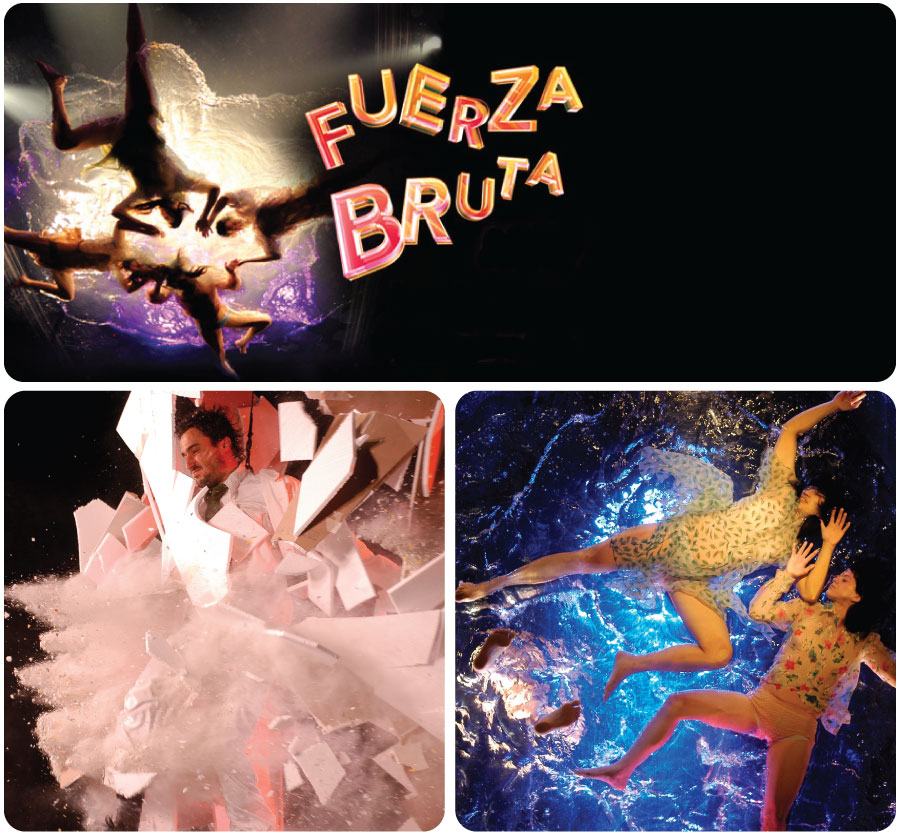 I guess Fuerza Bruta is no news right? Has anyone there never heard about the group?
They're from Buenos Aires and have been making presentations all over the world for years. Over 10 years. They're pretty well-known.
It's a show-theater. Dance-theater. Circus-theater. Party-theater. Definitely an experience. A pretty good sensorial experience, I might say.
You get in through a bar. Good music playing. So everyone waits over some cocktails for the doors to open. Wear comfortable clothes and shoes. Forget about heels. You'll be standing up for the entire show. Dancing along with the artists. Jumping. Standing still. Mesmerized. Some people will even fly. But that I'll leave for you to find out when you're there… No spoilers!  
I had seen it in São Paulo and Buenos Aires. And last Sunday I went for the first time in New York. By myself. All by myself. And I left it astonished… It was fantastic! I don't recall being so moved the other times. But also it's been so long that I don't remember well… Maybe because all the other times I was in a large group (which makes for an INCREDIBLE night out, but steals your focus a bit), I don't know. What I know is that this time it really got me! I was mesmerized. They're really good.
So, if you're in nyc and haven't yet seen it, go! It's mandatory!  
A good idea if you're trying to save some money is to arrive about half an hour before the show (I did it by accident, didn't event know about this discount), get in the ticket line and buy it for a special last minute price! The regular tickets cost 99 dollars and I paid 20! I couldn't believe when the girl at the checkout told me… So keep it in mind! Just make sure it's not sold out! I had no problems, got there, waited in line for a bit and bought it.
Whether you buy it in advance or on the spot, doesn't matter, JUST GO! MANDATORY!
You've probably seen many people who come to nyc post pictures of themselves wearing a bizarre white mask, with a huge chin, you know what I'm talking about? Have you seen it?
It's the mask we get when we enter the hotel that hosts the show Sleep no More. The idea is to make all participants anonymous. And if I said Fuerza is a sensory experience, I'd say Sleep is… Is… I can't even explain… Can't find the right word to describe it. You have to go in order to understand.
It's a British Theater company that was born in the year 2000 but got to nyc only in 2012, mixing several references from Hitchcock movies and Shakespeare plays. But I guess I shouldn't go much deeper on the references or my own experience since it's a pretty particular thing.
For Fuerza you can go on a large group, invite all your friends and have a good time, you know? Sleep, however, is an introspective experience. I even recommend you go by yourself. No rush. Especially since you set your own schedule in there. You pick your entrance time and stay there until you think it's enough.
By the end – and I have to say it's REALLY worth it to stay until the last minute – you'll be at a cosy bar with live jazz music. I guess to sort of digest all that you went through… It's the icing on the cake!
A must go!
Go and enjoy yourself! Let it get to you…
Then you tell me how it went!
So, yeah. Those are my go-to shows of the moment. Again: it's no news. They've been on for a while, but are full every day… And the funny thing is, after Fuerza on Sunday I went for dinner with two friends who live here for six years now and never saw it. What?? That's when I was sure I should write about it. It's never too late, right?
So take notes and, if you're in town, don't leave without checking it out!