Top 10 * Things to do in Chapada dos Veadeiros
Friday September 2nd, 2016
Following our Chapada special here!
After what to wear + what to take, it's time to list my favorite activities!
A top 10 featuring what I most enjoyed doing and seeing there. Ready?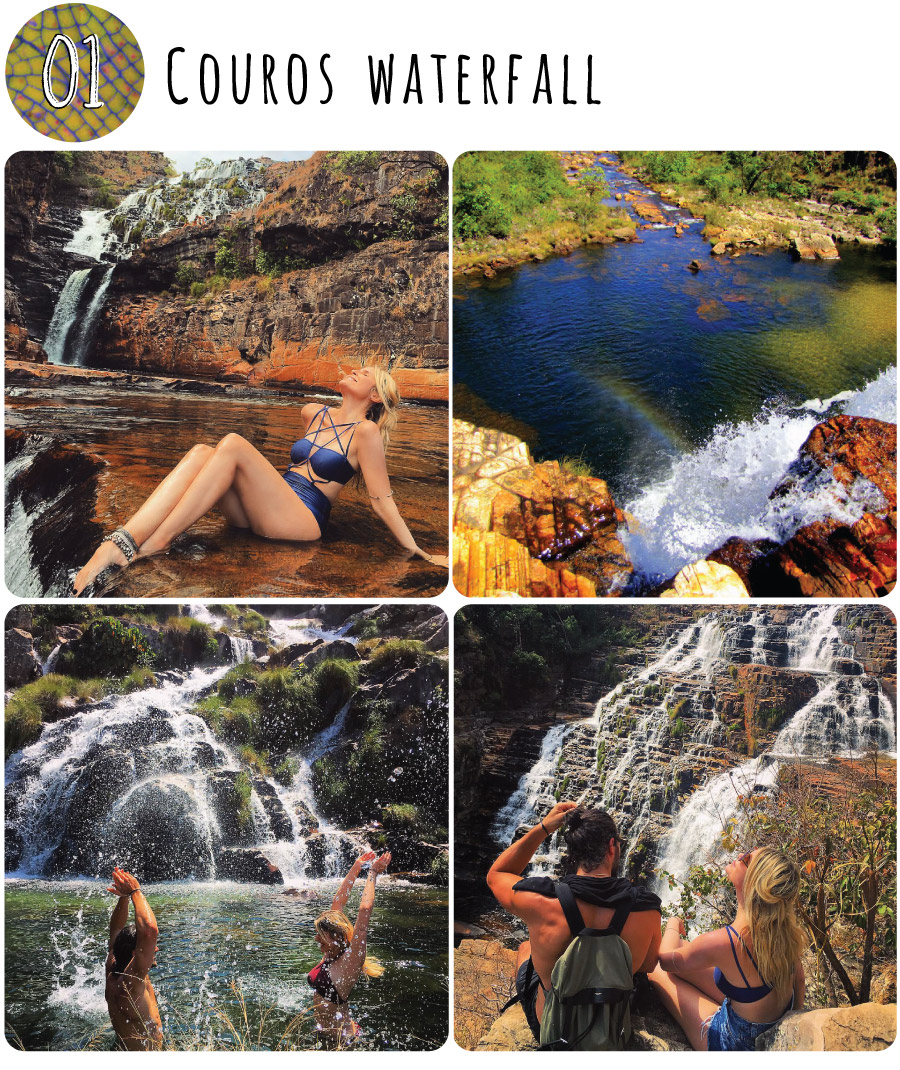 Our favorite place. Incredibly beautiful. Huge.
Loooads of waterfalls, pools, landscapes. Greatest thing.
Our guide said that Couros represents the sacred masculine of Chapada while Santa Barbara (we'll get there!) represents the sacred feminine. Totally agree with him!
It takes an entire day, so get ready to go up, down, hike, rest.
There are cliffs for those who like jumping, people who go rappelling, it's amazing! MANDATORY!
It's 18km on a paved road and other 34km on a dirt road.
The trail's difficulty is medium, 3km long.
Here is the sacred feminine of Chapada! ♥
This is the waterfall I most heard about before going. All my friends who've been there before and whom I asked for tips just said: don't forget to go to Santa Barbara.
It's one of the most distant ones, inside Kalunga Community.
125km on a paved road until Cavalcante (from São Jorge, where we stayed) and then 22 km of dirt road to the community.
From the community's entrance until the beginning of the trail, another 6km of dirt.
Medium-difficulty, but short trail – 1 km.
I must say our trail was short because we were there on a dry season and we rented an off-road vehicle. So we got pretty close to the waterfall by car. But in the rainy season you might have to cross the river or park much further.
That's why it's really important to have a guide (we brought ours with us from
Alto Paraíso, but you can find yours at the community) so you have no unpleasant surprises, just fun on your hike.
Also, I've heard they serve a real typical lunch there, prepared by the kalungas, only with what they heap and sow. We didn't have the time to try it, but I've heard it's a pretty interesting experience.
For those who feel like trying it, all you have to do is book it when you get to the community, before leaving for the waterfalls.
One last thing: the waterfall is tiny so it gets packed pretty quickly. So wake up as early as you can to try to have it just for you, at least for a bit. The rocks around are not very comfortable to sit in and there is not enough space, so, when it's packed, the whole thing loses a bit of its charm. Also, it's one of the most visited waterfalls in the area, so…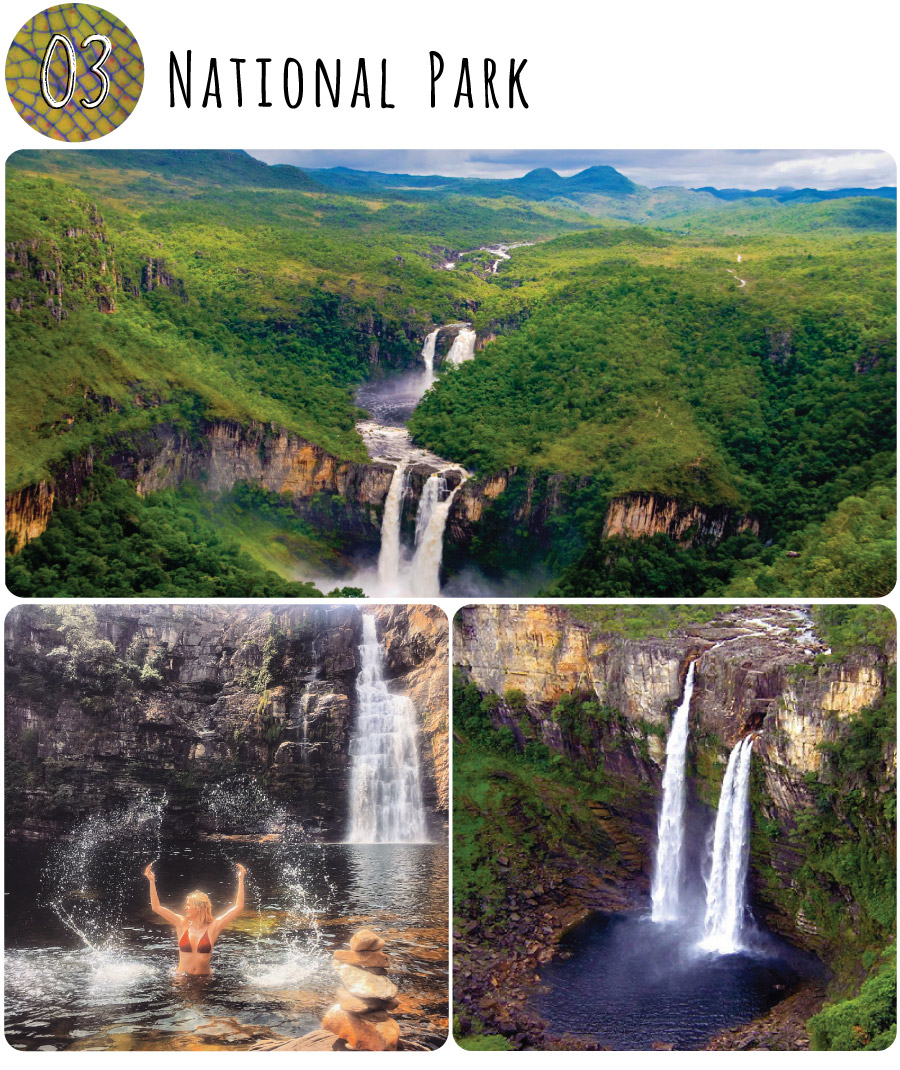 We almost didn't make it. It's so hard to choose what to do, you look at the pictures, it's all so wonderful, you want to see it all, but there is not enough time. Impossible to do it all.
So the park didn't make it to my first schedule. My boyfriend mentioned it, said it wouldn't make sense to go to a place for nature and miss the national park. And he was right! Thank god we changed our mind.
It's one of the few places we visited without a guide. It's really chill, with super clear directions.
It was me, him and god in the middle of the woods trying to get to the waterfalls.
You can choose between several trails – I found them all pretty long, since I'm a real beginner in hiking. I was pretty tired when we left!
We picked Saltos I and II and Corredeiras.
It's in São Jorge, just by our hotel. So we didn't even have to take the car.
The trail was medium-difficult, 5000 meters.
But it was so, so beautiful! Amazing stroll! I might even say we liked it even better than Santa Barbara.
Do visit the park!
It was our first hike and I highly recommend starting by it.
The access is easy, it's really fine.
So it's a good start, to get in the mood, you know?
There are three waterfalls in the same farm, but Almacegas I is the most special one.
8km on a paved road, from Alto Paraíso in the São Jorge direction and 5km of dirt.
Then 800 meters of easy trail to Almecegas I and 300 meters to II.
Super chill!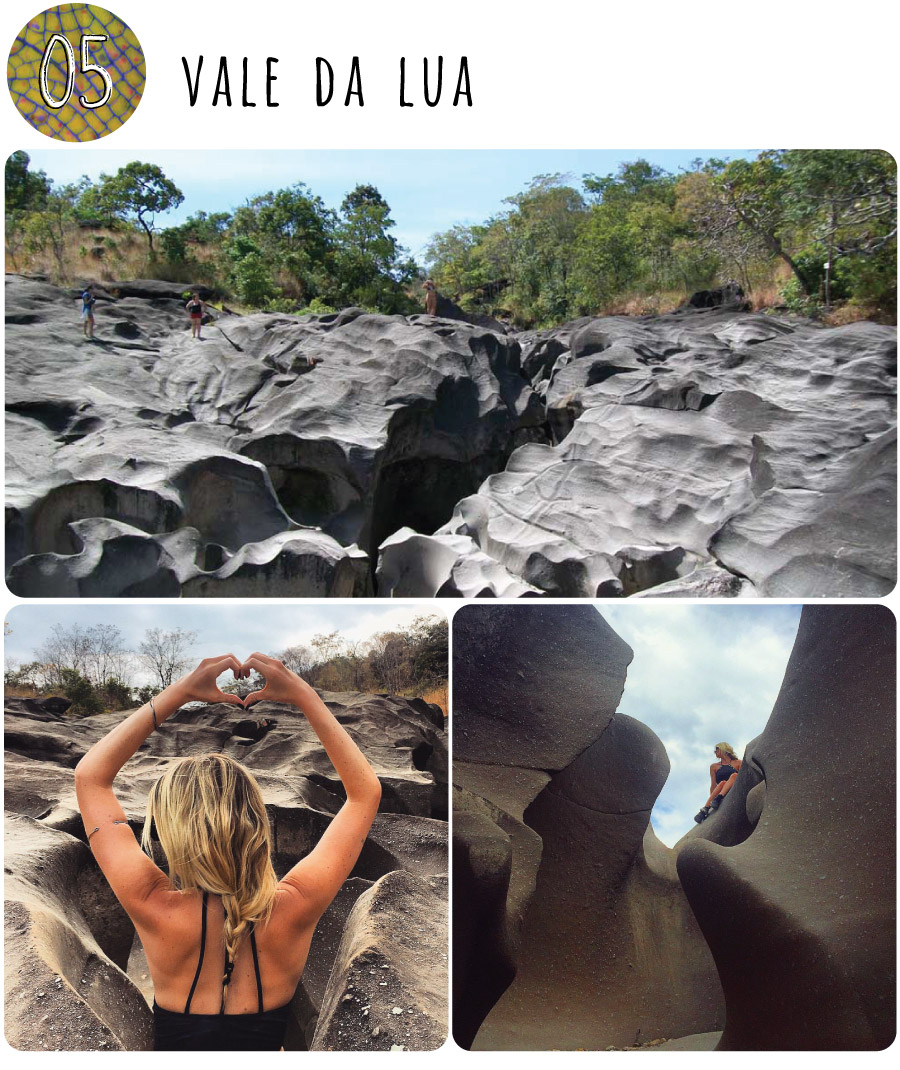 We fell in love for Vale da Lua! Sooo beautiful!
I thought it was much bigger, but it isn't, really. The trail is super chill, 600 meters.
São Miguel river flows along the huge rocks, sculpted by the water for over 600 million years, it's unbelievable. I heard that on rainy seasons we can see more water. But the sensation is we are actually walking over lunar craters. Amazing!
We loved it!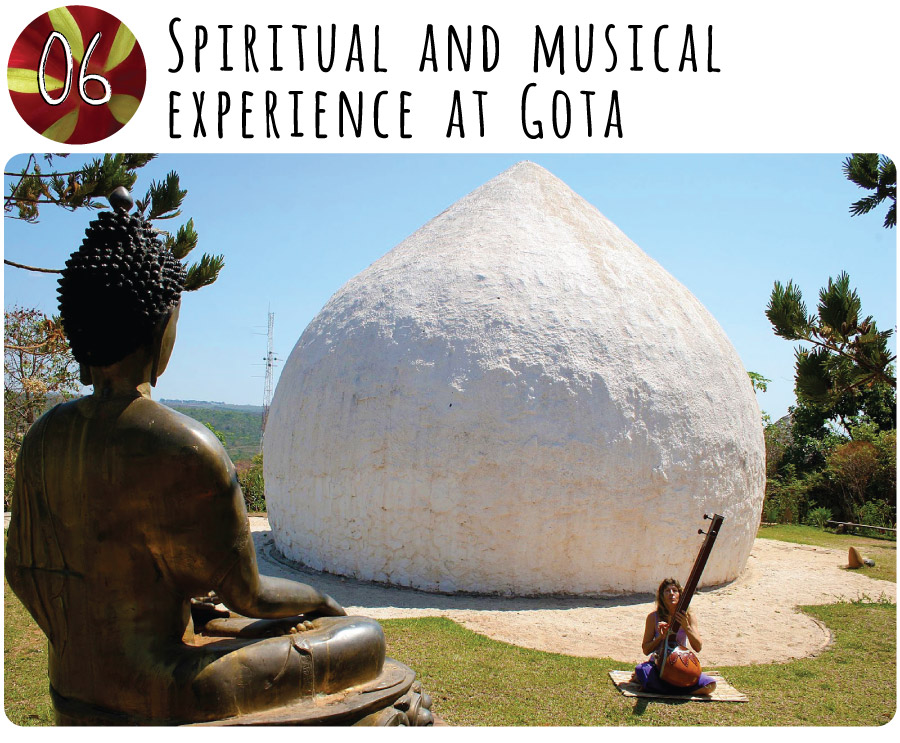 The Gota is located in Alto Paraíso, you just have to ask at the hotel if there are presentations that day and at what time.
You have to go to understand, it involves music, meditation, trance, reflection, cosiness… If you're open to new experiences, to evolve your subconscious, no judgements, go for it!
My boyfriend wasn't very keen on it, since they suggest breathing exercises, really putting your heart and soul into it, and I guess he wasn't that available. But the experience can be really interesting!
The road between Alto Paraíso  and Vila de São Jorge (where we stayed) has one of the most beautiful sunsets I've ever seen, if not the most beautiful one.
And we were blessed with it almost every day, coming back from the waterfalls.
Since we're both sunset/sunrise lovers, we pulled over by the side of the road to watch it.
you're going to Chapada there are two places where you can stay: Alto Paraíso and Vila de São Jorge. I'll start with Alto…
Alto is more of a small town. Paved roads, more restaurant options and all. The good part is that it's close to all of the waterfalls – we had to spend 20-30 min on the car everyday to get to Alto and pick our guide (he lives there) and go on with our schedule.
Only the National Park and Vale da Lua were closer to us. To get to all the other places we had to go through Alto.
It's really cute, it's the most charming city, full of crystal shops, street markets, I've heard there's a pretty traditional fair on Saturdays. We missed it 🙁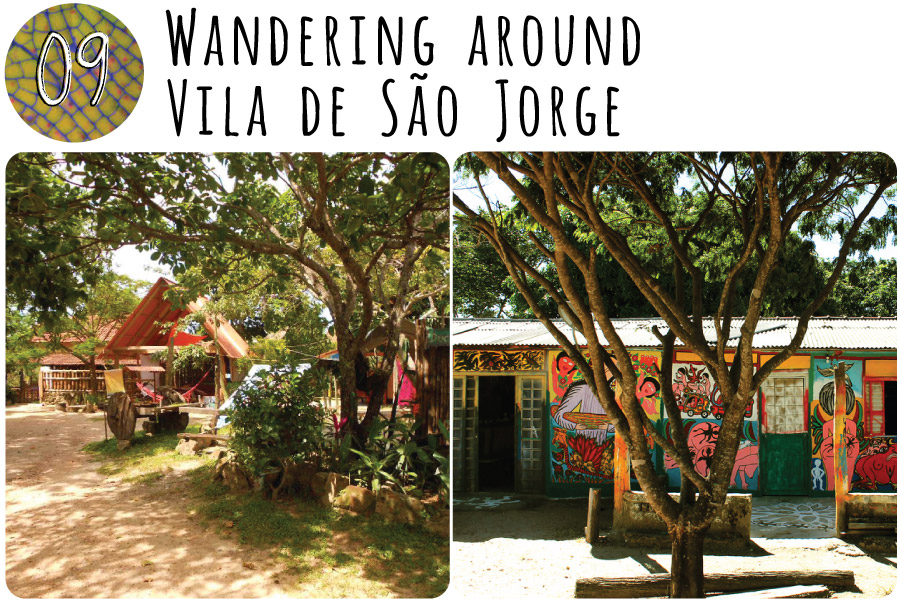 I totally fell for Vila! We stayed there. So charming.
No paved roads, all dirt/sand and lots of painted/graffiti walls
Our hotel was there so we wandered around the whole place. Even though the streets are not very well-lit and everything is less structured, there are some pretty good restaurants (I'll talk about them later!), street vendors and people coming and going all the time.
I mean, we usually had dinner by 6:30, we were always exhausted and went to bed early, but we didn't miss a thing there! We were really happy. The only bad thing is the extra miles we had to go over by car every day (that can be a little exhausting, since you have to drive a lot, the entire trip!), but if went back, I'd stay in Vila again!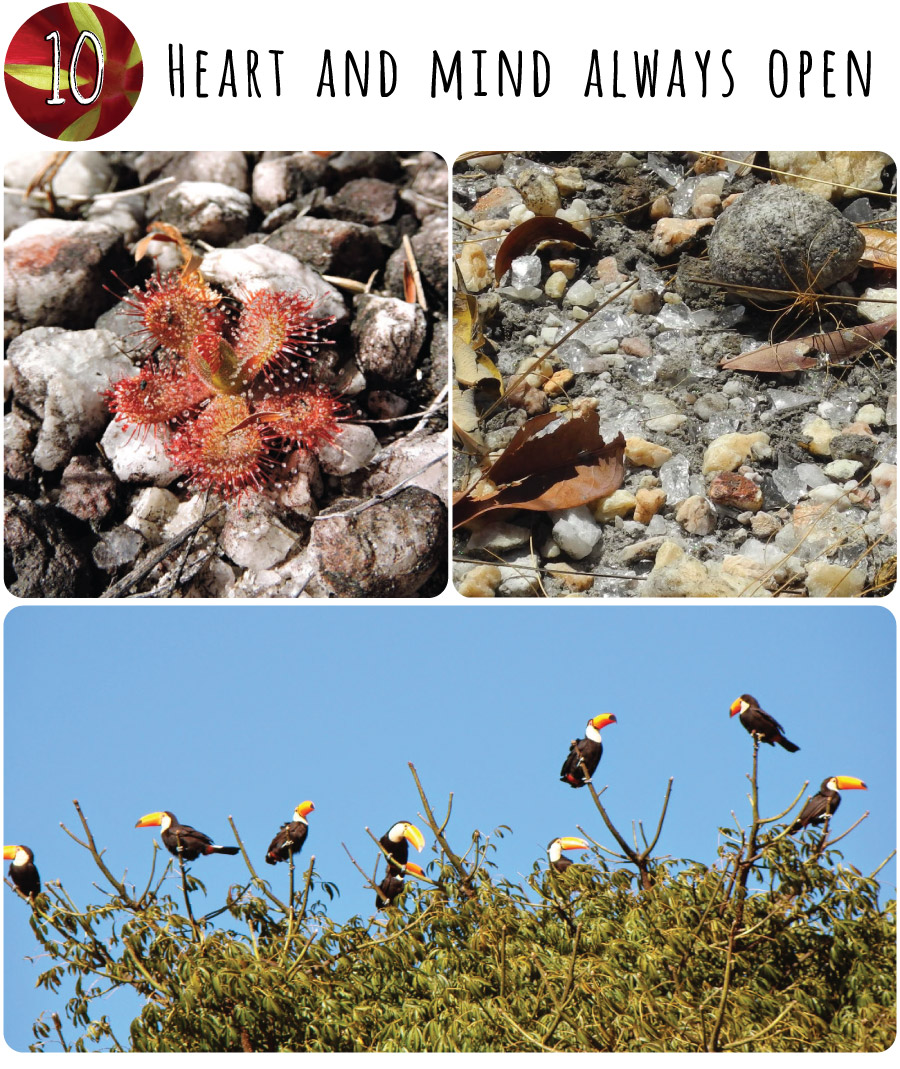 During the whole trip, the whole time, I looked at my boyfriend and asked him if he'd already thanked god, the universe, life, whatever for having that experience. I did that all the time. And we thanked together.
It's so much beauty. Such magnificence, you know? Because it's not about nature being all wonders. It's more about power, dimension, greatness. It's unbelievable. We see how small we are compared to all that. It's so perfect.
So I guess the best tip I can give is to be always attentive. Eyes wide open. Open heart. You'll find crystals on the ground, birds and monkeys on trees, all kinds of flowers, skies in all colors… Let it all in. Don't let it go. Don't let anything go. This stuff takes seconds, if you blink, you miss it.
Lucky those who are able to spend time in such a wonderful place, so full of energy!
Lucky me!
Thank you for everything, Chapada!
Thank you for all…
See you soon!