Top 10 * Things to do in Los Angeles
Tuesday May 6th, 2014
We finally got to our Los Angeles posts! Blame it on the Coachella series, which took much longer than I imagined here! But that's a good thing… Now let's get to a brief summary of what I experienced in LA, shall we?
Those were five intense days. I hadn't been to California since I was twelve or thirteen, when I went there with my family for the first time. There were some things I recalled. Others, I got to know this time. And now I'm dying to go back, since five days are basically nothing. So I must tell you: if you can, take a whole week to see LA. It's a place worth seeing with no rush, you know? So many beautiful places to sit and spend some quality time. Skies so beautiful you'll feel like crying. Full of color. Lots of sky-high palm trees making for an amazing silhouette by dawn and dusk. Unbelievable. So, so beautiful…
While I sighed just from thinking about those features, I listed my 10 favorite things to do. It was actually all I did, no more, no less, while I was there. I got some nice tips – love to chat with the hotel concierge, as well as with some local friends, and that's how I made up my own Los Angeles. Which can become ours! Just grab a piece of paper and let's go: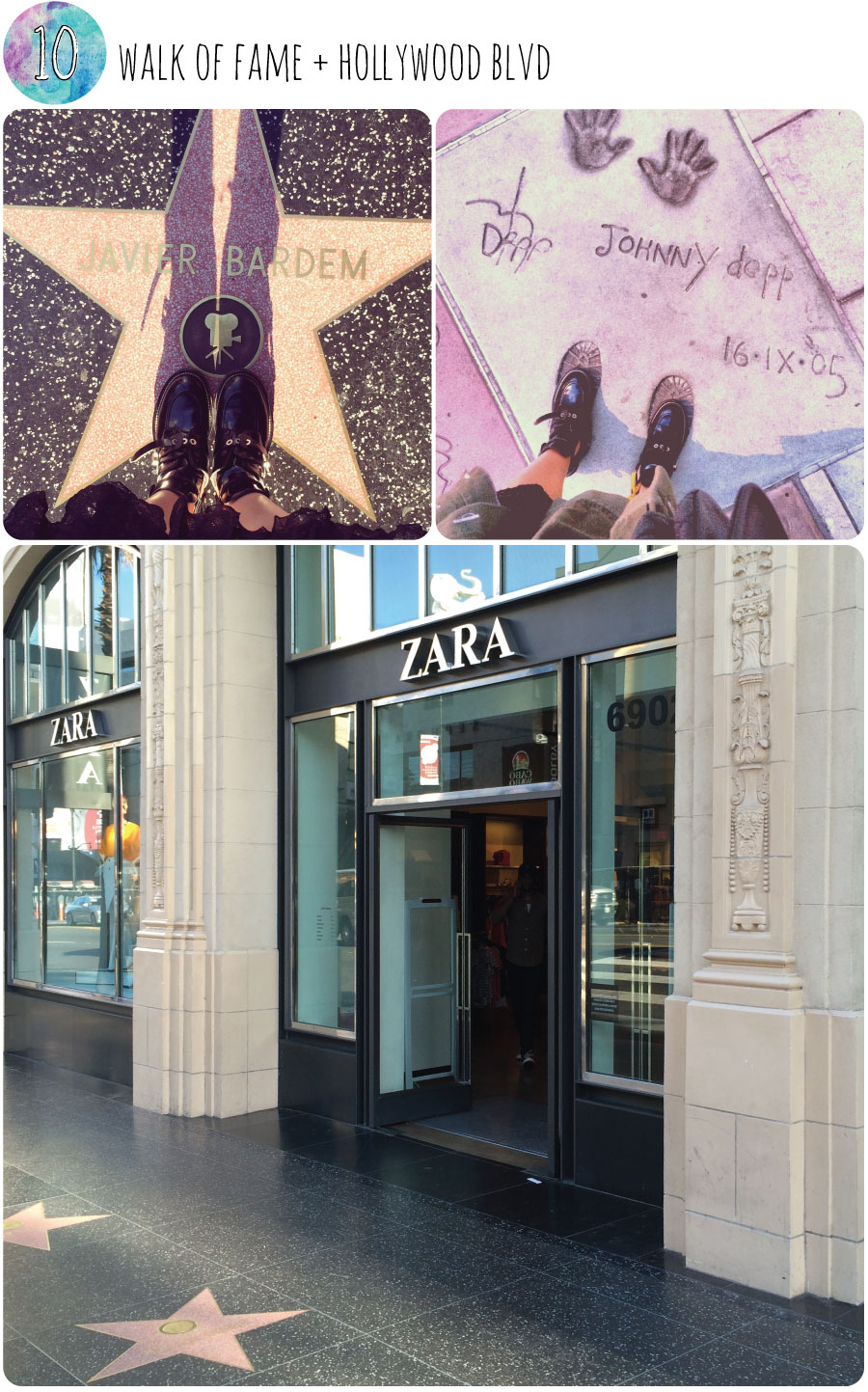 Going to Los Angeles and not stepping at the walk of fame or seeing the hollywood sign (those huge, super cliché, letters, you know?) is like coming to Rio and not seeing the Christ, right? Or going to nyc and not seeing the Statue of Liberty and the Empire State. Paris and the Tower. Rome and the Colosseum. Anyway, mandatory tourist attraction. Not to mention it's pretty fun to walk around looking for your favorite artists on the sidewalk, it makes for great pictures and there is a whole bunch of things to do around!
I suggest you walk from La Brea to Highland. Stop by the Kodak Theatre (where the Oscars take place!), the Graumans Chinese Theatre (where several premieres take place), the wax museum, Madame Tussauds. I was pretty lucky since I stayed at the Roosevelt, right in front of the Chinese Theatre. I must also tell you H&M, American Apparel and Zara are on this same block. Two-minute walk from the hotel. And, across the street, an open-air mall with a huge Sephora, Louis Vuitton and many other shops I didn't have the time to see. But makes for a delightful stroll. No touristy crowd. At least on the day I was there it was very pleasant. Empty stores, all super neat, no lines at the changing rooms. It was all great! I have actually talked about my shopping picks here!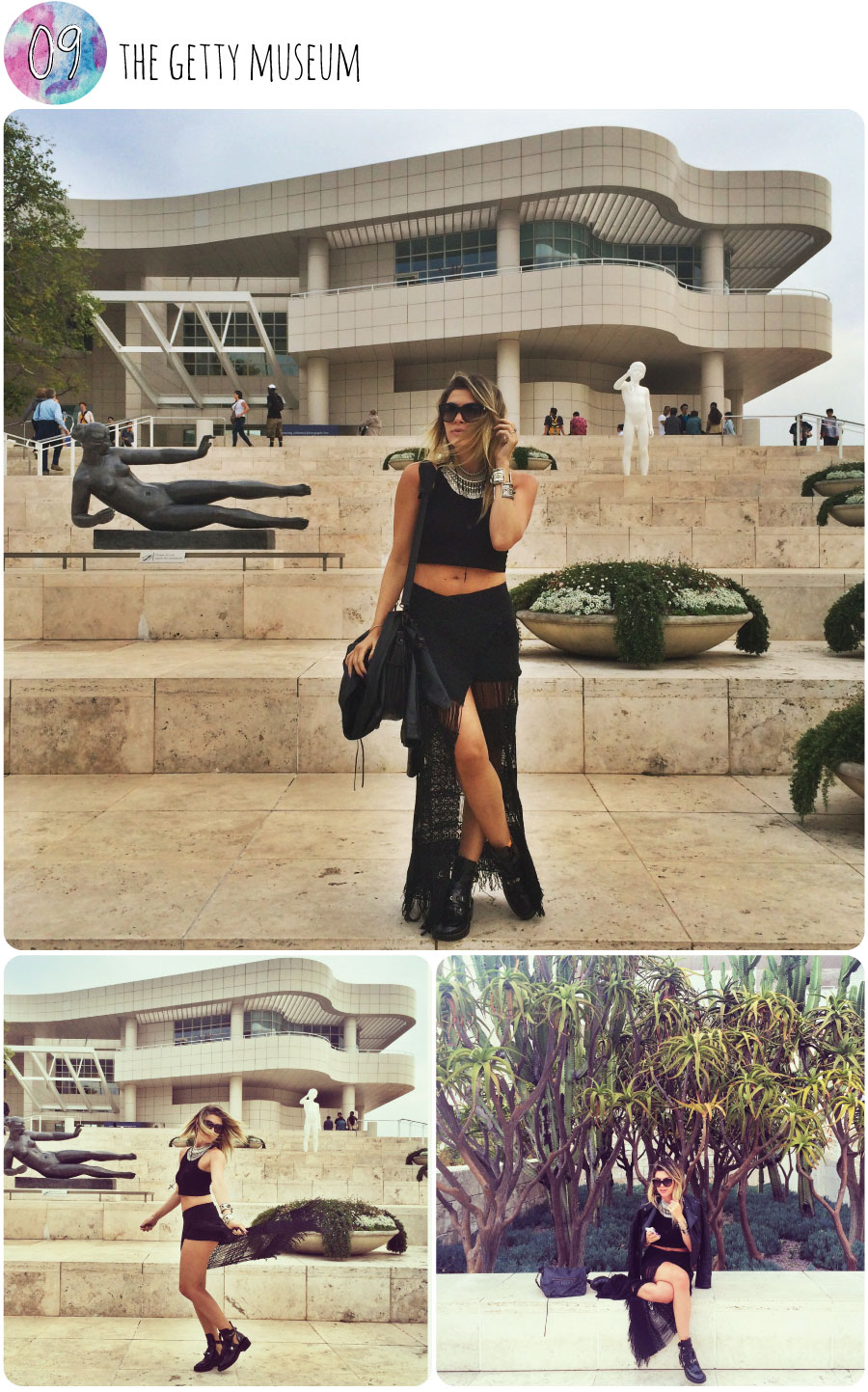 I'm a sucker for getting to know new museums. I think they're crucial for a deeper knowledge of the place. They say a lot about it. Not only the permanent collection, but also the architecture, the green area around, the location, the atmosphere… So that's why I always try to see the main museums in the cities I go to. And the short time in LA only allowed me to see the Getty. And it was really worth it!
What a beautiful place. Gosh! So beautiful! It's on the hills, so you have an amazing view of the city. I was there on a  cloudy day, no visible sunset, and yet I was pretty impressed with the beauty and greatness of that place. I can only imagine how it is on a sunny day. Block an entire day to visit. There is so much to see in there. So take your time to see it all. Stop, have lunch, spend a few minutes on one of their lawns, take a few pictures, marvel at the landscape, then go back inside to see the rest of it. See it all. Every detail. Takes up your whole day!
Shopping addicts paradise! I risk saying it's one of the most beautiful large-avenues-where-all-the-big-labels-are I've ever been to. Seriously. I didn't spend more than half an hour there. I was running out of time, it wasn't about shopping, just getting to see it. But I was mesmerized by how beautiful the place is. Super clean streets, amazing trees, only a few (beautiful) people walking around and the most incredible store windows I've ever seen. No kidding.
I regret not having photographed it all. But I recall the Dolce and Gabbana window was full of giant coins, Chanel's was all white, super chic. No ordinary windows. Don't even think about it. Just pieces of art and fashion installations for the fashion lovers. Wish I had more time there. Maybe next time!
I've probably mentioned in one of my many travel posts (London, NY, Rome, Buenos Aires, Venice, Florence, Milan, Caraíva, Miami, Noronha, Rio de Janeiro…) that always when I get to a new place I like to get to know the surroundings. And the way I do it depends upon the place – by foot, bike, train, car… Some people enjoy those red sightseeing buses, which give an overview of the place through a few stops. Doesn't matter. Depending of the dimension of the place and distance between the spots I want to visit, I'll make a different schedule.
The biggest bummer in LA (in my humble opinion!) is that you need a car to get anywhere. Like Miami. Which I don't particularly enjoy… I like taking trains. Walking. I hate having to worry about the GPS and parking spots. To spare change to pay for parking and all that. But that's how it rolls and nothing we can do about it.
In our tourist day, however, we hired the nicest driver ever, called Carmel, to make our lives even easier! It was Bibi's (my friend and travel companion) idea and I have to give her that one. Carmel arrived on a huge, super comfortable car, with an ice bucket for our wine, impeccable playlist and endless stories to tell and make our ride even more fun.
We had requested him to go into the neighborhoods, so we could actually feel the place's vibe. And it's so crazy how you can see a thousand Los Angeles in one. How different the city looks in each neighborhood. And how beautiful that is…
In the midst of that whole tour, Carmel showed us everyone's homes. I got the goosebumps when we passed by Michael Jackson's place. You have no idea… I even asked to get out of the car. So crazy to get this close…
We wrapped up our day with an incredible sunset by the beach – Carmel even came up with a towel, set a picnic for us… I'm speechless about this guy! So I highly recommend his services! Here's his phone if you're interested in splurging like we did: +1 323 678 6182!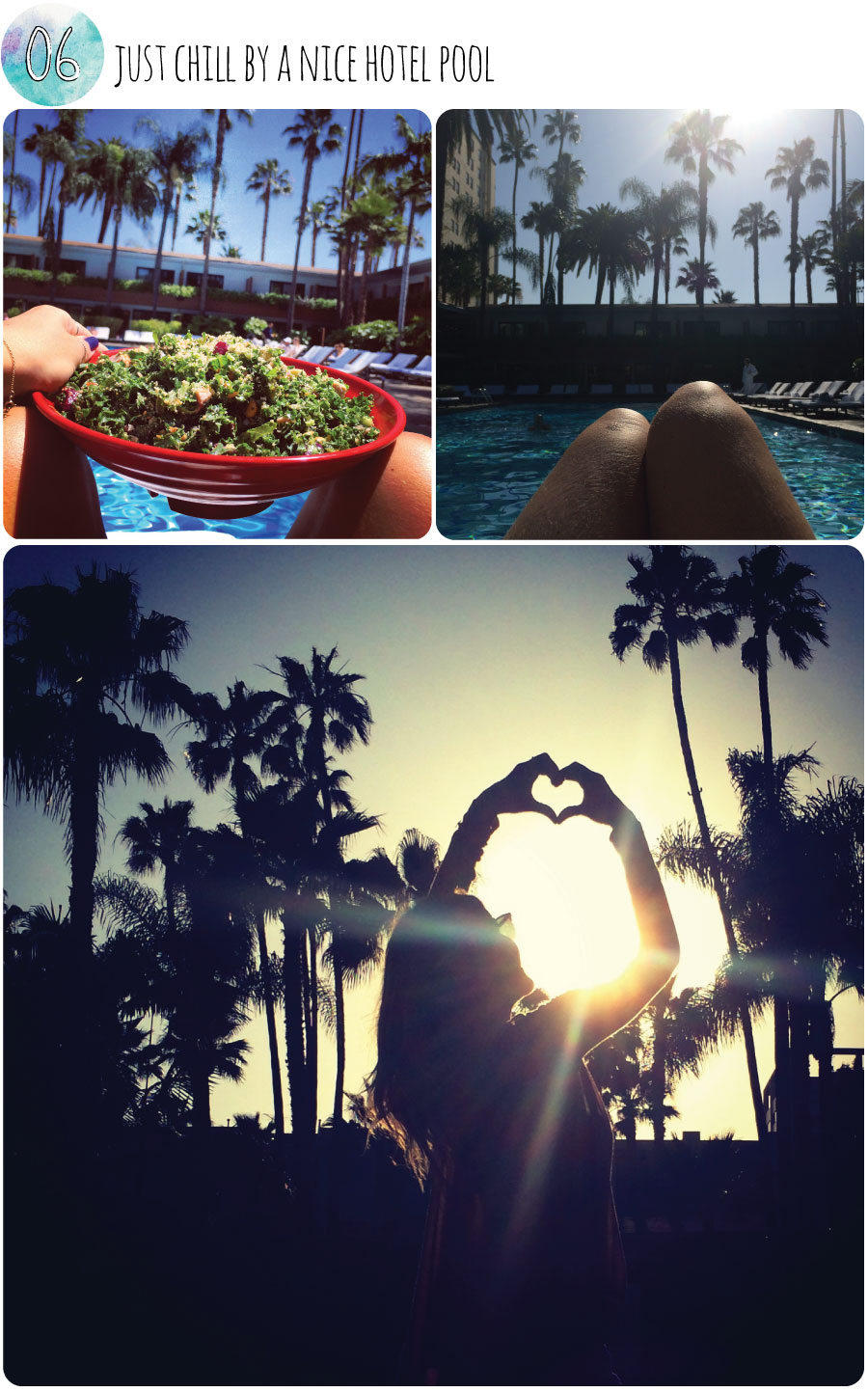 Los Angeles is full of beautiful hotels with even more beautiful pools. Some on the rooftop, others not. My hotel pool was on the ground floor. Delightful! I stopped by every day. No exceptions. There is a bunch of locals, who live close by and use the pool, as well as a bunch of tourists. The Roosevelt (where I stayed) is pretty cool and has a great pool. You've probably seen lots of pictures of it on my instagram.
Packed with beautiful, young people. Super lively. So we woke up, had breakfast out, and spent a couple hours tanning and and peoplewatching. Or, by the end of the day, watching the sunset and having cocktails. It was Coachella week, so it was always packed. Great time!
Mullholand Drive is an avenue with countless sight spots. I can't tell exactly where to stop. Specially since it was the driver who stopped for us where he thought would be best. But all you have to do is look it up and find a view point of your own! It can be facing the valley, the city, facing the mountain or the view from behind, overlooking downtown and even the hollywood sign! Just pick one and wait for the sun to go down and contemplate. Perfect for pictures!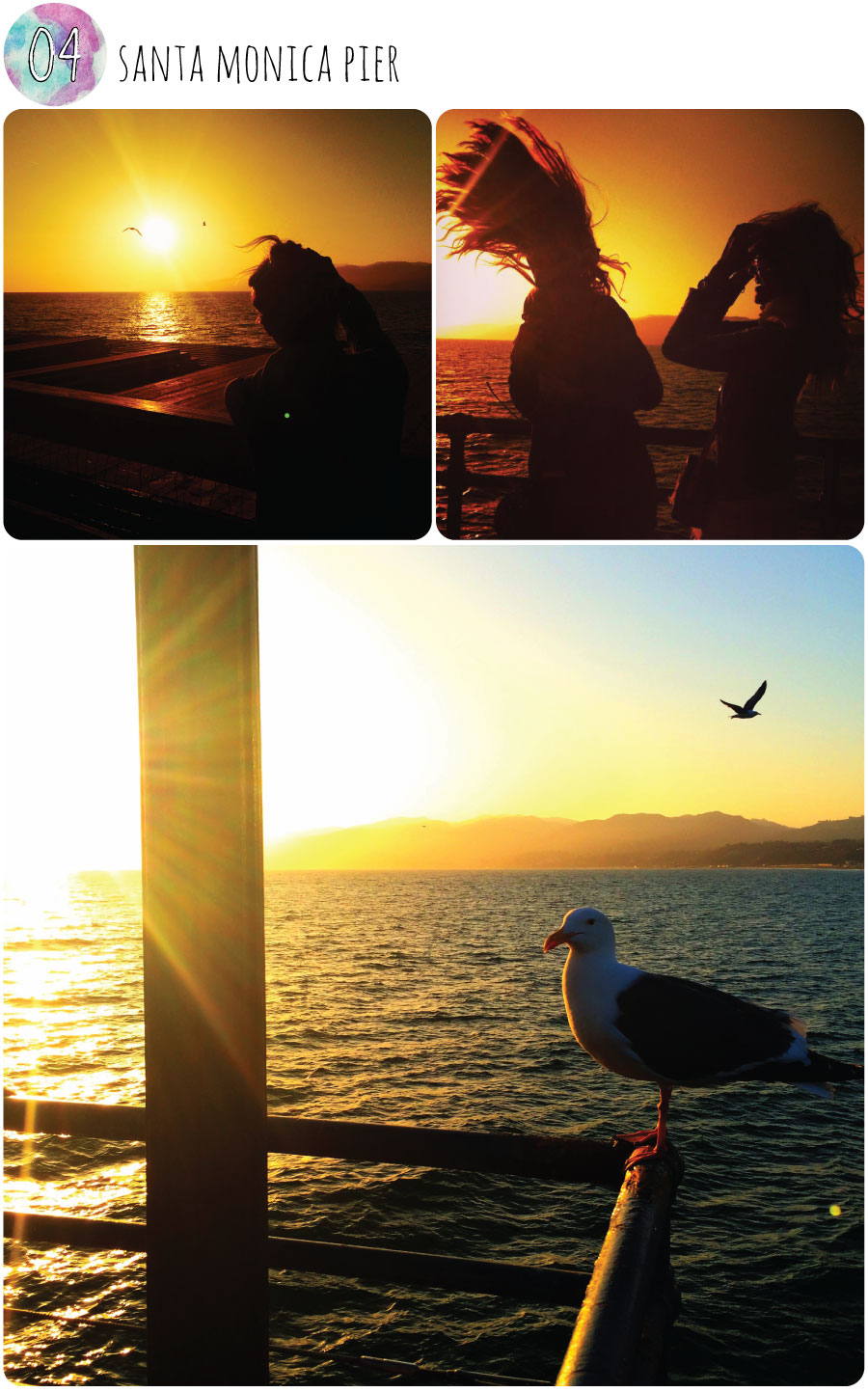 Super touristy but I love it. Gorgeous place, gorgeous view, birds singing, wind blowing, the sea, a ferris wheel… Everything that makes you feel you're actually on a trip, you know what I mean? A whole dreamy atmosphere. Not sure if I can explain it… Hope so! I didn't spend much time there but it was worth it. What a delightful stroll…  
Another gorgeous beach to spend the day. Take pictures. Contemplate and thank for all that grace. What a fantastic place… Holy moly! It's pretty far (about half an hour by car) but it's mandatory. I wasn't able to seize the day, since I got there by sunset, but I saw a lot from the car window. A good thing to do is lunch or dinner at the Nobu there. It's huge, all open, with an outdoor area by the sea, the perfect spot if it's not cold, and the fantastic Japanese food of all Nobu locations. More about that on our top 10 restaurants in LA! We'll get there!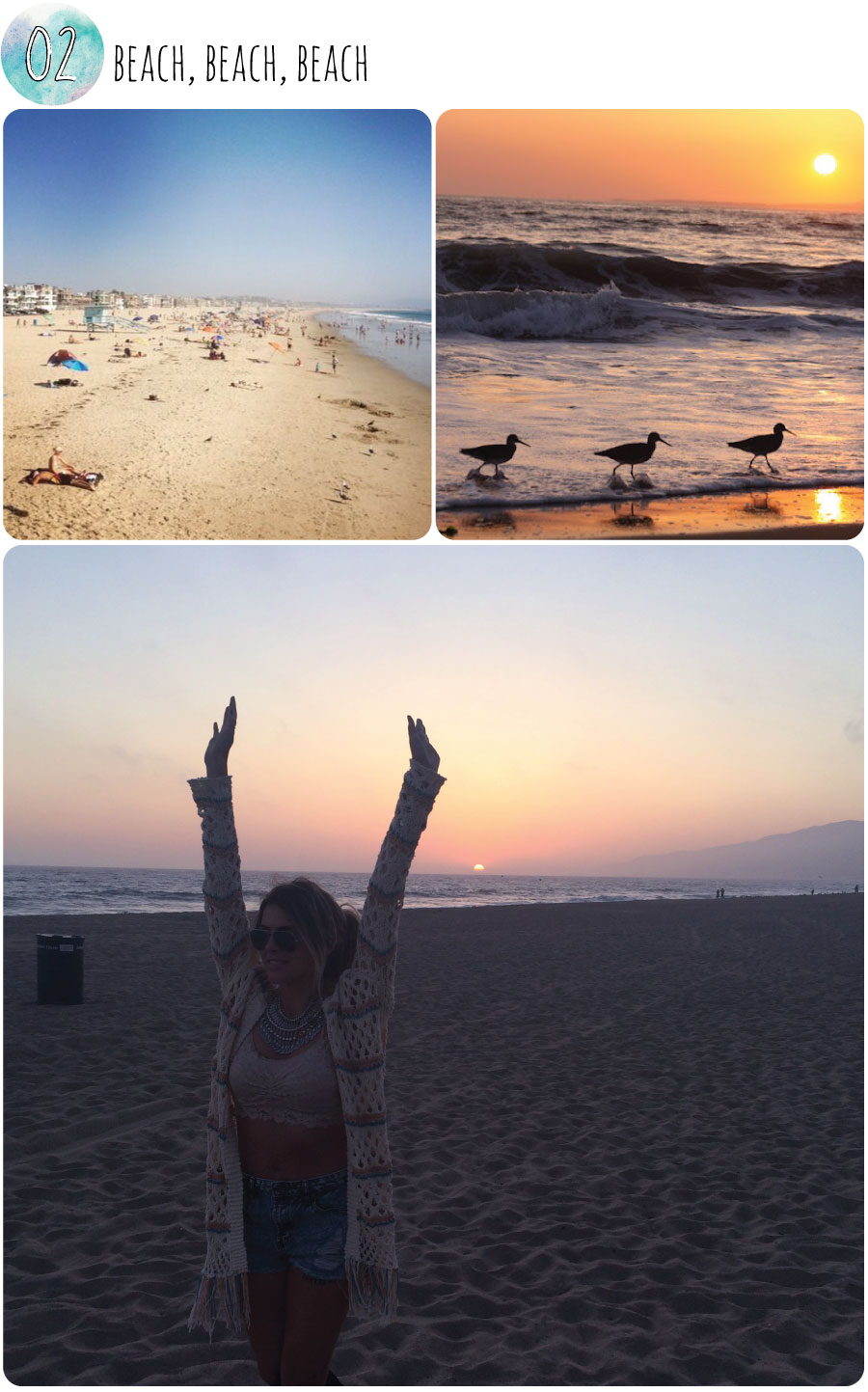 Only if you have time on your hands! If you're not in a rush. For those who'd rather to feel the life of the place, taking their time, than rushing to see all the tourist attractions.
I'm more of the chill ones… All about sitting in a café and spending hours there by the morning. Just peoplewatching. Or at the park. I can spend the whole day just observing. With a book, a towel, an iPod… If I had only one day in nyc and had to choose between going to the Statue of Liberty or the Central Park, I'd go for Central Park without thinking twice. Or any park. But that's very personal. My parents, for example, would leave me there to take the Statue picture. Definitely.
Same in Los Angeles. If I had an only day and had to choose between the hollywood sign and chilling by the beach? Beach. Most definitely. I spent one morning there and it wasn't enough. Too little time by the sand for me. But that's ok… Yet another reason to go back!
My favorite spot in Los Angeles. Besides the most amazing palm trees I mentioned at the beginning of the post, there is SO much life going on there. Take a whole day, at least, to see it.
Go to the beach. Enjoy the sand. Photograph the seagulls, the sea, those super cliché blue lifeguard houses. Have lunch in one of the many spots around, preferably by the sidewalk, not to miss anything. Then walk by the beach. Rent a bike. Or a skateboard. And discover your own Venice. It's so captivating. Lots of stands. Skate rinks (sorry, don't know what they're called! Ralf? Whatever). Artistic intervention on the streets. Ohhh… I get blue just at the thought of it. I've seen so little. Took almost no pictures. But, again, another item for my must-go list when I'm back there. The list is getting longer!
That's good though! It's good it was so amazing and I still feel there's so much missing… That there's so much yet to be seen…
My LA encounter really happened…
And it was so, so beautiful… It was pure love!
And I already miss it like hell!
See you soon, Los Angeles…
♥