Top 10 * Things to do in NYC
Wednesday December 25th, 2013
I knew this time was about to come. This tough moment of having to pick 10 things to do in a place of endless possibilities. Where everything is always changing. It was hard enough to make the top 10 restaurants – it actually turned into a top 15 and it still wasn't enough for me. So many things left behind. But I'll see what I can do now… #dramaqueen.
I've said countless times (you've certainly read it by now – on twitter, instagram, facebook page) how much I love New York. That that's my place in the world. That an entire life is not enough to discover the city. And that's exactly what I think. I'm so overwhelmed when I go there for a short period of time. Last time it was five days. A marathon. Almost didn't sleep. And I tried to do some more touristy stuff just to share here in our top 10. Everything's fresh on my mind and I already miss it really bad. So let's go through it together?
I must say I'm not very much into those super tourist stuff. Not at all, actually. Neverending lines. Tourists only. When I'm on a trip, all I want is to get to know some locals. See how they spend their days. Everything you WON'T get from the city's cliché programs.
I went to see the statue on my first time in nyc, many years ago. And I never went back. Got there, took some pictures, ticked it from my list and that was it. But how come I don't mention the city's main postcard? Can't do so, right? Especially to those who're going for the first time! So I recommend you take one of those red buses (google sightseeing nyc and you'll find a million options!) and complete the entire tourist circuit in only one day. Statue of Liberty, Columbus Circle, Rockefeller Center, Empire State… That is, if you're more interested in the new yorker lifestyle like me, of course.
If you're a tourist by heart (like my parents! They love it!) you can take a whole day or at least half a day to do any of those things. Depends on who much time you got. The boat ride to see the statue, for example, is pretty nice. Makes for some great pictures. Which can also be taken on the Brooklyn bound ferry, where you'll definitely find some locals. I'd much rather do that!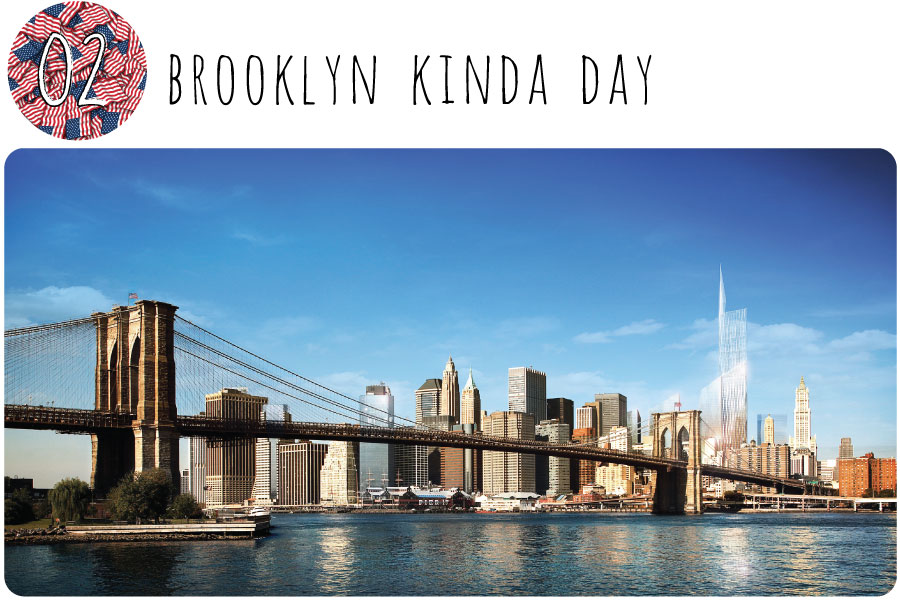 Speaking of Brooklyn, let's get to my perfect Sunday in nyc. Saturday or Sunday, actually. Doesn't matter. Brooklyn is less lively during the week. So you have two options: take the subway (take the L train (grey) and get down at Bedford Avenue) or the ferry (love it!). You just have to set your time and priorities!
Dumbo is pretty cute, but a bit lifeless. I went now for the first time (by ferry) to see Jane's Carousel – no big deal! – and the view makes it worth it. You can see Manhattan and Brooklyn Bridges together making for an amazing postcards (which I love and always want to photograph). I took some beautiful pictures. But I don't think I'd go back. I love Williamsburg. That's where you should take a nice stroll. Especially between N 6th and 11th Streets. Walk all the way through it. You'll find hundreds of vintage shops, record shops, interesting people on the streets. Another postcard I love (and always photograph) is the Brooklyn Bridge. The view of Manhattan on the other side is also pretty touching. If it's a sunny day, get ready to see the most beautiful skyline ever. Sunset and cocktails at the Wythe Hotel rooftop is pretty cool too! Really worth it!
Take a whole day to wander around Soho and its surroundings. In fact, if you have the time, take more than one day. One day is not enough! There you'll find amazing places to eat, the coolest shops and the prettiest people. Cool people only. I love getting lost around that place. Packed shops and sidewalks. But you get used to it real quick. I like to get out at Prince or Spring Street stations, on the corner of Broadway. So you can walk all over Broadway. Right and left. If you're looking for fast fashion, there you can find Topshop, Urban Outfitters, Zara, H&M, Uniqlo, Forever 21, Sephora and everything else you can imagine. Those shops only take an entire day, right?
If you go down Spring or Prince Streets you'll get to a (just a bit) quieter area, where the designer shops are. Walk all over it and discover the places. You'll find Chanel, Vuitton, Isabel Marant (must go! Even if you're not buying anything, the shop has one of the most amazing windows I've ever seen! And it's always good to see what's going on Marant-wise, isn't it? It's on 469 Broome Street!), Alexander Wang, Prada, Stella McCartney and some more. Just pick what you want to see the most and go for it!
GASTRONOMIC ADDENDUM: once you're there, go for brunch at Balthazar and/or Café Habana's mandatory corn and/or lunch at Cafe Gitane! I talked about those places here! It's all in that area. Pulino's too! The eating possibilities are endless, so I won't even start otherwise I'll go crazy here! Let's just forget about it…
We're talking about the city that never sleeps, right? Let's not forget about it for a minute! So don't you ever forget about nyc's nightlife. Yes, you'll be exhausted by the time you get to the hotel. You'll take a shower and just think about going to bed. It happens to us all. I get it. Just be strong, put on your best outfit and go out the door. A good trick (it's what I did last time) is to schedule everything and buy some tickets in advance so you don't give up while you're there.
Just try to find what you like best after a nice dinner: theater, concert, something fancy, indie, cool… I always buy the Time Out magazine (out every Wednesday!) to see what's going on and get some recommendations. I knew Orlando Bloom was on Romeo and Juliet, for example, so I bought it in advance to get good seats. The most recent must-see is Sleep No More (I saw it! An amazing experience! You have to go to understand!) which ends in a bar, kind of interactive, sensory experience. Really worth it. I also love Fuerza Bruta. Another thing I did for the first time was going to a basketball game. LOVED it! For the girls looking for some flirting, I must say I had never seen so many guys at once, and it's an actual new yorker experience. So cool.
Oh, and I always hope there will be some big concert at Madison Square Garden. There are always great artists in town. So get informed!
Going to New York and not visiting any museum is worse (to me) than not seeing the statue! Really! There's SO MUCH to see! So many options. Time Out is also useful here, to see if there are any cool exhibitions going on. There's always something. On top of that, the basic, mandatory ones: MoMA (don't forget about the Sculpture Garden and the gift shop! It's awesome!) and Guggenheim (I LOVE the architecture and the restaurant on the top floor!). My favorites.
It's been a while since MePa went from butchers to hot spots. Nice shops (Moschino and Diane Von Furstenberg), good restaurants (Pastis, Spice Market, Spotted Pig, The Standard Grill, it's all there!), amazing hotels and most nightclubs (Boom Boom Room, Provocateur) are also there. Another must-go is the High Line Park. I love that place. When I lived in the city I would spend countless afternoons just lying down on their chaises studying my texts. Walk around it and you'll find a deck overlooking the avenue, super cliché, but super instagram-friendly.
Once you're there, stop by at Chelsea Market as well. There you'll find all the best stuff: bakery, wine, pasta, seafood… It's kind of a sophisticated market. Lots of cool people. I went there Christmas time and the decoration was gorgeous. And then, walking around Chelsea, you'll see a bunch of cool art galleries. It's what I always say: just walk, walk, walk. You'll certainly discover your own New York, with all the little corners and cool, local shops. You can bet!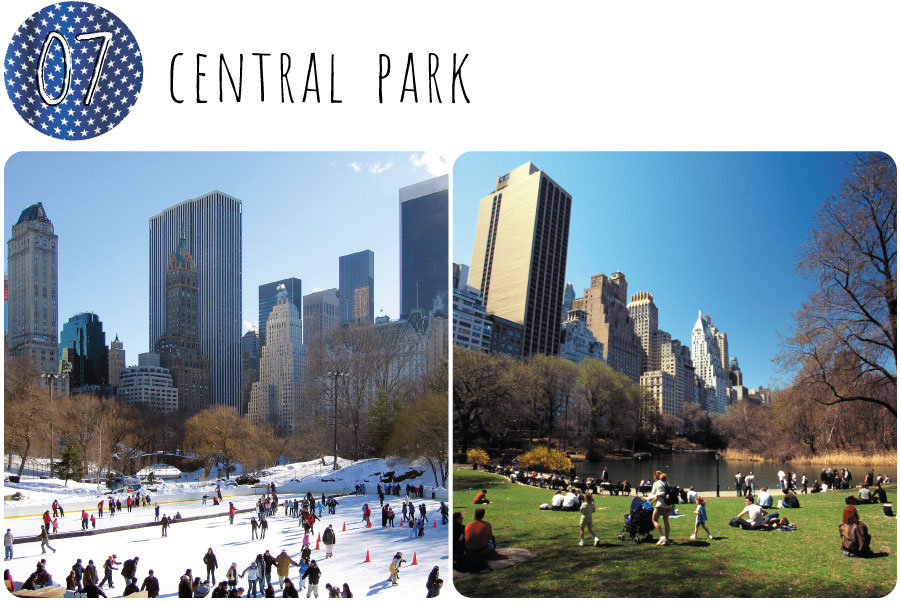 I'm a sucker for Central Park! And who isn't? In fact, I'm a photography lover (has anyone not noticed that?) and the options there are endless. They have a huge, amazing lawn (Sheep Meadow! When you can't go to the beach, a nice lawn space is the next best thing!) where people spend the whole day. Reading, cuddling, having picnic, practicing yoga, playing matkot… All kinds of things. In the summer, the dress code is swimsuit! I've spent several afternoons there!
Still on the "I love photography" series, I'm really obsessed with sunsets. When it's about time I start getting nervous. Really nervous. I need to have a good spot to watch the sunset. And I never get enough of it. I'll stop whatever I'm doing to watch the sun go down. I usually fit it in my schedule, I leave home knowing what's the best place to do it whatever I am.
With that in mind, I went to try another tourist attraction to tell here! Going up the Top Of The Rock. I had been to the Empire State (also cool!) on the same trip I went to see the statue and (yet again) never went back. There are so many hotels with cool rooftop bars, boats and other options that I just wanted to escape from the cliché (again and again). But I must say I loved it! The line wasn't too long and the view was incredible. Being able to photograph the Empire State popping in the skyline was the icing on the cake. Highly recommend it!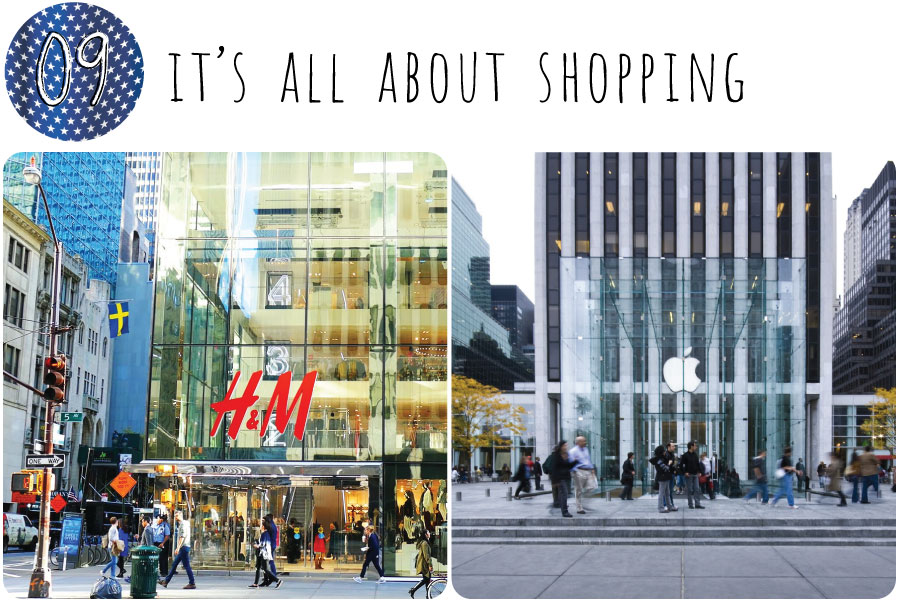 Let's go back to shopping, shall we? After all, it's almost impossible to go to nyc with no intention to shop whatsoever. So here's the deal: when I want to buy some particular stuff, trend hunt, explore, I like going to Soho or Brooklyn. And I leave Madison and Fifth Avenues for the big labels. It's all there. Hermés, Louis Vuitton, Fendi, Gucci, Prada, Ferragamo, Dolce, Miu Miu, Valentino, almost all jewelry stores, anything. Fast fashion shops too: Zara, Forever 21, H&M, Urban Outfitters… That is, you can do all the shopping there.
I usually shop the department stores (Saks and Bergdorf Goodman, my favorites!) especially on sales, since they put some amazing stuff on sale, some stuff the brand itself would never put!
There's also the infamous all-glass Apple store. Just be prepared to face the crowd. And good shopping!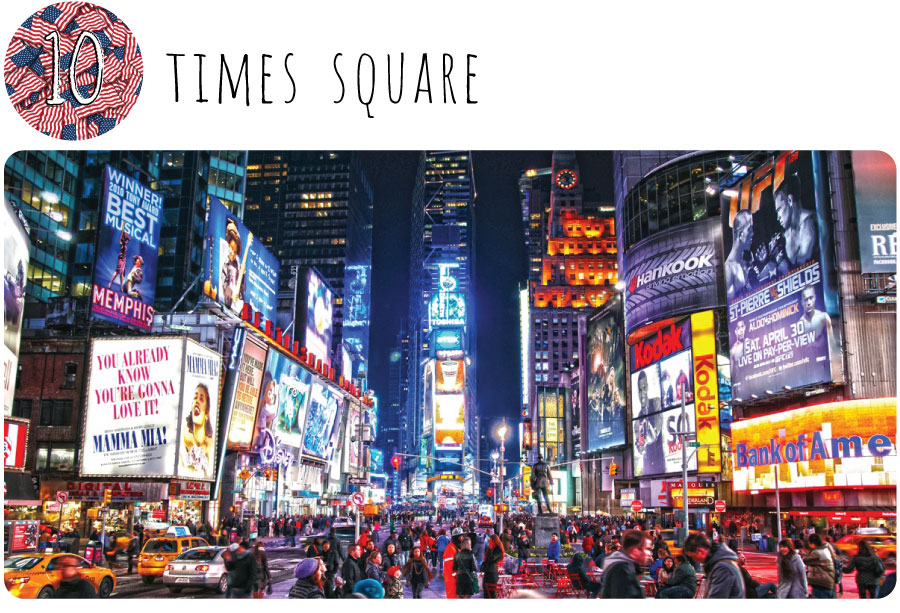 I thought again and again if I should include Times Square on our list. I almost put it on the "postcard" item, since I don't particularly enjoy it. But then again I thought that who's going to the city for the first time has to have this experience. Yes, it's a hive of activity. Packed. Really packed. Really, really packed. Not only with people (99,9% tourists and the rest, people trying to sell souvenirs to the tourist), but also visual information. Countless luminous signs, led panels, billboards. The Broadway shows are all around that area, as well as the Madame Tussauds wax museum. I've already ticked it off my list when I was younger, so I pass it nowadays. But it makes for some fun pictures with your pottery idols. Anyway, just try it. Take some pictures. Buy some 99 cent stuff to bring to your friends. It's actually fun. Just get into it and go with the flow.
Phew, that's it! I think I finished our top 10. With a bunch of things missing (of course!) Saint Patrick's Cathedral (beautiful church on the 5th avenue!), Union Square (delightful square full of people and good restaurants – my school was there!), World Trade Center, Hudson River Park, Grand Central Terminal… I could spend an entire life giving you the tips! But those are all tourist attractions, so if you take the red bus I mentioned earlier, you'll see them all. It all depends on your choices and priorities!
And I want to hear from you too… (Always) feel comfortable to comment, add and share stuff here! That's what this space is for!
Hope you've enjoyed my New York… And that you can be able to go to all those places and make your own New York!
♥
See you soon, my beautiful concrete jungle…