TOP 10 * THINGS TO DO IN IBIZA
Monday June 29th, 2015
Have you ever heard of STEAL THE LOOK?
Two hot, cool girls who joined forces to make our lives easier: steal the best outfits posted on social networks.
That way, they pick the most popular ones and reproduce them, sharing the link to shop for a similar outfit.
Could it get any better?
I was already an Instagram follower and watched it from a distance. But now I'm family. Really dug in!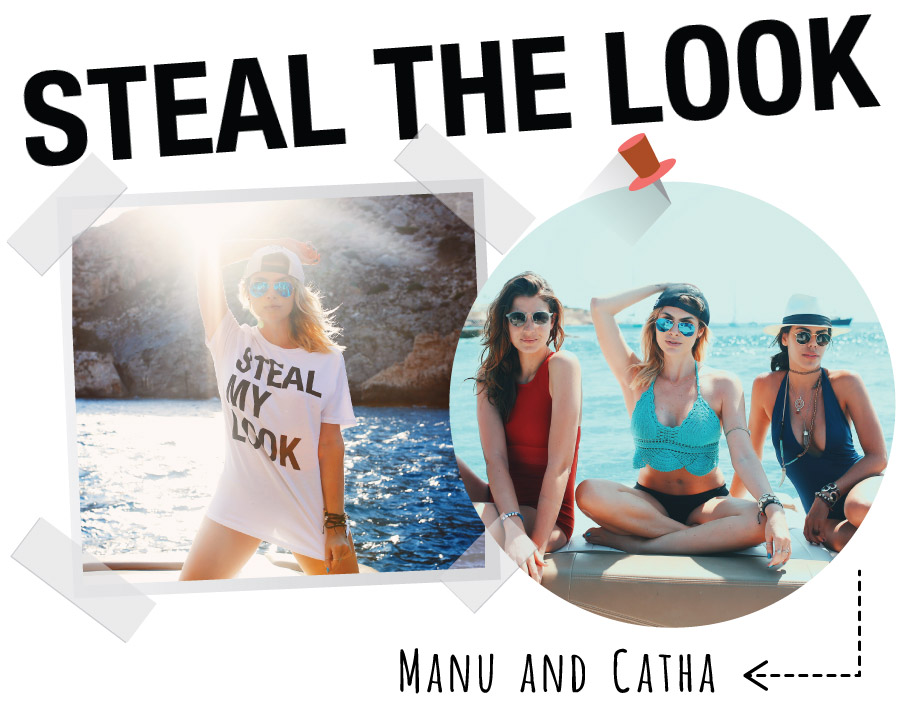 I was invited (and I couldn't refuse!) to join their crew (it's a big team already!) for #StealTheLookSummerOffice.
Destination?
Ibizaaaaa!
And now I'm here to tell all about the best stuff we did there…
Shall we?
That was the clearest water I've ever seen.
When I started asking people who've been there before to give me some tips (did my homework! Got there full of recommendations!) ALL of them told me to spend the day in Formentera. It was a must-go. So I put it in the program first thing.
And how did it go?
Wanna go back to spend an entire week there. So many incredible things to do, countless beaches where I could spend the whole day, no time to leave.
You can go by boat (rent one and share with your friends) or ferry.
The ferries depart all day long. Once you get there, the best thing is to rent a tricycle, motorcycle or bike to take a stroll. It's small, but not quite. Can't make it by foot. Besides, there's so much to see and only so many hours in a day, so make your time worth it!
We went to the marina by car and took a ferry which was a little overpriced, since you can get your car inside. Then we walked around Formentera in our very own vehicle. It ran pretty smoothly.
The only deal breaker is that the last ferry departs at 9 pm, and I was dying to watch the sunset there, which is about 9:30 pm in the summer.
But it was fine in the end, we watched the sunset from the ferry and it was so, so beautiful!
We went to Formentera by ferry and took a day to rent a boat and explore other beaches. We preferred to do so since in Formentera we'd spend more time on the land than by the sea, so we wanted to make the most of our boat day.
They have boats of all sizes and price ranges.
We visited unimaginably gorgeous spots. Grots, cliffs, water in every shade of blue you can think of, beautiful shoals to watch while you dive… We left by 2 pm and stayed until 10 pm to watch the sunset.
That obsession of mine, right?
And, man…
It was so, so gorgeous!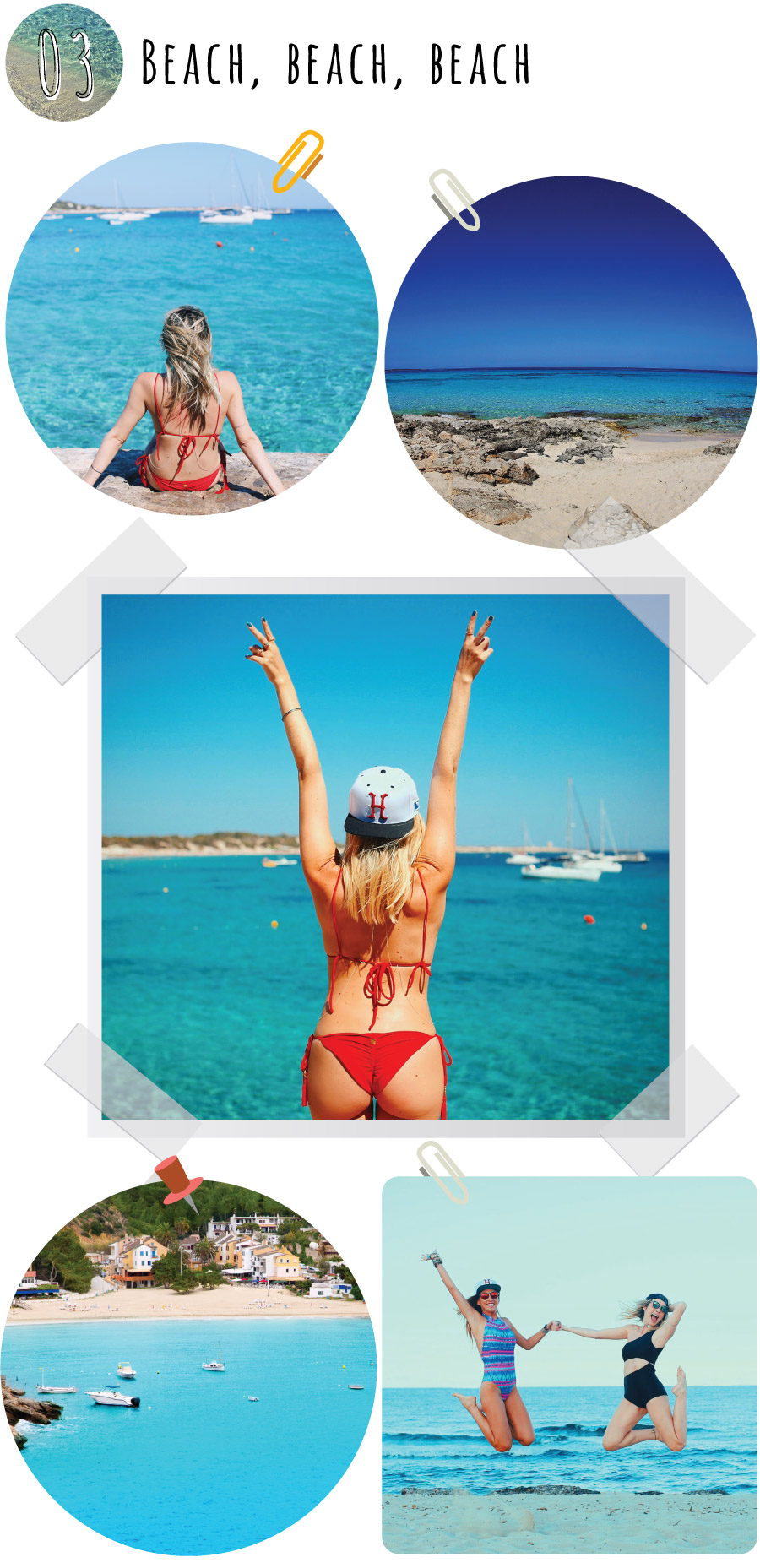 I couldn't pick my favorite!
So difficult…
Besides, it depends a lot on the day you go, right?
As far as I know, in July and August it becomes unbearably packed.
And I'm not the type of person who enjoys a packed beach, long lines, hard times…
I definitely prefer a paradisiacal beach, almost deserted, free of noise.
So I guess it depends a lot on the time of the year, as well as the day of the week.
But there is one thing I'm sure of: EVERY beach I've been to was GORGEOUS. ALL of them.
And there are still many of them to be seen…
My best tip is: stay as long as you can in each place and get to know everything! All of them!
Beaches I've been to: Salinas, Punta Galera, Experimental, Cala Saladeta, Cala Calada, Es Cavallet, Cala Comte, Playa De Les Llletas (Formentera), Playa Levante (Formentera) and a some others I must have forgotten!
Oh, and get ready to see bunch of naked guys and girls! And I'm not talking topless! I mean FULLY naked! The crowd around there is really detached and doesn't care much about swimsuits.
Total freedom!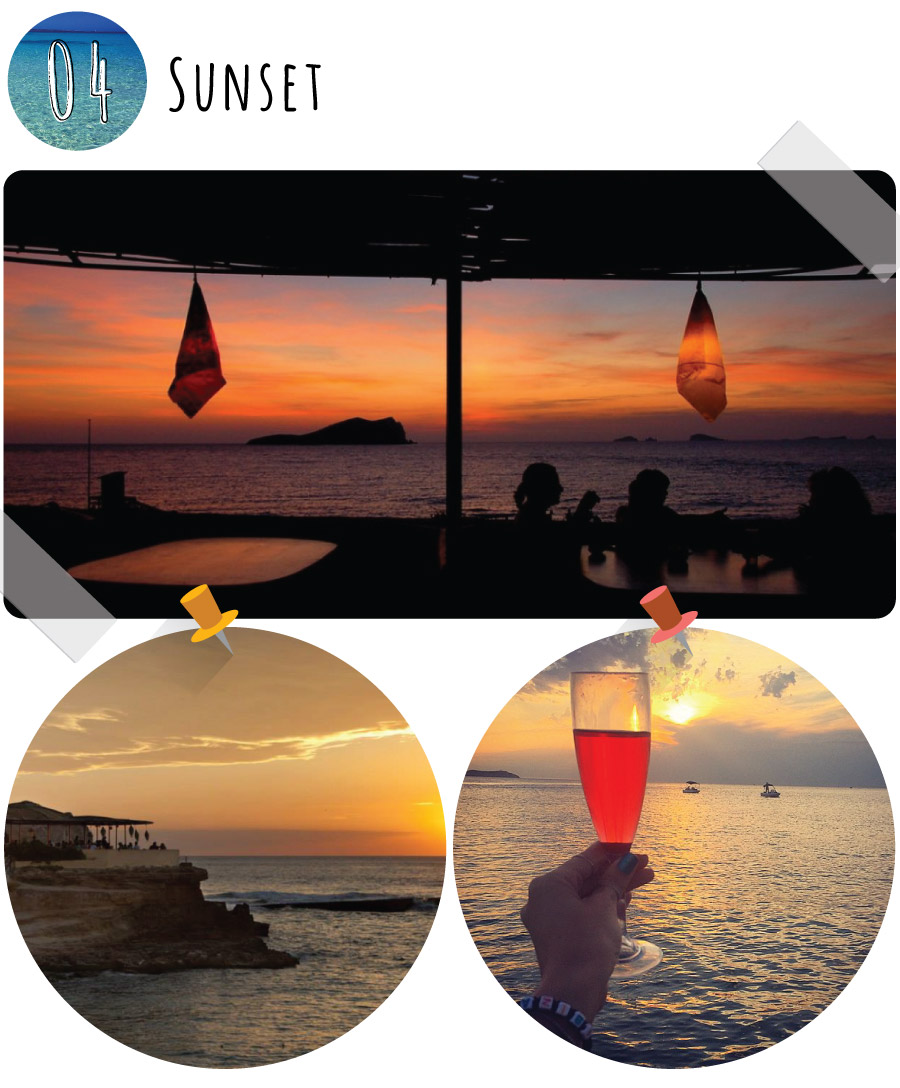 Another must-do, according to friends, is to watch the sunset from a restaurant called Sunset Ashram, which has an amazing view!
We've been there twice! One by boat, watching the sunset from the sea, and the other one by car, to actually have a meal.
The food is delicious, they have an amazing chicken curry, and the front beach is also pretty pleasant (a little more crowded) and full of beautiful people.
It's a must go, just make a reservation for a table on the balcony.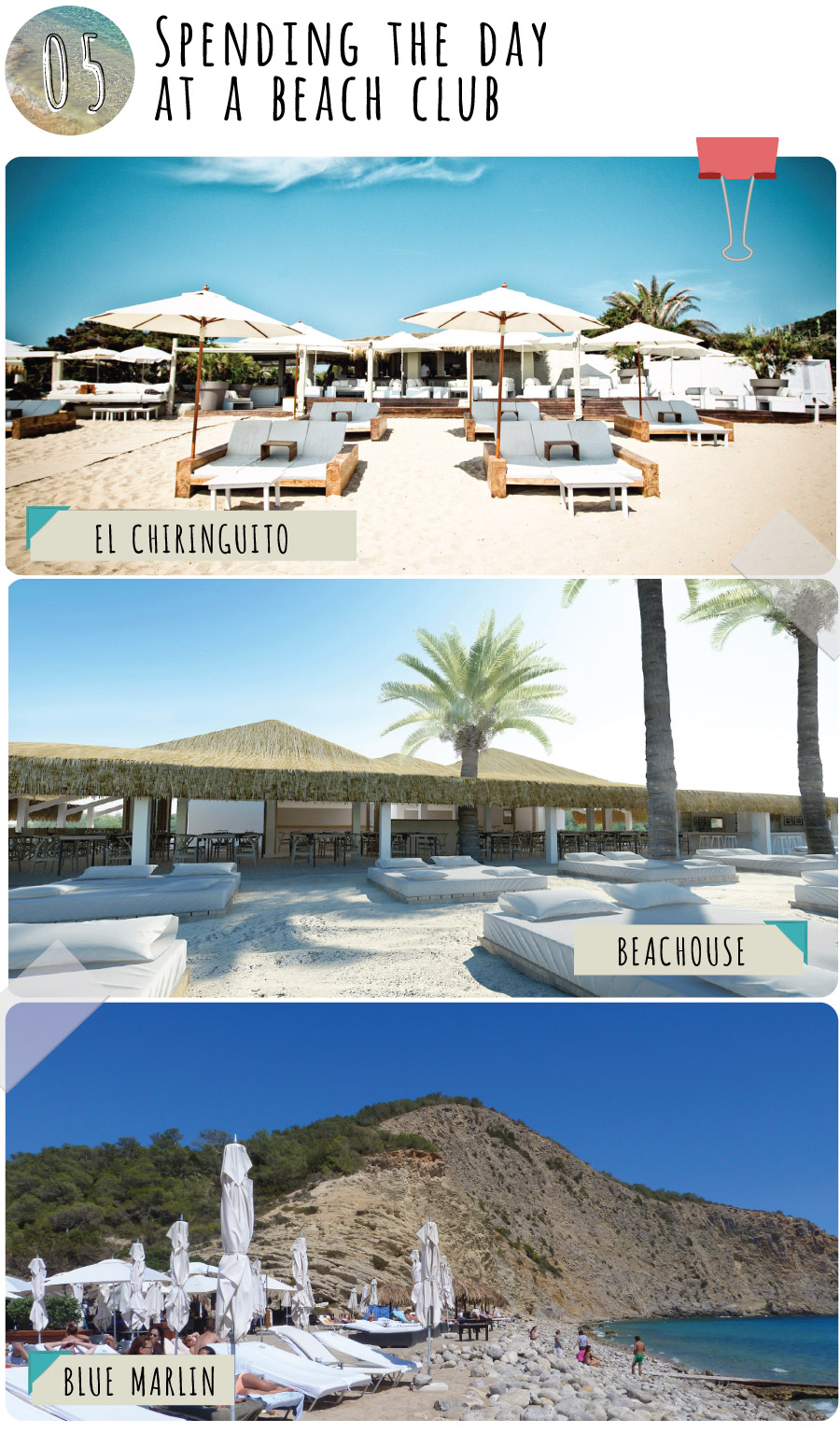 I disappointed all my friends when I told them I didn't go for a night out once. I know, I know, it really is disappointing. It's just that I was sooo amazed by all that nature, I enjoyed the day so intensely, that I got home by 11 pm still in my bikinis and had no energies left.
The closest thing to a night out I did was going to the beach clubs. There is a handful of them. They are hyped up restaurants by the sea, with good music and even better food.
The most hyped-up ones:
– El Chiringuito: There I had my favorite food in the entire trip. I got addicted to a dish of them – more on that in our Top 10 Restaurants I'll be posting soon. Anyway, what a beautiful place, full of beautiful people and chill music. It doesn't actually turn into a club, you know? It's more of a see-and-be-seen kind of thing.
I recommend getting one of the chaises they have on the sand, spend the day there, then going to the restaurant to dine. Just make sure you book it first. You must book everywhere. If it was full in June, can't even imagine how it gets in July and August.
– Beachouse: From the same owner of Chiringuito. Amazing food as well. Delicious burrata. And this is a much more hyped up spot. The music gets louder throughout the day, the beach is much more packed and the atmosphere is much more party-ish and less chill than Chiringuito.
I've been there on a Sunday, which is the most well-known day. There is a DJ called Guy Gerber who plays by the end of the day. That's when it becomes a real party! Beautiful people all around the restaurant and by the sand.
At least I can say I went for a night out once!
– Blue Marlin: Haven't been to that one! There wasn't enough time and I really wanted another bite at Chiringuito. guess it's the most famous one, pretty packed and hyped up as well. Maybe next time!
If any of you have ever been there, tell me on the comments to make the post more accurate!
We got to the old town kind of by mistake, trying to get to a restaurant. When we noticed, our GPS was telling us to go inside a grot, then turning into a little alley, then a castle, and so on. Right on the first day.
It's something else. Amazing. A must-go!
I've been there by night only (couldn't leave the beaches during the day) and it's incredible. One little shop next to the other, thousands of restaurants, bars, lots of people around. I recommend you just wander around to discover the spots and then pick a charming little place to have dinner.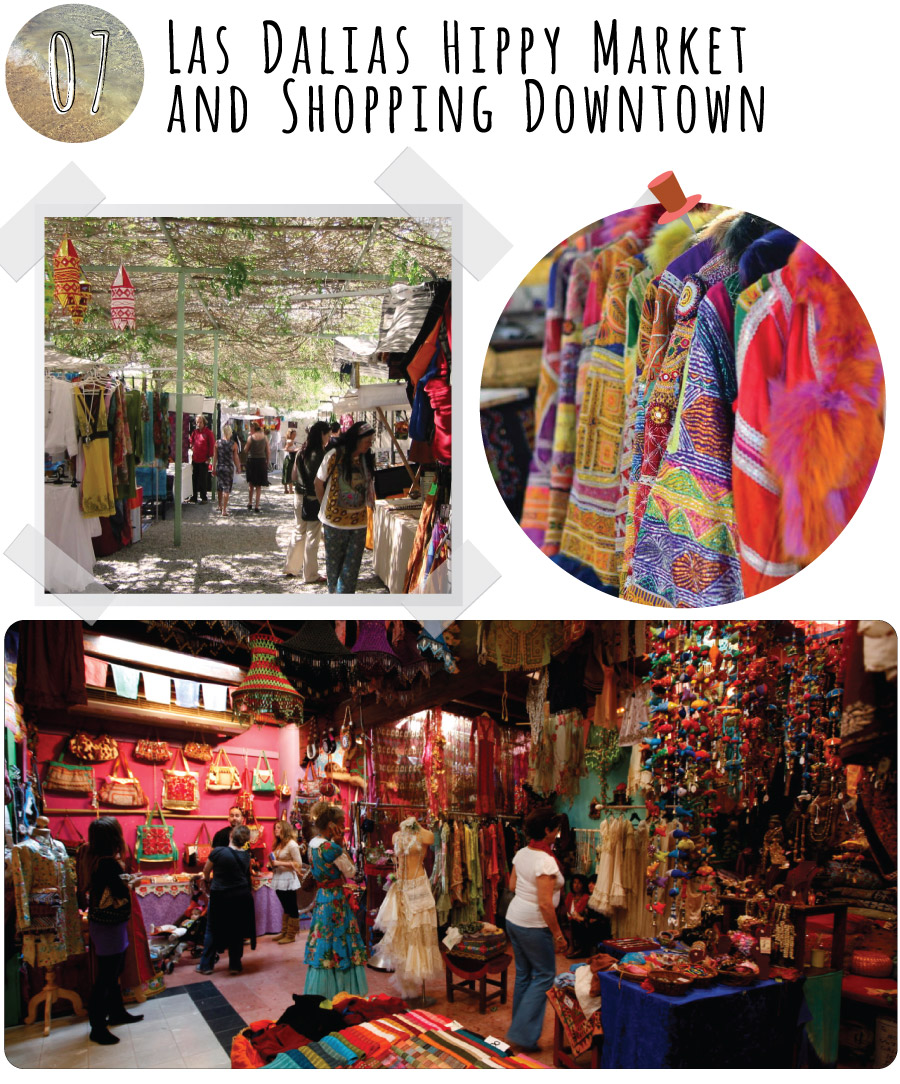 I went shopping just once and it was more than enough. Bought everything I could! Much more than I needed. It's just that it's all irresistible!
All the beach clubs and restaurants have shops inside. And everything is gorgeous, I must say. Then, there is this street market on Saturdays. Super cool. Bought a ton of bracelets, blouses…
Of course I splurged at Zara, spent some money there. And around downtown there is a ton of cute shops that are worth the visit.
Ibiza is a major shopping spot! What a good surprise! I wanted basically everything.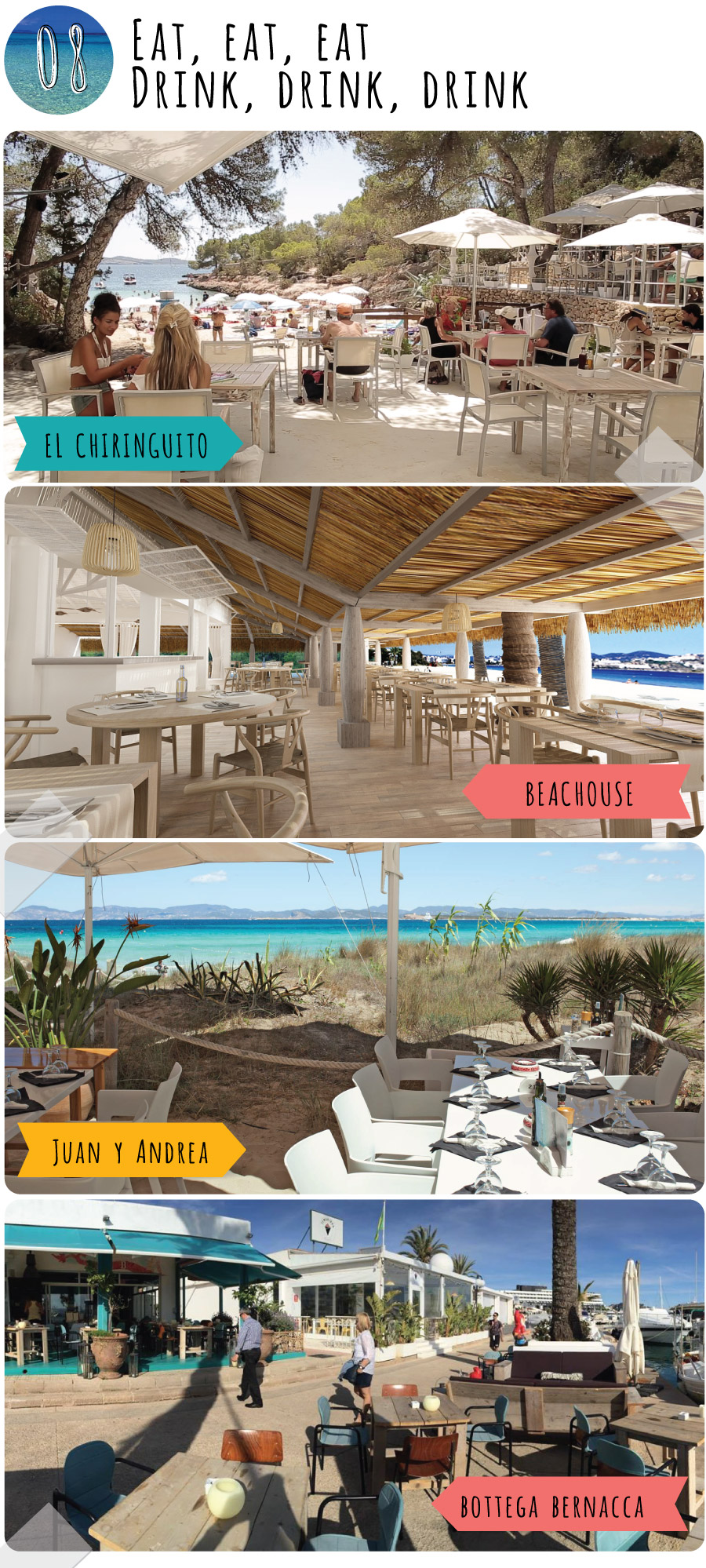 Those were my favorite restaurants. I treated myself really, really, really well there.
And there were still some places on my list I couldn't' make it to. Since I wanted to seize the day, I ended up going to only one each day so I wasn't able to check all the ones I wanted to off my list.
But I'll give the detailed tips at the Top 10 Restaurants post. Stay tuned!
It's clear by now that I'm not the best person to give tips about Ibiza nightlife, right?
Yes, you're reading it right!
Anyway, this was my list (#FAIL) in the beginning of the trip, after talking to my expert friends. I knew everything depended on the day, the right DJ at the right place and that something that's amazing today can be terrible tomorrow. So you MUST get informed.
The top ones according to my friends, who visit Ibiza for years now, are:
– Mondays: Circo Loco at DC 10. It's more of an alternative spot, to party hard. According to my friends, "The Real Ibiza". It starts in the afternoon and gets through the night.
– Tuesdays: Flower Power at Pachá. I guess it's the most well-known party, isn't it? You have to dress accordingly and the music is 60s, 70s, 80s style. Everyone said it was my kind of party. But I missed it! :/
– Sundays: Guy Gerber at Beachouse. Been there!!! Yayyy! Now I can say I've been to a party! It starts by 8 pm and it's pretty chill. Beautiful people, good music, feet on the sand. Loved it!
– Sundays: Solomun at Pachá. They say it's also iconic, but also a little hard partying. Has anyone here seen my crush at the Beachouse waiter on Snapchat? He said it was his favorite party in Ibiza. So I was going. But then I slept. Missed it. #oldlady.
It's what I always say when I write Top 10 destination posts: even though you take thousands of tips, the best you can do is to discover your own Ibiza. Design your own trip, you know?
Were heading to a beach someone told you couldn't miss? If you bump into a waterfall or an alley and get really curious about it, go for it! That way you create your own tips and experiences and are able to share it afterwards.
What's hyped up today won't necessarily be so tomorrow and life always surprises us. So the deal is to be always tuned, looking at both sides and go after what makes you interested, enthusiasm, you know?
That's how it rolls. In fact, everyone who's been to Ibiza is more than welcome to share their tips on the comments! Let's always put everything together here for those who come and read before going on a trip.
Arghhh, I'm already jealous of you who's reading this headed to Ibiza.
Take me in your suitcase! Please?
Thank you, Ibiza. Thank you, Formentera.
For everything. For all.
I'll never leave you behind!