Top 10 * things to do in London
Friday June 22nd, 2012
London was my last stop! My last 10 days in Europe were there. And they were special. Very special!
I knew beforehand that my encounter with the city would be pretty deep, intense… With that feeling we knew each other already, you know what I mean? And that's exactly hoinit went, 10 days of a serious relationship with the city. So beautiful… So urban and yet so poetic at the same time… I got lost wandering around several times… And I had the best company possible, my friend Maíra, who was born in Brazil but is a real Londoner. Lives there for seven years now. Good for me!
I've done it all. Seen it all. Walked around it all. That's why I enjoy staying a long time at the same place, so I can catch every detail. And now I'll do my best to bring all that into a mere top 10 for you guys… Hard task. And even if I saw that many stuff I still feel there is a lot left unseen…
Anyway, I have my whole life ahead of me, right? There you go:
London is full of museums and for the most part you don't have to pay to get inside, walk around (they're always beautiful) and see the collection. For the art lovers, I'll be a little redundant. I'm always in favor of seeing them all. But those who don't enjoy it that much (like some friends of mine!) should try at least TATE MODERN, the coolest of them all. Go up to their café for the view, you can see the entire London and St Paul's Cathedral from a beautiful angle. Too bad I lost my pictures. They were so beautiful… From the Tate you can cross the bridge and bump into St Paul's. That's where Princess Diana got married to Prince Charles. So, so beautiful… There is also a little mall in front of it, and it doesn't hurt getting in, straight to the rooftop for some nice pictures.
The Portobello Road Market is there on Fridays and Saturdays, the whole day. They sell all kinds of things there. But I really liked the little shops, behind the stands. I found some art and houseware shops that drove me mad! I recommend you walk from the very beginning of Portobello Road since the shops there are super cute. Dresses, cool tees, accessories. Basically got lost around there!
It's the Royal Family's residence, right? Peculiar, to say the least! It makes for some good pictures, and the guards start marching from time to time. 10-15 minutes I think. Don't know exactly. They make a kind of choreography. It's fun!
I was crazy for a bike stroll since Paris. Hadn't done that anywhere and in  London it was the now-or-never moment. One of the coolest strolls I did, so good! So I guess that's a good tip… To see the main tourist attractions and take some good pictures, rent a bike by the Tower Bridge, and ride by the entire length of the Thames. You'll pass by Tower Bridge, take a beautiful picture of the London Eye on the other side of the river, and get to Big Ben. Another good idea is to stop and see the Westminster Abbey (where William and Kate got married!) and the houses of parliament. Then all you need is the bike, camera in your pocket and just going round and round 'cause there is a lot to be seen.
It's so amazing that in London you can use your Oyster card for all kinds of transportation, including boats. It's definitely worth it! I took the infamous Thames Clipper at a pier close to the house where I was staying. The boat goes all around the river, and it's awesome to see the whole city from the Thames's perspective. My stop was in Waterloo, at London Eye! Ride the biggest ferris wheel in the world and have an insane panoramic view. Do I need anything else?
The place I loved the most! Really, really loved it. Street art all over and a street market, Camden Town Market, which is there every day but much more lively on Fridays, Saturdays and Sundays. Spend an entire day around. If you're anything like me, you'll want to go back and stay one more (or some more) day(s). I bought a lot of stuff there. I went crazy with that many peculiar people, so many types in an only place. That was Amy Winehouse's neighborhood. She spent her whole life there. It's really so her! More of a punk, grunge, rocker vibe. Strong! A little bit of everything. Gosh, I loved that.
Here is where I saw most of the street art. That's East London. Where the artists are. I went for the "Banksys" but most of it was already very damaged. People cover it up without thinking twice. So sad…
Another must-go is the Spitalfields Market. Another street market, a little fancier than Camden. Saturdays and Sundays only.
Super cute neighborhood. Feels a little like SoHo (nyc). Full of life, cute little streets, cafés, shops and flowers everywhere. Spend an afternoon there. Visit all the shops, have lunch, take another stroll, have a drink in another cool spot and stay for happy hour. Delicious!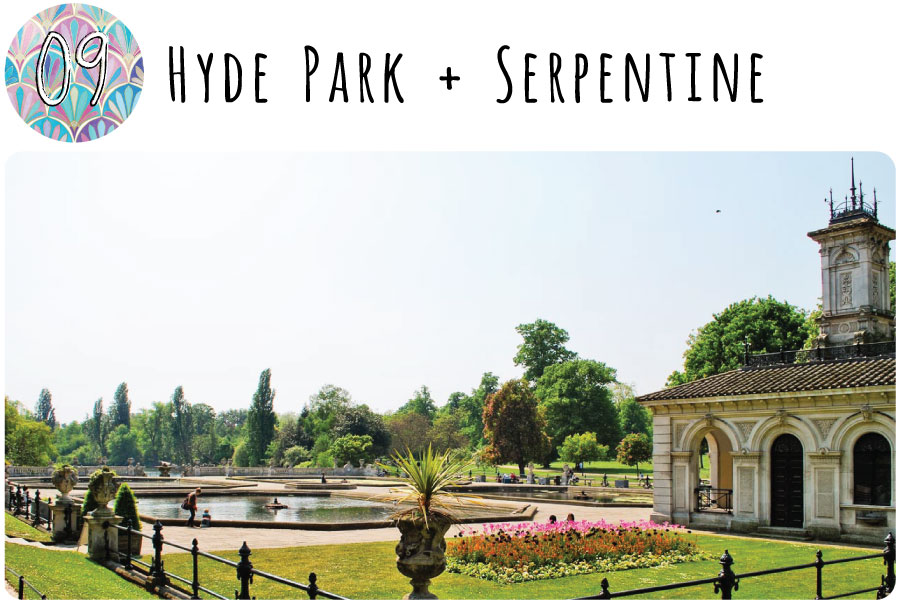 Largest park in Londres. So good… Great to sit there for lunch or just for drinks at the Serpentine, in the middle of the park, facing the lake. Enjoy yourself there 'cause it's really worth it!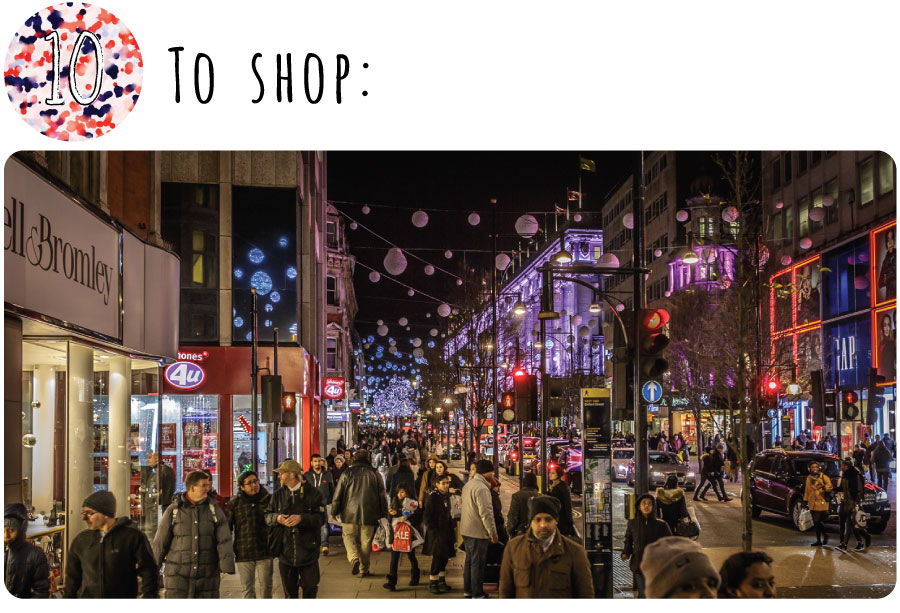 If you're looking for some fast fashion, at Oxford Street you'll find it all: Zara, H&M, TopShop, Forever 21, Mango, Urban Outfitters, Primark (the cheapest one! Almost a sample sale! I went nuts with the 1 pound shirts). Now if you're looking for the major labels, go to Bond Street, in Mayfair. Gucci, Prada, Hermés, Louis Vuitton, Chanel… They're all there. And there's also the large magazine shops, right? Harrods, Selfridges, Harvey Nichols, Liberty and Dover Street Market, where you can find all you need in an only place. Can't say there aren't enough options!
I guess that's it… Wow!
So if you have other tips you want to see here, just leave a comment! I met a bunch of readers who introduced themselves by the streets of London… So it's now time for you to speak from your experience, much larger than mine!
So if there's something I forgot to mention, please feel free to point it up, that's what the comments section is for!
See you on my next trip!