To 10 Things To Do * Rio de Janeiro
Saturday May 19th, 2012
Following the motto "your request is an order", I wrote a TOP 10 THINGS TO DO IN RIO DE JANEIRO.
When this post is on, I'll be flying to Paris. I've scheduled it to be published early Saturday morning and I get there by the end of the day. So enjoy since after this post all you'll read about will be Europe, until June, 8. Uhhh…
With all my love, the 10 best things to do in Rio de Janeiro: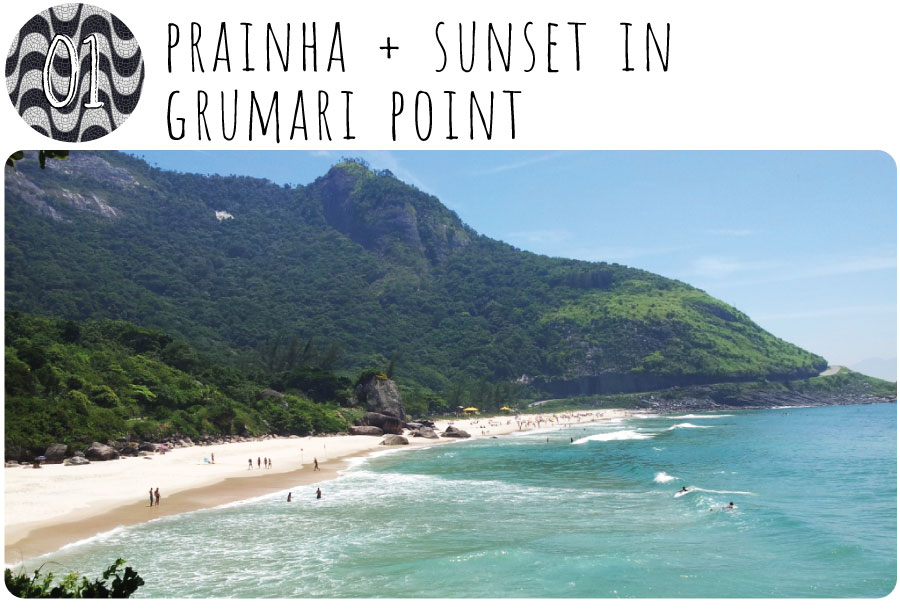 Prainha is kind of an isolated beach. If you're staying in the south area and think Barra is too far, Prainha is much further! But it's worth the trip! An entire day of sun just to do that!
The idea is to spend the day on the beach, which is delicious despite the rough sea. It's a surfing spot, and most of the times we aren't able to enjoy the sea, since the water is pretty cold.
So if you're thinking about getting into the water for a bit, I suggest you stop by Reserva beach first, which is close and almost like a pool! 😉
And the perfect after-beach is lunch at the Grumari Point. It's even further, but really, really worth it. I had some pictures of the view from the path and then the view. It's the most wonderful thing… You can see the entire Rio from the top.
Not to mention the food, which is wonderful. Nothing fancy, just the real deal. But both the food and the caipirinha have made it to my TOP 10 food addictions. Also, the garlic shrimp is the mandatory appetizer. And ask to take a look at the dessert tray by the end of the meal. Unbelievable!
Really miss that place… It's been a while since I've last been there…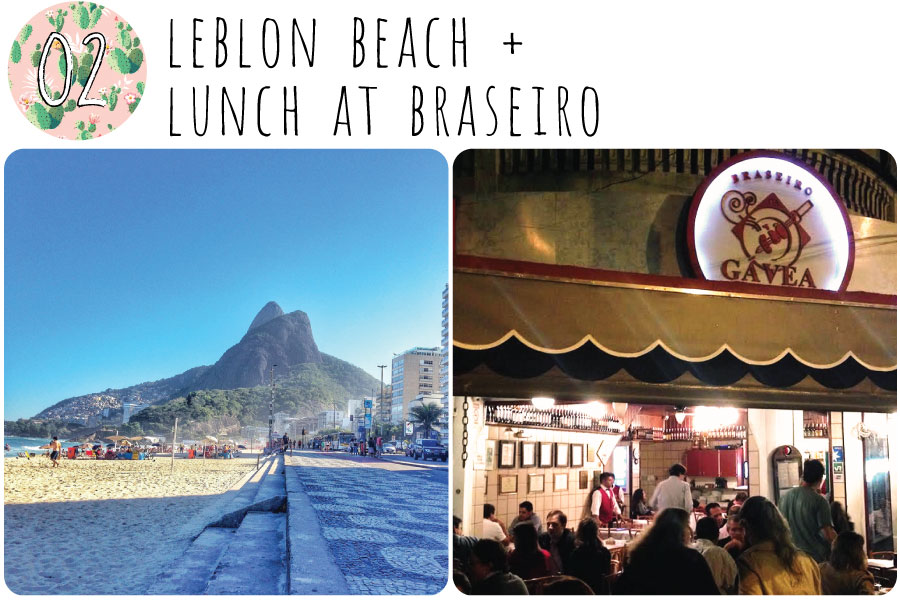 If you enjoyed my suggestion above but think Barra is too far, I recommend something similar (which I also love) by the south area! So everyone is pleased!
My favorite beach is Leblon. Between  posts 11 and 12. I always look for the emptiest spot. I hate a packed beach. That's why I always end up staying around Reserva, since I live in Barra and finding a parking spot in Leblon on weekends is a mission impossible! So in order not to freak out always prefer going around the south area by cab – and that way you can also avoid the dry law, which happens to work pretty well in Rio!
So you take that cab, find your place in the sun and eats loads of Biscoito Globo (polvilho biscuit) e Geneal (hot dog), please! Those are Rio trademarks!
When you leave the beach, take another cab to lunch at the traditional Braseiro, at Baixo Gávea. Another mandatory order: picanha na chapa, arroz maluco (rice with ham, peas, potato chips) or à piamontese (creamy, cheesy rice) and potato chips! If you're there on a Sunday, you can check the street market right in front of the restaurant. I never found anything to buy there, but it's a pleasant stroll! 😉

Since we were at baixo gávea for #2, let's stick around. Having some beer by the sidewalk is mandatory! (Beautiful) people are around at any time of the day. And it's all about beer by the bottle, so if you're looking for glamour, go straight to #4! But know that Bar do Alemão is the host spot for cariocas people to have some ice cold beer and a nice chat. Love it!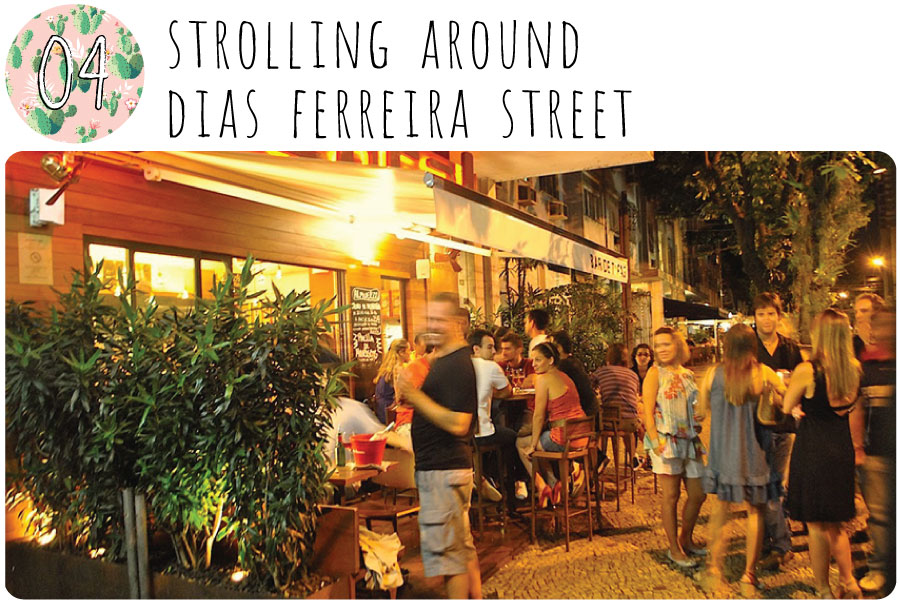 Now let's go for something less hippie, shall we? To those readers who want to walk around Rio in a fancier outfit (I could walk in my havaianas slippers all day! Seriously!)
Here are the most hyped-up restaurants. Those who appear everyday in paparazzi shots. If you go in the afternoon, try a healthy lunch at Celeiro. And for dessert, treat yourself to Petit Four sweets, side to side with the infamous Pizzaria Guanabara. They have THE BEST casadinho I've ever had. No kidding.
After the sweets, walk to Argumento bookstore. Such a pleasant walk.
Now if you're going in the evening, I recommend dinner or cocktails at Quadrucci, which has amazing food and the irresistible caipilé (caipirinha with a popsicle). For the sushi lovers, go to Sushi Leblon. Enjoy a spot at the balcony. Phew!
Dias Ferreira has all kinds of stuff… There are also Brigite's, Zuka, Venga, Massa, Riba…  Just pick one and enjoy!
OBS: tirei o novo do Brigitte's e o Q da lista ja q nao tem mais e tomei a liberdade de adicionar dois lugares mara!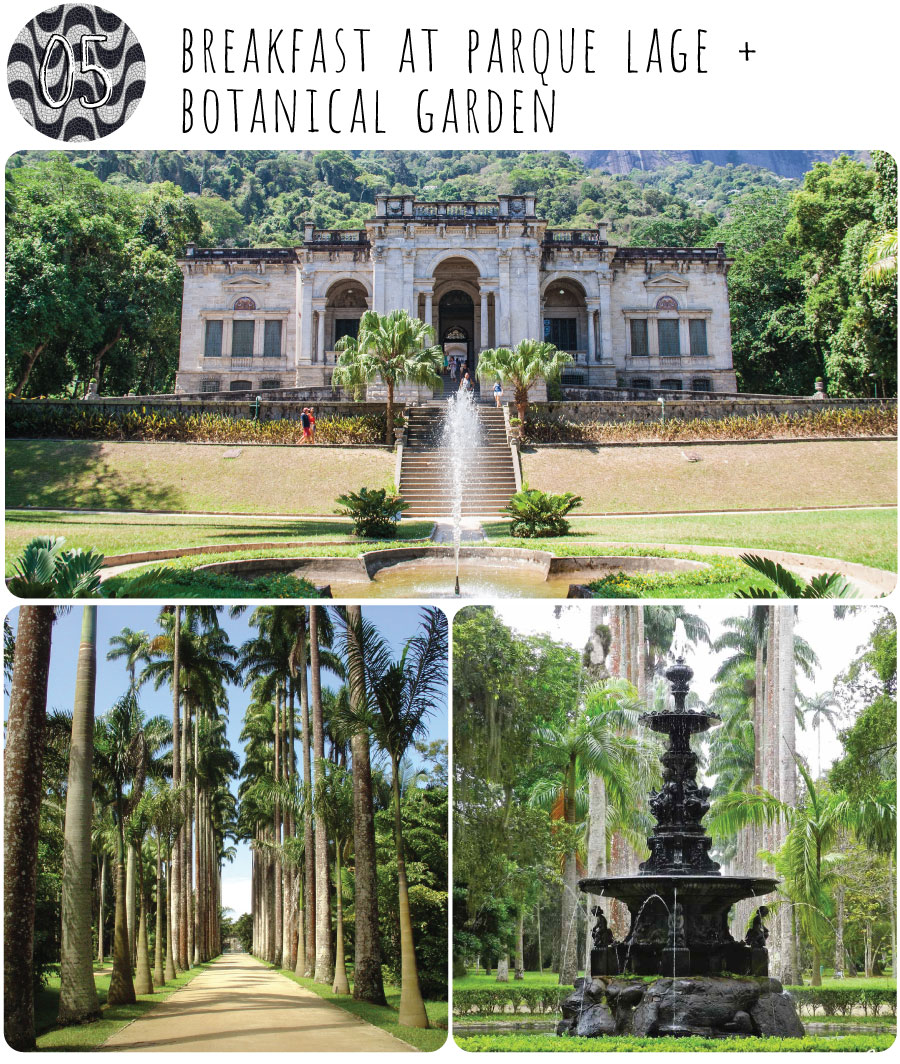 For those who don't know, Parque Lage is in the Jardim Botânico (Botanical Garden) neighborhood. A must-go. The place is beautiful and the café is simple, but delicious. It's worth the visit, to enjoy the architecture, the company, the green area. On weekends it's always packed with cool people having breakfast. I love it!

This is also a little far, but worth every mile! It's a corner bar with delicious food (of all kinds!) and ice-cold beer. There's always a waitlist, which is totally fine since the view is breathtaking and the sidewalk is always packed with people having beer. I've been there only twice and loved it! Definitely should go back!


L-O-V-E that place. The tiny houses. The colors. Want to photograph it all. The bad thing is that's far from home. Wish I went there more often. The must-go restaurant is Aprazível. Another one with a breathtaking view on our list! It's the most pricey view though. At Bar Urca and Grumari Point you'll spend much less. There's also Bar dos Descasados, which is great for some cocktails. Little fancier, too. Charming!
Another must-go in the area is Parque das Ruínas. If you just love taking good pictures, that's the perfect scenography. It's also kinda of a museum too, with a theater inside. Beautiful.

A little something for the sports lovers! Gotta have some energy! I must say this kind of activity is not really my thing… I get tired just to think of it… I'll go when there's a big group of friends going and when I get there is the best feeling ever. I don't understand why I thought it would be exhausting, think that I should do that every week. Then I get home and it takes a while until I feel like doing it again…
It takes about 2h30min hiking to go up Pedra da Gávea. Yep, 2h30min. You get why I said you got to have energy? That's it. And there you'll find the most amazing view of all! By far.
But there's also Pedra Bonita, which is right in front of it and takes only 20 minutes hiking. Much better, right? Since both offer beautiful views, I'll take the one that takes only 20 minutes! (#crazylazy!)

It's inside Forte de Copacabana, which is beautiful. I say everything is beautiful, don't I? But I swear that is so. Rio is beautiful indeed, what can I do? I get redundant, I know, but that's life!
This bakery has pastries, delicious snacks and (yet another) incredible view. Also a good option for breakfast. And you can walk until the end of the fort and see nothing but the ocean. Breathtaking view!

Going shopping is kind of a no-brainer, right? The funny thing is that in Rio I end up doing that much more than in São Paulo. It should be the other way around, but no. Always do that in Rio!
Rio Design Barra is kinda like my backyard. I'm ALWAYS there. To have lunch/dinner at my beloved places: Balada Mix, Alessandro & Frederico and GulaGula.
Besides, they have the best VIP cinemas in Rio, in my opinion. I'm almost a club member of their movie theater. Just love it!
Another option (which I also love!) is Fashion Mall, in São Conrado. There are also great stores and restaurants. To please (even more than Rio Design) those who are looking for good shopping finds and good food. I guess the cinema is the only disadvantage. You just have to set your priorities! 😉
Well, that's it!
Tried to bring all kinds of stuff for you guys!
Keeping in mind those are MY personal favorites in a city of infinite possibilities. So, of course, there will always be something missing.
Hope you enjoy it!
And a Happy Rio de Janeiro to us!