Top 10 Restaurants * Miami
Friday January 3rd, 2014
Now that I've handed you all my nyc tips, let's move on to Miami? I'm not exactly an expert. I've been there a few times only and always for a short period. So my top 10 will be about the few things I got to know. Or, to be more precise, what I got to eat.
I had two local friends who took me strolling with them. And to treat ourselves to some good food. Very good food.
Are you ready? Let's go!
Delicious little Italian restaurant inside the Bal Harbour, hyped up mall where all designer shops are. So now you have a place to eat on your shopping day. All beautiful, elegant people. Try to get a table on the outside to do some peoplewatching. And be ready to bump into a LOT of Brazilians. I bumped into Faustão (a very famous TV presenter in Brazil) the day I was there.
CARPACCIO: carpaccioatbalharbour.com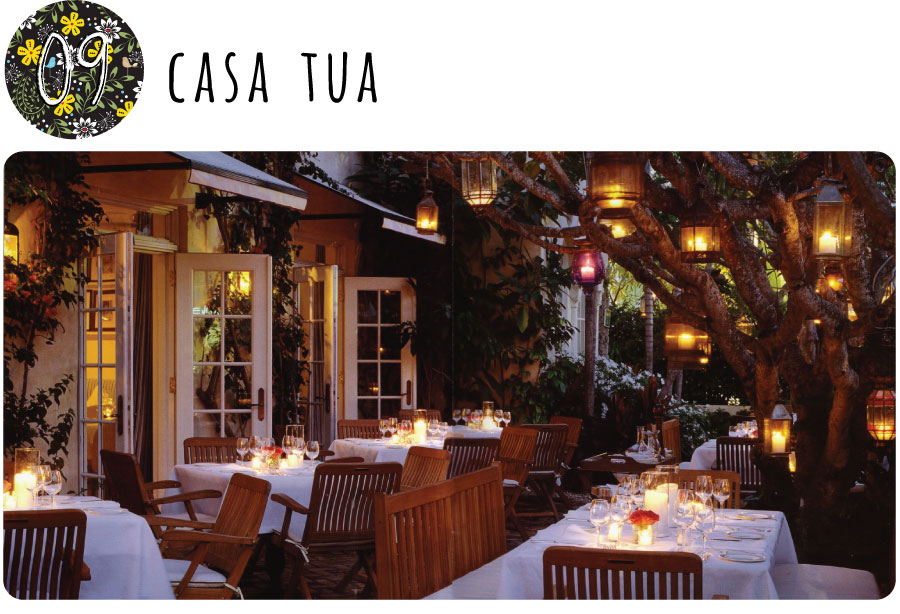 I guess is one of the most famous ones. It's said to be the best Italian restaurant in Miami Beach. Really enjoyed it. There's a charming balcony and a lounge upstairs , which was closed the day I went so I can't tell much about it. Perfect for a date. No good for flirting, more of a romantic spot, for couples. But it's worth the visit!

We had some good wine and fresh pasta. Delicious!
CASA TUA: 1700 James Avenue –  casatualifestyle.com

Mandatory for lobster and stone crab claws (they' served with melted butter!! Yummy!!!) lovers. They're terrific.
They don't take reservations and you'll probably have to wait. But I swear it's worth the time. It's so good!

JOE'S STONE CRAB: 11 Washington Avenue – joesstonecrab.com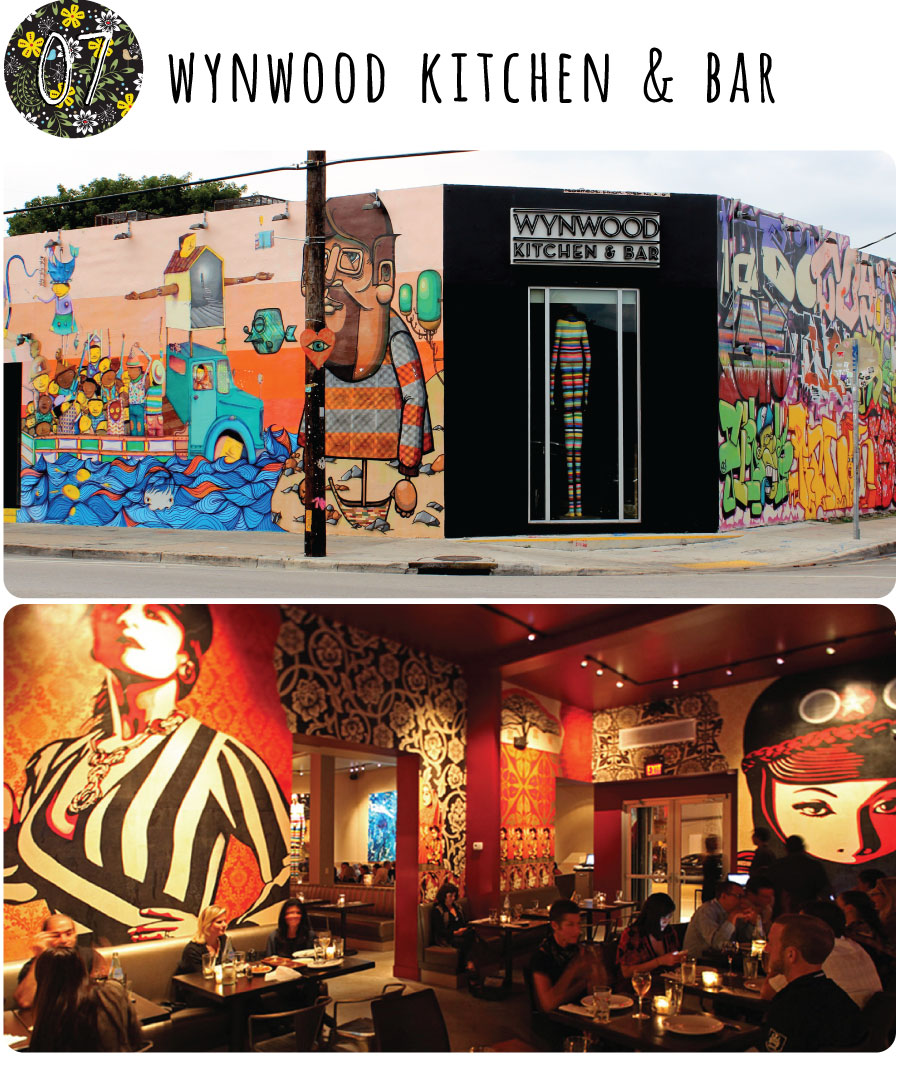 Wynwood was my favorite spot in Miami. I should mention I was there during Art Basel, when the whole town eats, sleeps and breathes art, so what I say here may be so due to the season: packed streets, street art everywhere, street artists in action. Amazing. And this restaurant is in the middle of all that, inside an entirely painted area, with small galleries around. Incredible! Loved it!

WYNWOOD KITCHEN & BAR: 2550 NW 2nd Avenue – wynwoodkitchenandbar.com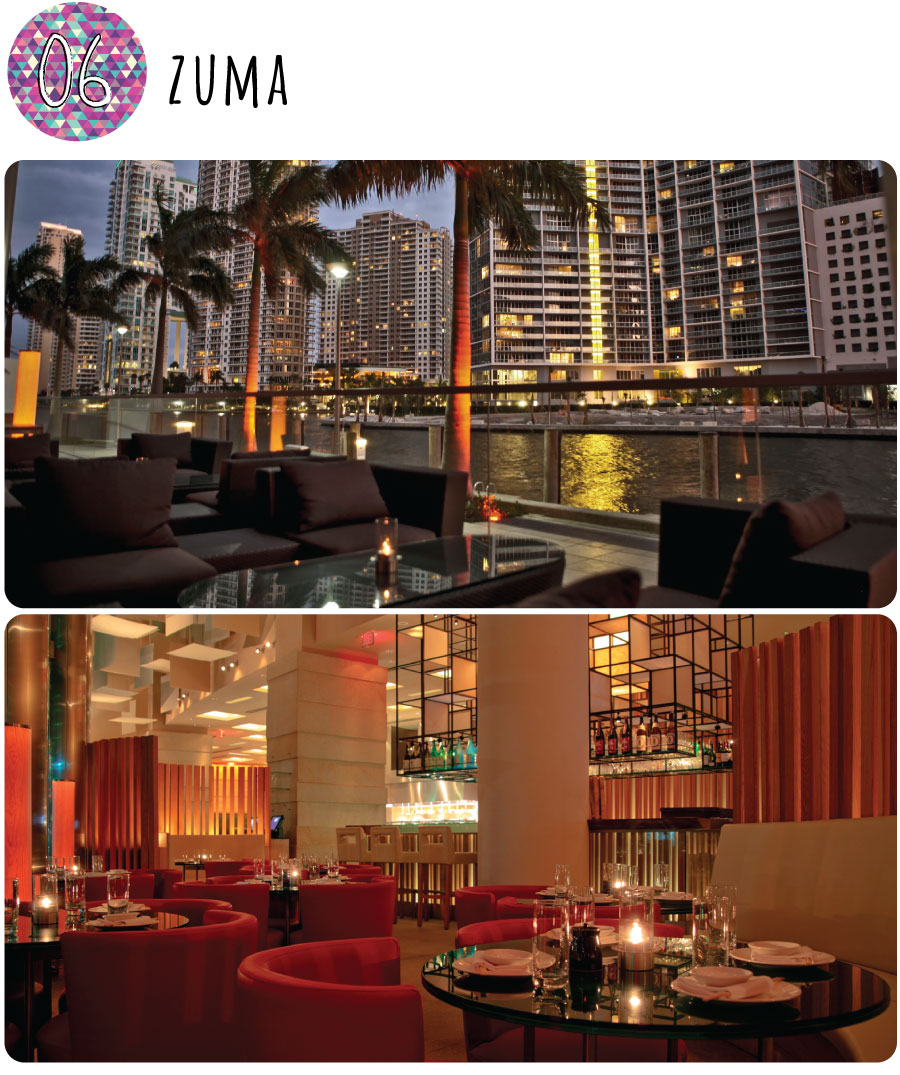 I already knew (and loved) Zuma London – and it was the same with Miami. Equally hyped up, equally great audience, equally delicious food. A must-go for sushi lovers.
ZUMA: 270 Biscayne Boulevard Way Brickell – zumarestaurant.com
The kitchen delivers a mix of French, Japanese and Peruvian food. It's on a rooftop and it's so beautiful. The view is breathtaking, you can see the whole Miami from the top. We went on a big group to celebrate a friend's birthday and it was packed. Super exciting. Really good food. Loved it! Really did. You have to book first!

JUVIA: 1111 Lincoln Road – juviamiami.com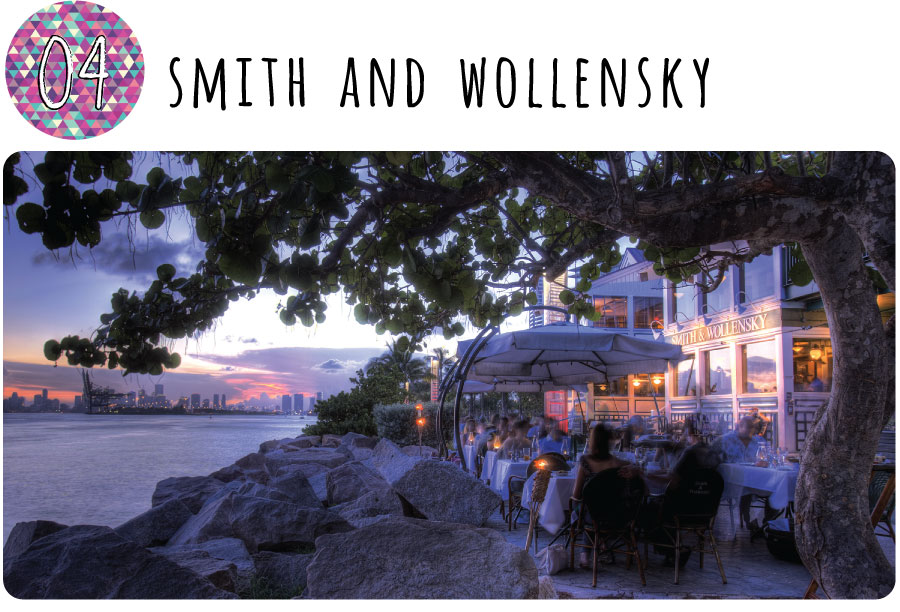 They have serveral branches around the world, but this was the first I got to know. With an amazing view, super hyped up and filled with beautiful people. If you're looking for good meat, that's the right place. And I'd recommend going by sunset time!


SMITH AND WOLLENSKY: 1 Washington Avenue – smithandwollensky.com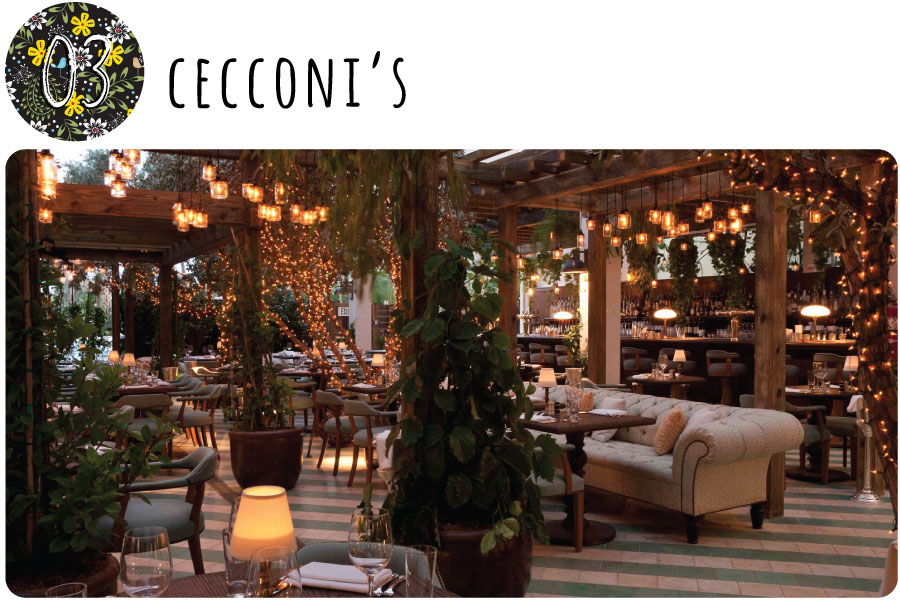 Wanna be surrounded by cool, sophisticated people and treat yourself to some good dishes? That's the place. The restaurant is by the entrance of Soho House (the cool kids #1 hotel) and the food is pretty good. I l-o-v-e goat cheese so I went nuts with their goat cheese and truffled oil pizza. It was just something else.
Book it if possible. If you manage to get a table outside, even better.
CECCONI'S: 4385 Collins Avenue – cecconismiamibeach.com


The best Italian food I had in Miami, I must say. I had some divine truffled pasta. Unbelievably good. And the melty burrata… All very, very good. It's in the middle of the busy Lincoln Road. A must go!
QUATTRO: 1014 Lincoln Road – quattromiami.com

This was my favorite in the whole trip! I really treated myself to some good food. The restaurant is greek/turkish and we ordered several appetizers to share. I tried them all. And I can definitely say: di-vi-ne! Just the thought of the table covered with their dishes is mouthwatering. Outstanding!
MANDOLIN AEGEAN BISTRO: 4312 NE 2nd Avenue – mandolinmiami.com

Soooo?

For those of you who are Miami regulars, did I pass the test?

If I left some mandatory spot behind, please include it on the comments below! Teamwork here! 😉

All I know is that I treated myself really well there… it was amazing. ue comi bem demais por lá… So nice!

Thanks for that, Miami!