Top 15 * Restaurants in NYC
Tuesday December 17th, 2013
Every time I start writing a Top 10 Restaurants (I did it with London and Buenos Aires!) I have in mind all the places I wanna talk about and in which order. I have a sort of hierarchy defined. It has always been like that. Until New York.
Now I start the post having no idea how to pick just 10 places among all the amazing restaurants my concrete jungle has to offer. There are so, so many. And it changes so much from time to time. The must-go spot now definitely won't be the same in a little while. So, yeah, kind of an impossible mission this top 10.
So I'll cheat a little bit just to make my job easier. I'll exceed the 10-restaurant mark. I'm making it 15. I couldn't take any more places off of the list. It was bad enough having to take Buddakan and Amaranth, for example. Which I LOVE. But since I didn't make it to any of them this time, they didn't make it to the list. I regret it, but that's it. So let's make a deal: every time I go back to the city, I'll add the places to our list, alright?
Oh, and no hierarchy. Like 1 to 10. No. I can't do that either. I love them all and it really depends on my mood and what I'm looking for. What type of food, atmosphere and all that. So I'm doing it in alphabetical order, not in order of preference! Ready? Here it goes: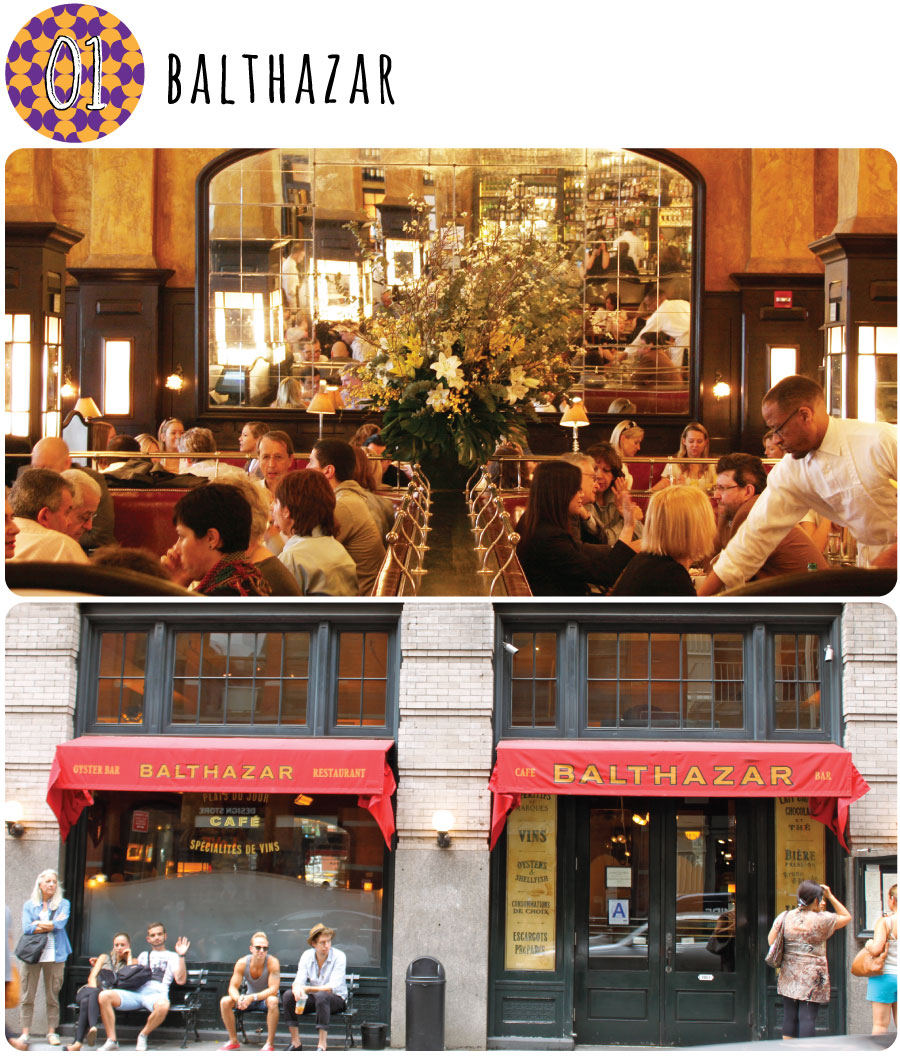 Beautiful, elegant people! I love brunch there, they bake their own bread. Delicious. It's French cuisine and the atmosphere is super charming. So pick a nice outfit 'cause it's all about seeing and being seen.  
Balthazar: 80 Spring Street (Soho) – balthazarny.com
One of my favorites. Really love it. Fresh pasta and amazing sauces. They have a divine burrata, which just makes you want to kneel and thank God for such a blessing. No frills, but super hyped up (just check here how many paparazzo shots were taken there!). Try to get a table outside to do some West Village people watching while you eat. Important information: have cash with you since they don't take credit cards.
Bar Pitti: 268 6th Avenue (West Village) – Phone: 212.982.3300.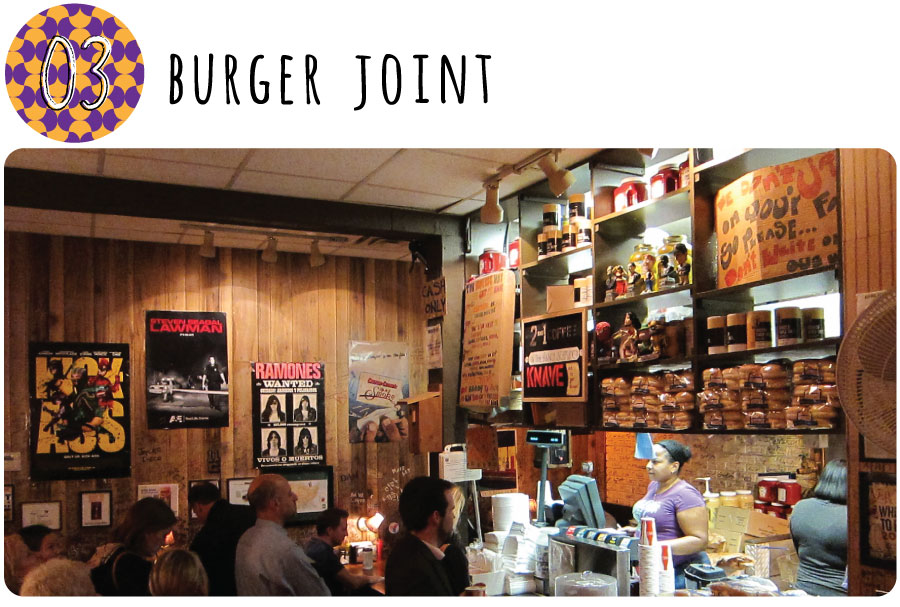 Attention all burger lovers: this spot is mandatory! It's hidden inside Le Parker Meridien hotel. Be ready to wait in line for a little while (it's too tiny in there, but it's really worth it!). Cheap, cool, full of handwritten cardboard signs, no waiter, real just-go-for-it vibes. So just go! Place your order and fight for a table!
Burger Joint: 119 West 56th Street – burgerjointny.com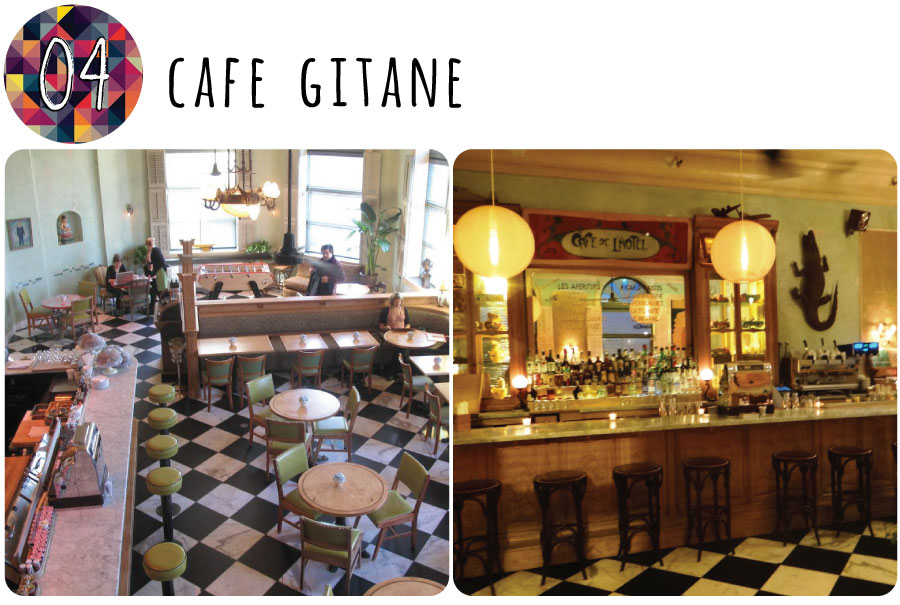 I guess it's kind of the nyc Ritz (hyped up restaurant in São Paulo). Great location, great audience and delicious food. Perfect for a lunch break on your soho shopping day. Full of beautiful, young people. Try their (infamous) couscous, which is delicious! Oh, and this place was named by NY Magazine as one of the best lunch spots in nyc for three years in a row. So include it in your schedule now!
Cafe Gitane: 242 Mott Street (Soho) – cafegitanenyc.com
I never cared much about corn. Not until Fê Motta introduced me to this incredibly cool, tiny restaurant in Soho and made me try their corn. House specialty. Best in the world. After that day, the place became mandatory on my programs and I always make my friends try the corn as Fê did with me. It's served with a delicious sauce, some pepper, mmm… Can't even think of it. Must go!
Café Habana: 17 Prince Street (Soho) – cafehabana.com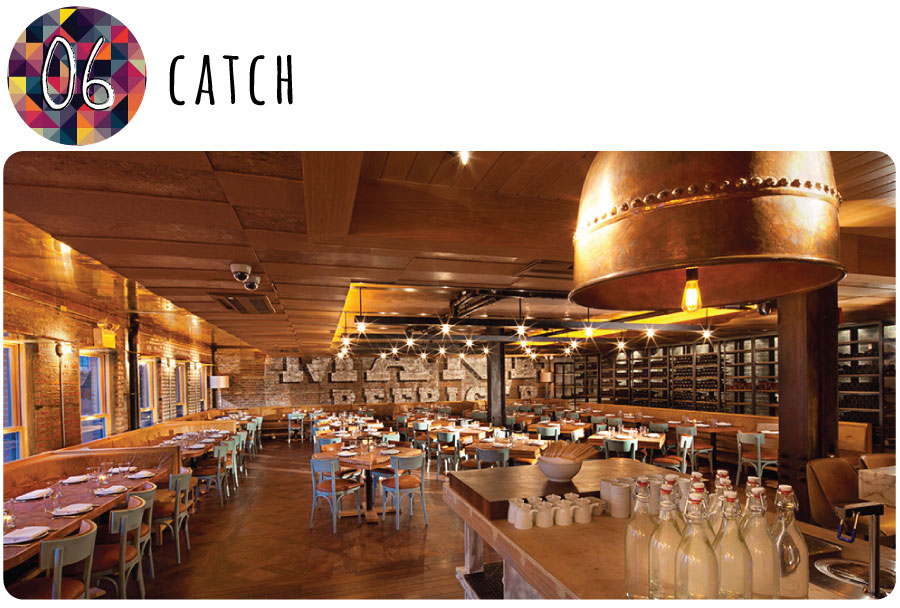 It was my number one for that trip! I had never been there and loved it. The food is good and the place is super lively. Book in advance to make sure you'll get a table. Then get there some minutes prior to your reservation time for a cocktail by the bar, where you'll definitely run into some beautiful people. After you eat, head to the club upstairs. It's really tiny, selected audience, some great hip hop playing… I was there on a Monday (which appears to be the best day) and loved it! Also, I ran into Leonardo Di Caprio (having dinner and then at the party!).
Catch: 21 9th avenue (Meatpacking) – emmgrp.com/restaurants/catch/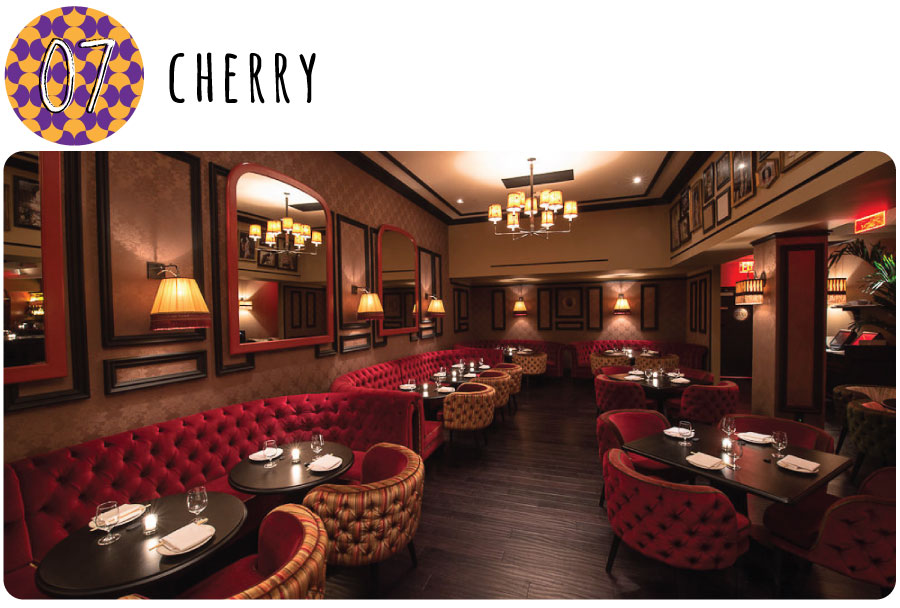 Another one I only found out about now! Gorgeous place, with a pretty exotic menu. Lots of particular cocktails. Perfect for a warm-up. You can have a light, delicious meal and try some exotic drinks to liven up a bit. Love it.
Cherry: 355 West 16th Street (Meatpacking) – cherrynyc.com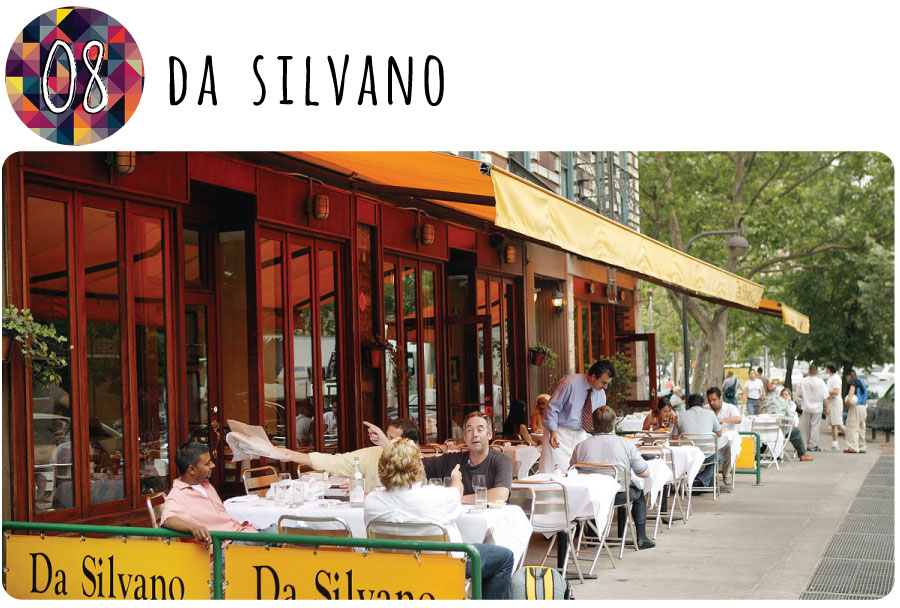 Right next to Bar Pitti, Da Silvano has the same vibes as its neighbor. Tables outside, great audience (you can see here some other paparazzi shots there), amazing Tuscan cuisine and pretty hyped up!
Da Silvano: 260 6th Avenue (West Village) –  dasilvano.com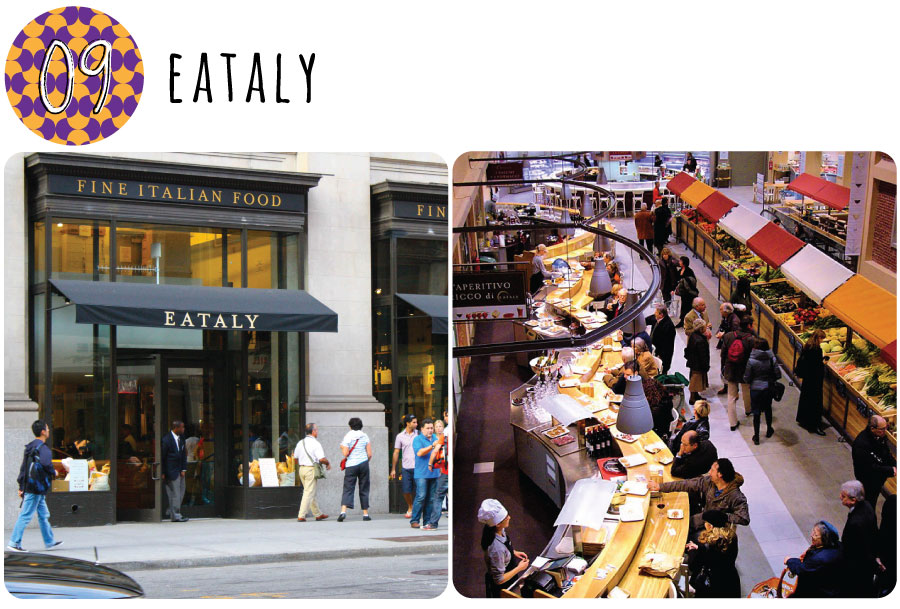 Much more than a restaurant, it's an Italian food emporium. An experience! Always packed, with several dining options: Il Pesce, La Verdura, La Pizza, La Pasta and Manzo. You just have to pick what appeals to you the most! Oh, and it's also great for some to-go treats..
EATALY: 200, 5th Avenue com 23rd Street – eataly.com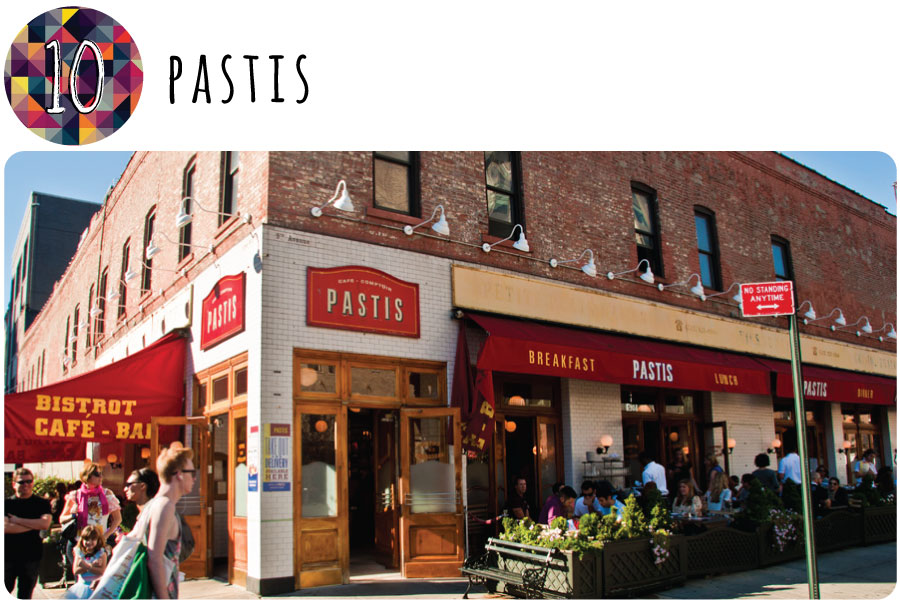 From the same owner of Balthazar and Pulino's, Pastis is perfect for happy hour. Always packed with beautiful people. I love their fries and the Croque Monsieur.
Pastis: 9 9th Avenue (Meatpacking) – pastisny.com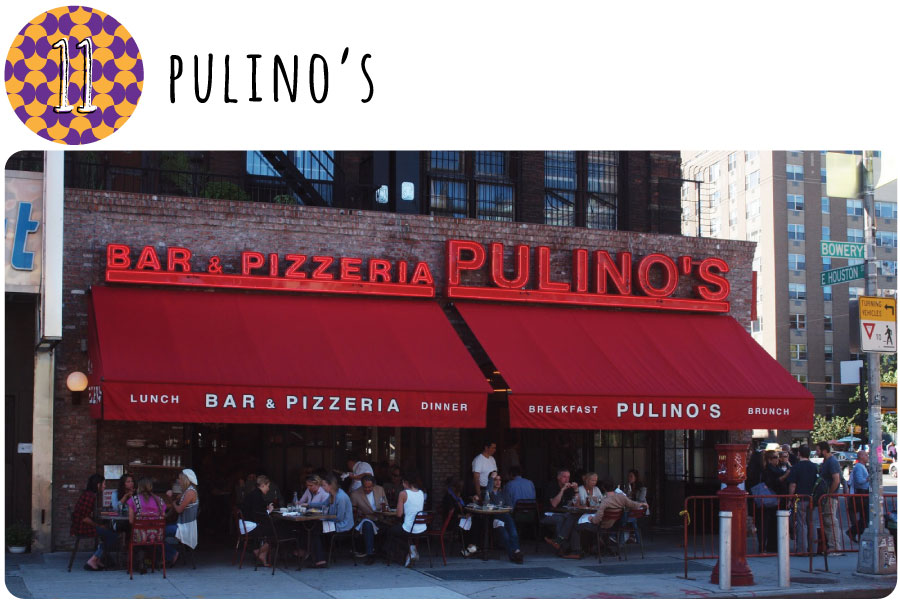 The go-to place for the cool kids downtown, Pulino's is the bar and pizza spot of the group that owns Pastis and Balthazar. They were named best pizza place in 2011. This was my first time there and I very much enjoyed it. Not the best pizza I ever had. Pretty good, but not incredible. The atmosphere makes up for it, though.
Pulino's: 282 Bowery (Nolita) – pulinosny.com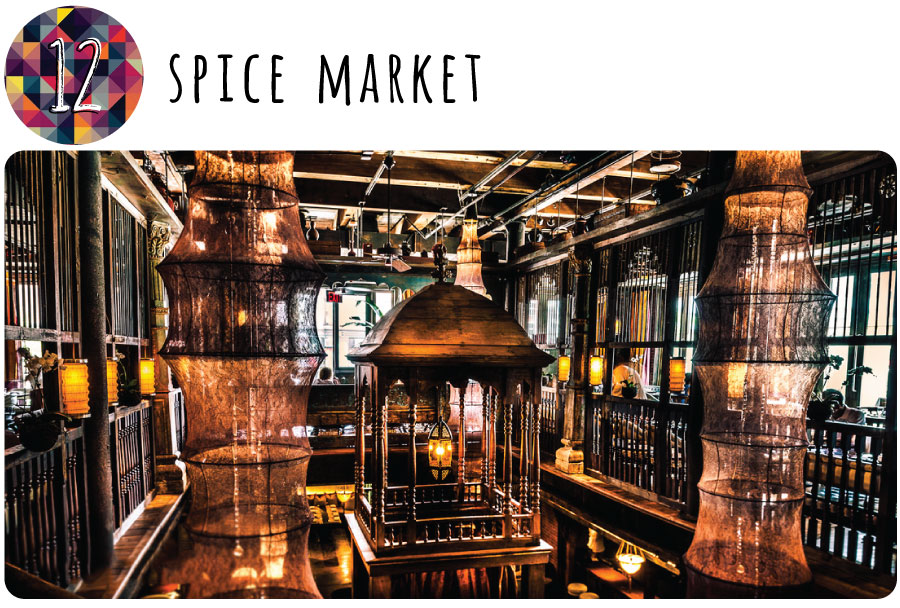 For the spicy food lovers (me!) Spice Market is a must-go. Asian menu with super exotic dishes. Gorgeous (and super romantic) place, right next to Pastis.
Spice Market: 403 W 13th Street (Meatpacking) – spicemarketnewyork.com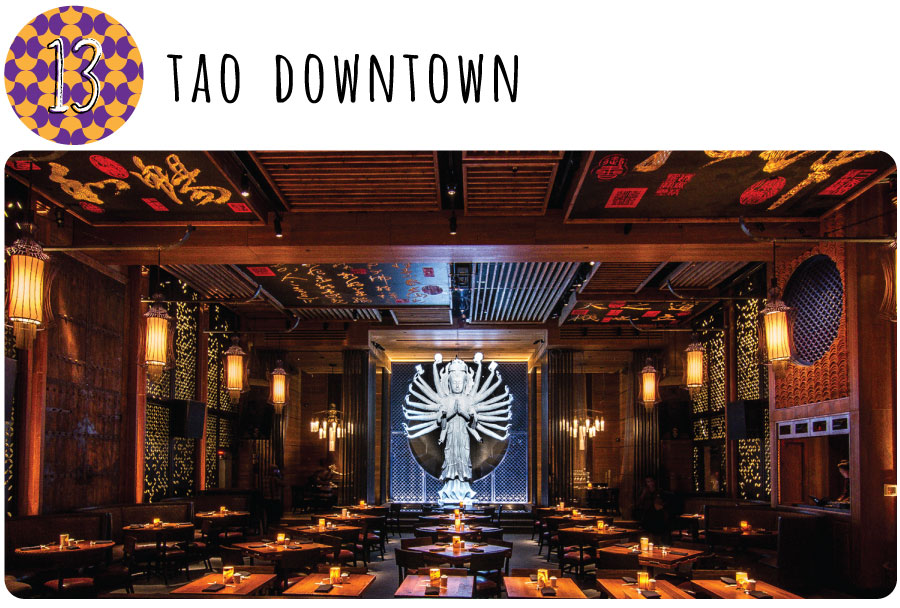 It's the cool Japanese spot of the moment. It's just opened and it's already hyped up. Great food and atmosphere, pretty lively. The new must-go.
Tao Downtown: 92 Ninth Avenue at 16th Street – taorestaurant.com/downtown/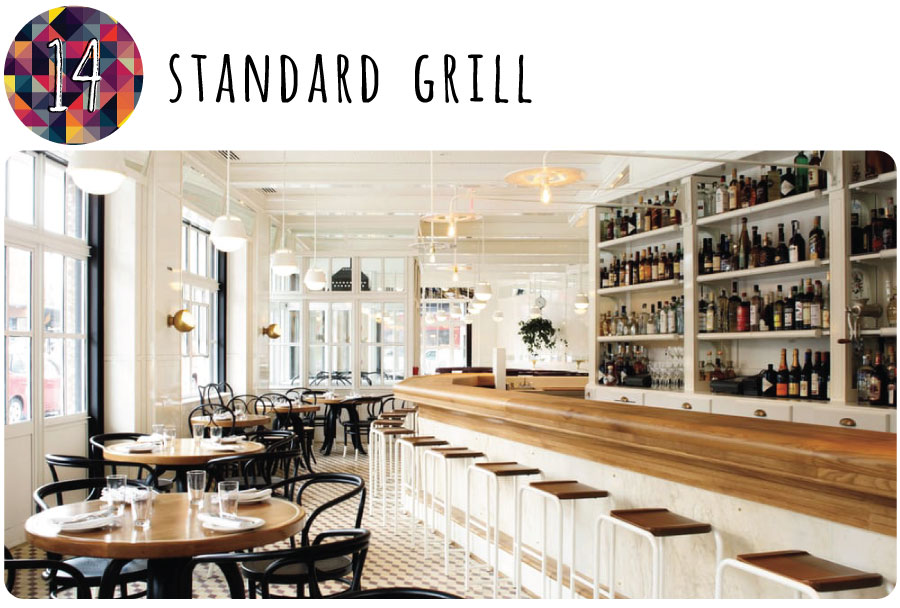 Another must-go. Breakfast, lunch, happy hour or dinner. It's always a good time. Right down High Line Park, so you can fit it all in your schedule. You'll run into beautiful people, have fun and some great food. I promise!
Standard Grill: 848 Washington Street (Meatpacking) – thestandardgrill.com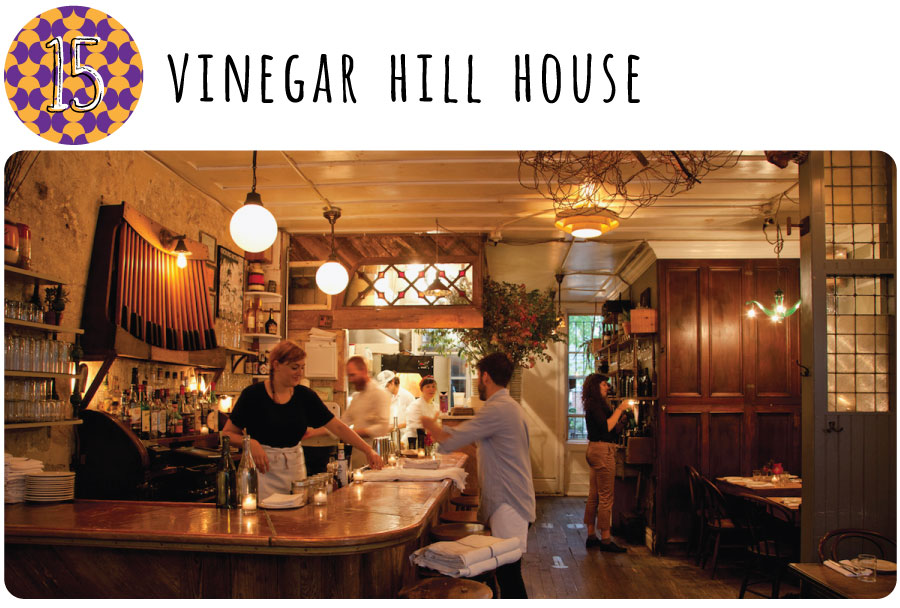 Another place I just got to know this time. It's in Dumbo (Brooklyn). I went for brunch and loved the food. A true new yorker spot – I couldn't find a tourist table besides mine. It was recommended by three people whose taste I really trust so I went to check it out. Definitely worth it!
Vinegar Hill House: 72 Hudson Avenue (Brooklyn) –  vinegarhillhouse.com
Some of the many places I still wanna try but couldn't make it this time:
Lavo: Open in 2010, didn't have to chance to check it out yet. Another Italian place with a club upstairs. Perfect setting, isn't it? On my list for next time! (39 East 58th Street – lavony.com)
Acme: This is even newer, opened in 2012. Small bistro, super well-recommended by some friends. Missed it! (9 Great Jones Street., between Broadway and Lafayette, NoHo – www.acmenyc.com)
Freemans: This is the one most regret having missed. Wasn't able to make it. But I really wish I did. I heard is a hidden, super cool spot. First on my list for the next time. (8, Rivington Street, between Bowery and Chrystie, Lower East Side – freemansrestaurant.com)