Cocktails in Paris
Friday September 19th, 2014
Keeping my promise!
I had a pretty agitated nightlife during this season in Paris!
So our Top 10 Restaurants was a bit extended this time…
An addendum post with tips for those who enjoy a post-dinner cocktail! Or just sitting down and having a glass of wine while watching the sunset. Or just people watching a bit!
Let's go!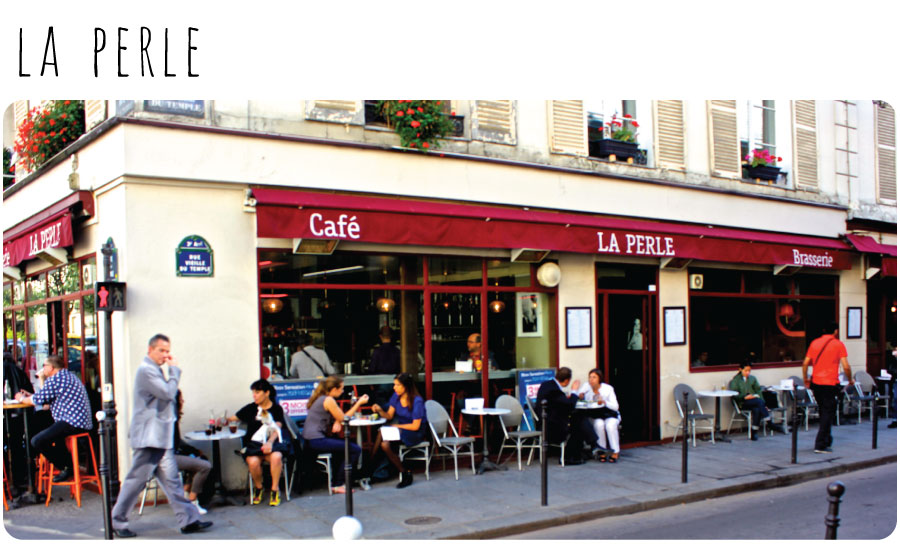 We went just for some appetizers by the end of our day at  Marais. This is where the John Galliano career-blowing anti-semitic incident took place, remember that?
I just LOVED this place. Tables outside yet again. Pick a well-placed one and watch all the cool, beautiful people walking around.
If you're as lucky as we were, besides watching the beautiful crowd walking by, you'll be surrounded by beautiful faces at the restaurant as well! Must go!
There are two Rosa Bonheur in town. One on a boat and one at the park. The boat one is brand new and by the river. Must be pretty awesome! But I went to the park, which was one of the places I really wanted to see!
Pretty great happy hour action going on. Lots of benches outdoors and a bunch of people drinking and chatting. Not to mention the breathtaking view from the park. Take an afternoon with your friends, order a bottle of wine and enjoy. If you can do it by sunset, even better!
It's located at Kenzo's rooftop. I had it recommended for dinner. Contemporary cuisine, pretty lively. I went straight from the Beyoncé concert and the kitchen was closed already. But the hostess said we should check out the club, which was open until 3am. The door was promising, full of beautiful people outside. We decided to give it a shot…
We ate in a Mc Donald's around the corner, which was open 'til 1am (yeah, I know) and then went up Kong for cocktails. I don't know if it was pure luck (that stuff happens, the place is at its best the exact day you're there), but I really enjoyed it! I say luck because when I mentioned to a friend that I'd been there she said it was kind of outdated. That it used to be better a while ago… That nowadays it works better as a restaurant.
I didn't eat there so I don't have an opinion. People say this place, along with Georges (on top of the Pompidou!) are two mandatory tourist attractions, since both offer amazing views of the city. And are pretty hyped up. Dinner for tourists, really. But I have no idea! I'm a total tourist in Paris. But my experience at Kong for cocktails was pretty positive!
I must confess I didn't even see the view – the doors and windows were closed and it was too crowded – but I saw a whole lot of beautiful French people, listened to some good music and had a great time! I'd definitely give it another shot!
MISSED…
Same as Nanashi and Derriere, which I mentioned at the restaurant post. My top 3 can't-believe-I-missed it! All my friends recommended it. But I waited, waited, and, when I saw, there was no time left to go there.
Same thing that happened with Nanashi. It was never on our way. So we missed it. Apparently they have tacos when you get in, so you can start from there. Then, you open the back door at the taqueria and get to Candelaria. Like a secret passage!
I was told there I could find the best drinks in town.
If any of you go there before I do, please tell me!
You don't have to know me that well to know my favorite thing to do is to have wine by sunset, right?
And that's why a friend gave me those two tips… Two rooftop bars with amazing views for sunset at Marais.
Didn't happen… Not enough time! Another two places for the next-time list!
So many good things I enjoyed during those days there…
Can I just go back and start it all over?