Top 10: Restaurants in Paris!
Thursday August 17th, 2017
Eating, eating and eating again!
That's what I did best on my last trip to Paris. So delish! I used writing for you guys as an excuse to go after the new restaurants in town, as well as my old favorites, which I was dying to try again. The result? A brand-new top 10 list for the site (I did one in 2014!) as well as a video for my YouTube channel to make our mouths water!
Are you ready?
This was my #1 on this trip. It's new, from this chain that's trending now -I heard their sushi place is amazing too, but it was closed throughout August. But what's the deal with August? That's an important point if you're planning to go to Paris for vacations:  AUGUST is their holiday month, so French people go out on vacation and A LOT of places are closed. So, if you're going there in August like I did, get ready to be frustrated and find some places closed.
Now back to Marcello, it's an incredible Italian restaurant. I don't know what happens to me, that, no matter where in the world I am, Italian food is always my first option. Nothing can please me better than some good wine and burrata, so LISTEN TO ME: this place has the BEST TRUFFLED BURRATA I'VE EVER HAD. Only the most amazing thing in the world!
They have this awesome Brazilian waitress called Melissa (if you watch the video at the end of the post you'll meet her!), who will help you figure out the best wine, pick your dish and tell you some good stories. The truffled pasta is also from out of this world, and so is the cheesecake. So, next time I'm in Paris, this will certainly be the first place I'll be going to!
Oh, and they're open the entire day, from brunch to post-dinner cocktails, and they have a super pleasant external area.
Just go and I'm sure you won't regret it! 😉
WEBSITE: http://marcello-paris.com/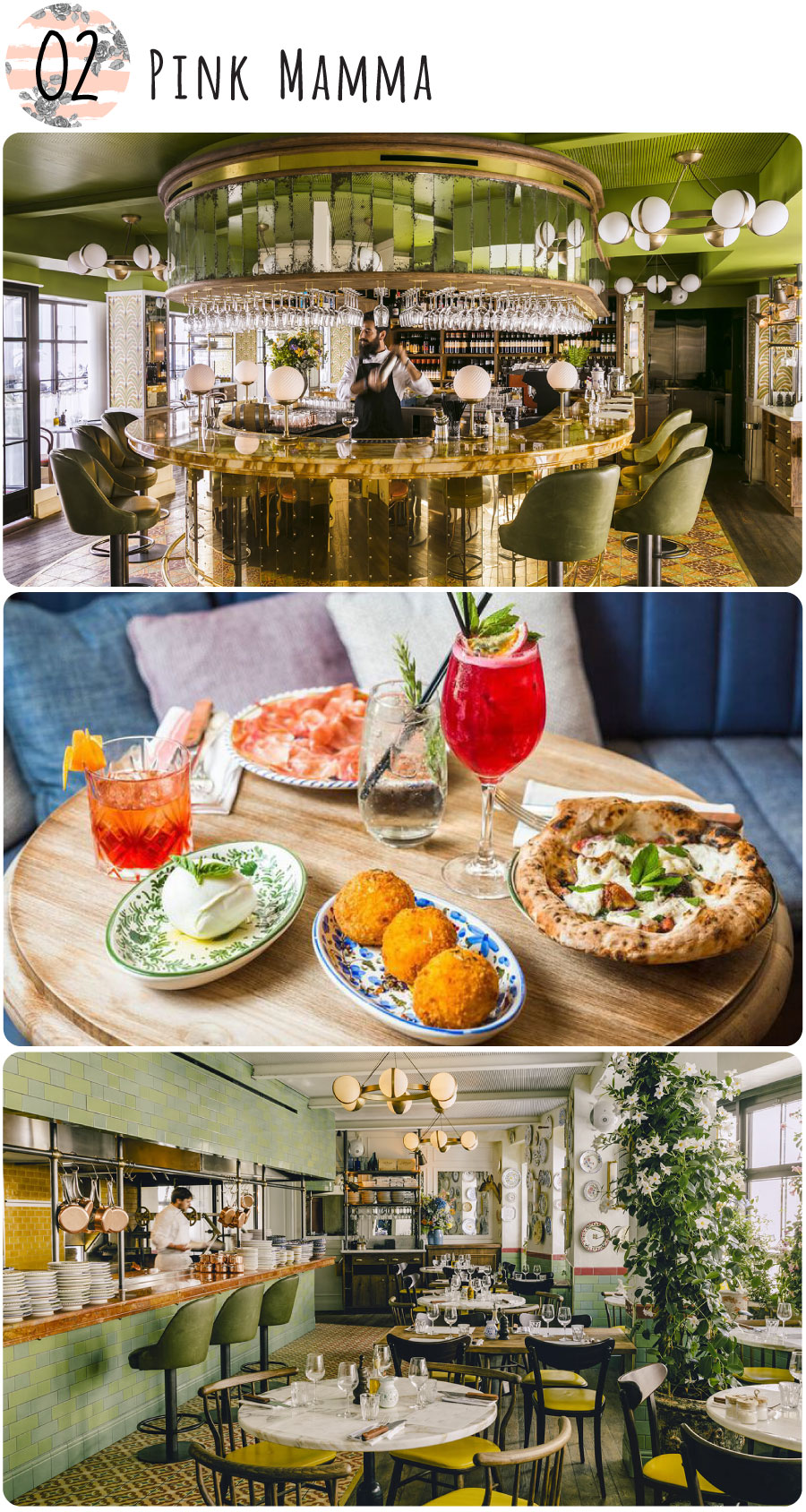 Another treasure I discovered on this trip. It's brand new, open last January and also Italian – sorry, it's stronger than me! But ALL of my Parisian friends who know stuff recommended me this place. It's the talk of the town, you know? That's why I'll start off by telling you to book in advance and, if you can't get a table (our case), go for it anyway. We waited for almost an hour having some great wine at the bistro on the other side of the street. And we showed up on a regular Monday, lunch time, and it was packed!
There are five floors. It's huge. Supercool. Fantastic décor. Cool people only. Now, the most important part, food: so, so, so good!
I had some exquisite pasta with burrata and my tablemates had the steak tartar and the truffled pasta. And we all left the place sighing about it! Happy and pleased.
Ready for the best part? For dessert, they have a Nutella pizza that comes with a warm Nutella bucket at the center of the table (like a fondue) which you dip onto your pizza.
Do I need to say anything else?
SITE: https://www.bigmammagroup.com/fr/trattorias/pink-mamma
I'm completely crazy about Ferdi. It was recommended to me the first time I went to Paris as the best cheeseburger in town, which it is indeed. Not that I have tried them all, not even close, but after having tried this one, I didn't feel like trying any other.
It's a tiny little restaurant, inside an antique shop, which doesn't take reservations and always has huge lines on the door. They used to open on weekends only. The good news is that now they're open every single day. The bad news is that they're closed throughout August for vacations, so, yeah, I found the place closed this time. :/
Now if you're lucky enough to get in and eat there, don't forget to order churros for dessert! Please!
SITE: http://www.ferdi-restaurant.com/
Kong has everything a cool place can offer: amazing food, cool people and experience! Everything a restaurant needs to be complete, in my opinion.
It's located on the top floor of a building and it's all made of glass, so you can see the whole Paris from there. The sunset there is something else. And if you're there on a busy day (holiday, weekend, or whatever), you'll probably see it turning into a mini-club by the end of the evening. The music gets louder, people get up on the tables, it's so much fun. But I don't know exactly when that happens, since this time we went there on a Tuesday in August, which is the dullest of all months in France (like our January) so the restaurant was pretty quiet and the music in the bar never got louder.
So, along with the hyped up part of the deal, for those who enjoy it, the food will definitely please everyone. It's a contemporary menu, but they have all kinds of stuff. It's all really good. I always have the truffled pasta or the black cod. I simply love it.
I don't looove the food at Derriere.  I love the place, but not the food.
A friend once said the problem was that I've been there for dinner only. And that the best thing is to go for a Sunday brunch. That it's amazing and packed with beautiful people. The truth is that I don't really enjoy the food but always go back there because there is indeed a bunch of beautiful people and the atmosphere is super cool.
The feeling is to be entering a house. There are different rooms with tables in each of them. So you might eat on the bed, on the study desk or at the library. It's definitely worth the experience. Really, really cool. Next time I'll try the brunch and see if I like the food better.
SITE: http://derriere-resto.com/restaurant/paris/derriere/menus/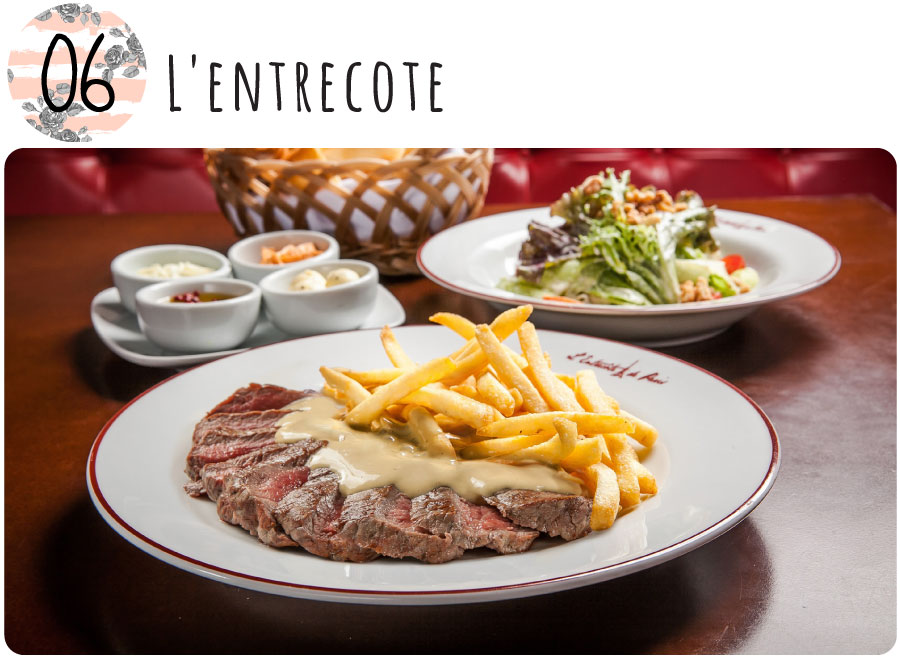 Biggest cliché in the world, I know! Do you all know L'Entrecote? Please tell me on the comments?
They've been in São Paulo and Rio de Janeiro for a while now, so it's easier to get to, right? And some people turn up the nose at it since it's tourist stuff and all, but I have to say I dream about their food. It's THAT good!
In case anyone doesn't know it, I'll break it down for you: it's a closed menu.  In fact, there's no menu. You'll know what to eat as you get there. They'll serve a house salad with a house sauce, no big deal (believe me, you're not there for the salad) and they'll ask how you want the meat cooked. Then, well, get ready for unique moments of joy.
You'll get that exact dish up here. The meat (cooked as ordered) with their sauce, which I can't say what's made of (I just feel it) and the best french fries possible. That L'Entrecote location is said to be the first in the world. I've heard some people saying it. If it's true, I don't know, but now they have several locations and I always go to some of them in New York, São Paulo and Rio. But I have to admit that having it in as Paris has a special taste.
So good!
SITE: https://www.relaisentrecote.fr/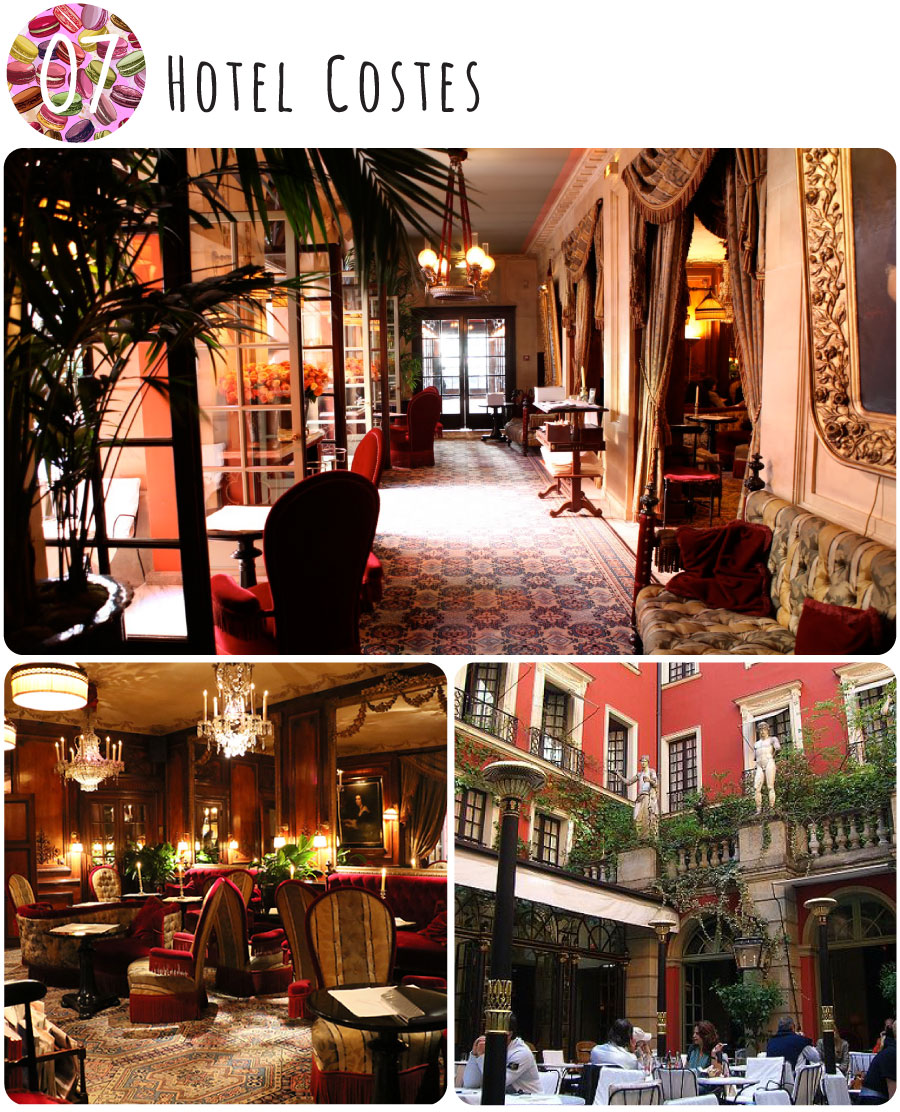 The restaurant is in the patio of Hotel Costes. Bright, filled with plants, smoking hot waiters and flawless food. I LOVE going there without having to worry about the time and their burrata is also something else. Yep, the burrata again. I also recommend their pasta, which is also worth every penny!
SITE: https://hotelcostes.com/en/costes/22/restaurant-bar/23/restaurant-terrace/
There's no way L'Avenue doesn't make it to this list. It's the fancy-must-go, you know? You can bet you'll bump into one or two tables with Brazilian people there. And that's fine. Look for a spot at the balcony, cosy up and spend a few hours sipping some wine and people watching. I absolutely love it!
The food is good (no big deal) and it's a bit pricey. We're actually paying for all the famous people who've been spotted there and hyped it up. But it's such a pleasant atmosphere that the overall experience is great. I guess there hasn't been a time when I've been to Paris without going there.
SITE: http://www.avenue-restaurant.com/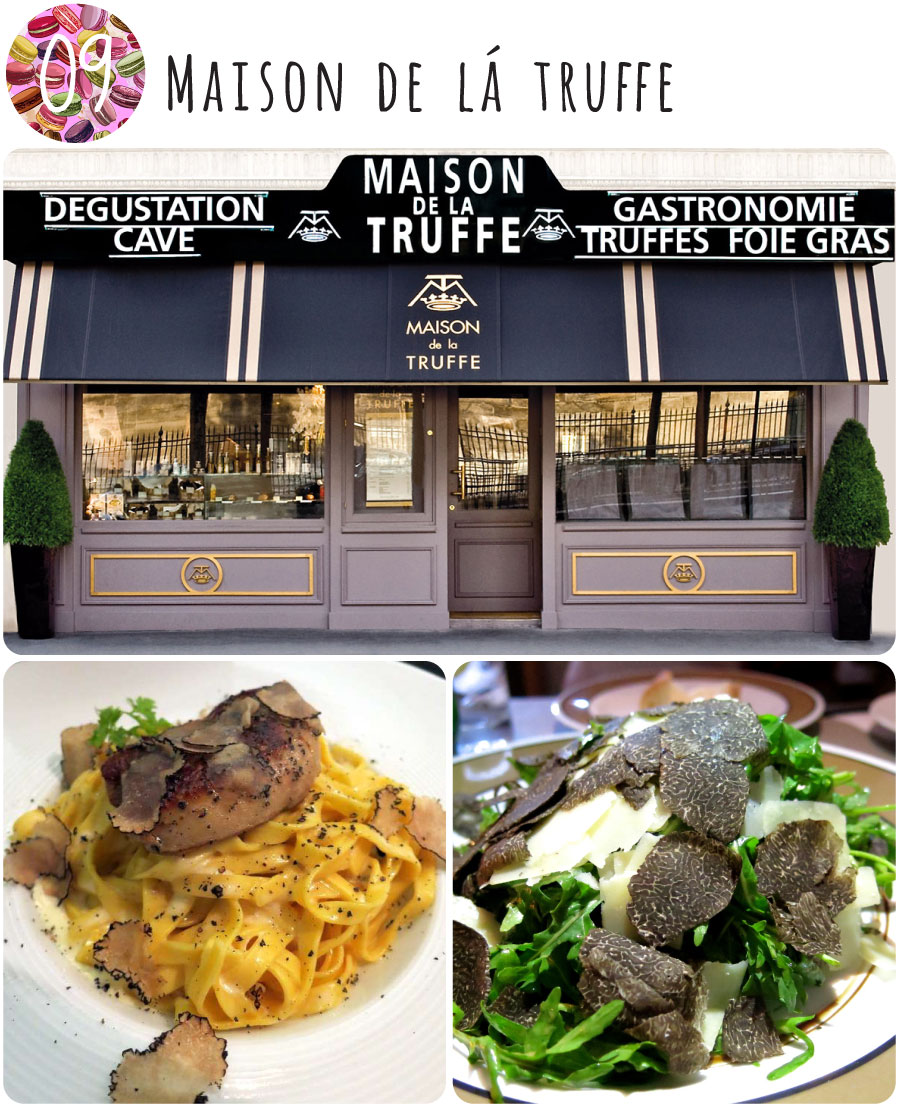 Another one to scare off those who despise tourist-like restaurants! But since I'm head over heels for truffles, I don't care. I go deep into it. And if you're into truffles, go for it to! Don't think twice!
It's more of a silent place, not at all hyped up, it's all about the food really. And also doing some shopping! They have a charming little market with truffled oils, cheese and spices for you to take home.
SITE: http://www.maison-de-la-truffe.com/en/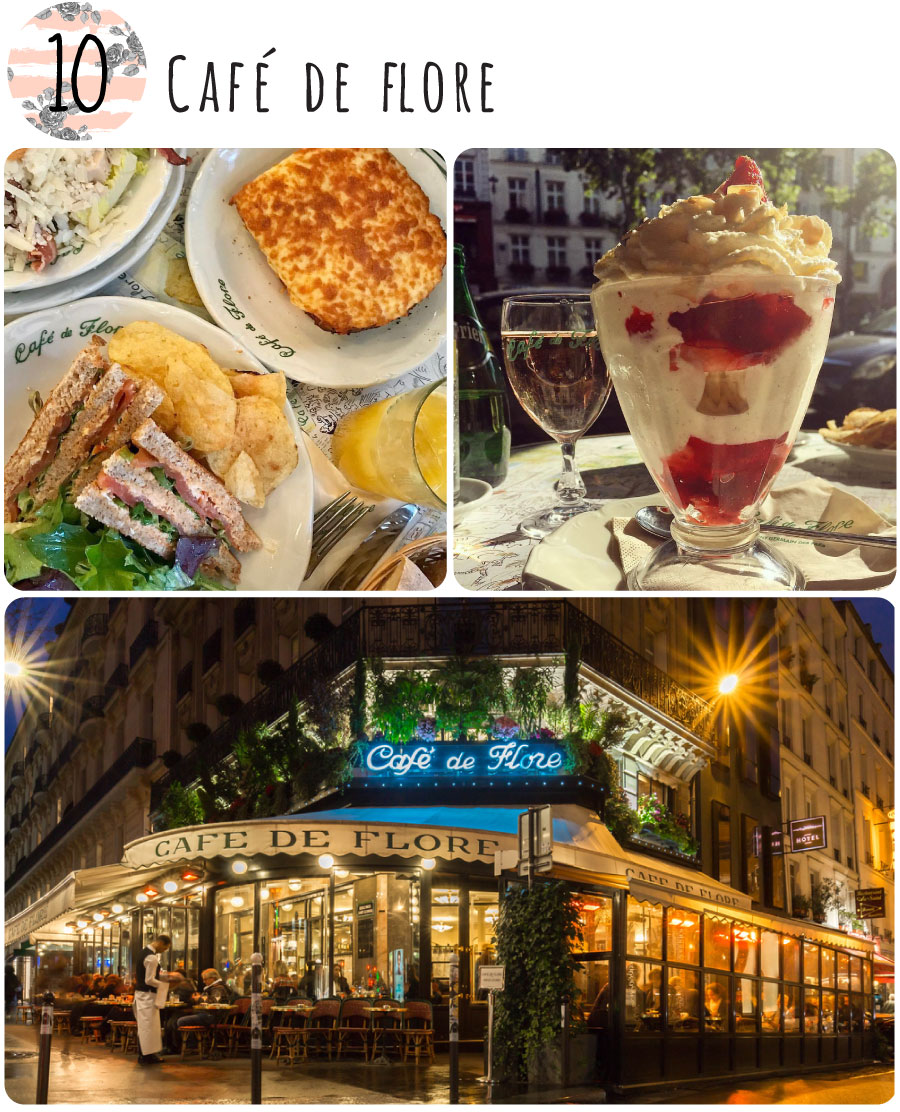 Last but not least: Cafe de Flore. 🙂
I smile just of writing this place's name. I guess I left it in the end of my list because I was focused on the restaurants, and this is a café. Sandwiches and stuff. Divine Croque-Monsieur. I've also been there at my first time in Paris and I ALWAYS go back.
I went there because I knew this was the café Sarte and Simone de Beauvoir used to go there. They used to spend their afternoons there drinking coffee and writing. That's why the square was named after them. And that became such a popular anecdote that the place turned into a tourist attraction and the menu prices went sky-high. But it's still worth it.
Go at least once to get to know it! I'm really attached to this place!
SITE: https://cafedeflore.fr/menu/?lang=en
Phew! That's it! Ten food love affairs on my (our!) list!
Feel free to add locations, recommend dishes and/or share your impressions of the places listed on the comments below. Make yourself at home!
And I can't wait to go back to Paris and start this list over. Again and again and again…
Au revoir, Paris!