Memories From Inhotim
Tuesday June 24th, 2014
Have you heard of Inhotim? No? Well… It's Latin America's largest outdoors art center, which hosts one of Brazil's most important contemporary art collections. Pretty big deal!
It's been on my "must-go" list for a while. So I took advantage of my week in Belo Horizonte + having my dearest friends reunited and took a day off to explore the place and cross it off my list! So we went!
It's in Brumadinho (small town in Minas Gerais! About 40 miles away from BH!) but the feeling is to be entering a magical, parallel world. No kidding. I had seen a bunch of pictures by friends who'd been there, some stuff on the internet, and I knew it was grand. My expectations were high. And yet I was surprised.
Think of a sculpture garden. Did you think? Now think of a museum inside a park. Then make it three times bigger. It's huge. It's special. The relationship between the pieces and the space, the whole green area, the smells, the climate, the vibe and the natural light that make the visit to Inhotim a singular experience.
It's not a trip. Not an activity. Forget about all that. It's an experience. One that engages all of our senses.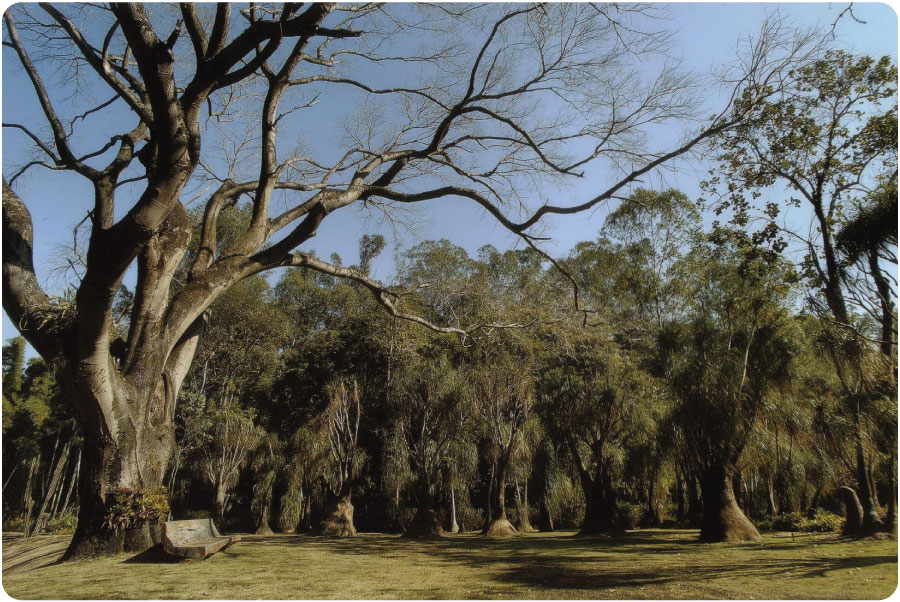 There are the permanent galleries and pieces. And also the temporary ones. So much to see. We weren't able to see half of it. A single day is not enough. And the little I've seen was enough for me to say: go! Whether or not you enjoy art. Whether or not you're a regular at exhibitions. Whether or not you're a connoisseur. Grab your friends and go! And you know why? It's impossible not to be carried away! No matter the relationship or interest you have on the subject.
I felt like the curatorship was very mindful about picking pieces that are able to impact the layman as deeply as an expert. And I speak for myself here! I'm an art lover, but I have a pretty shallow knowledge of it. I'm far from being an expert. All I know is about the things that touch me. That make me have feel things from looking at it. And, when it comes to Inhotim, look, hear, smell, step, lie, walk on and be carried away.
My favorite installation was one by a Canadian artist called Janet Cardiff. Actually, the two pieces by the artist they have there. They're entirely sound-based. The kind where you close your eyes and let yourself react. There are a bunch of speakers around the room. And each one of them has a voice or instrument to compose the choir. One of the most beautiful things I've ever seen. I found a video on the internet (they had a "no photos" sign and I'm so scared of being told-off! So I thought it would be safer to look online) which doesn't come close to the actual thing, shot with a phone by a visitor a bit bolder than me. But just so you can have a glance of what I'm talking about… I recommend you press play and keep reading this post! Check it out:
See?! That's what I was talking about… Being ready to engage your senses… All of them! At least one will understand why a or b was there for contemplation. Or interaction. So be available. Now let's move on to my memory box…
All so beautiful, right?
Well, practical tips now: wear comfortable shoes and clothes. You'll be walking A LOT! I recommend you wear boots or sneakers, since there are some installations with glasses on the floor and they don't allow people to go in wearing sandals.
It's pretty warm during the day but it gets chilly as the sun goes down. It's a good idea to bring a towel in your purse and lay it onto the lawn. We even had a bottle of wine in the boys' backpack to pop by the lake. It was delightful!
That's what I was wearing:
Espaço Fashion jacket (on SALE!), TopShop top, Forever 21 shorts, Luiza Barcelos boots, Camila Klein necklace, Dolce & Gabanna sunglasses and Gucci bag.
____
SERVICE: http://www.inhotim.org.br/
PICS: Eduardo Bravin + Reproduction + My phone!