Top 10 * Restaurants in LA
Thursday April 30th, 2015
Mmmmmmmmm…
I'm writing this post wrapped up in covers at my home in LA. My last full day here. Tomorrow when it's on, I'll be finished packing and getting ready to go to the airport!
Amazing how time flies when we're on a trip, right? Unbelievable. When you realize, it's gone by!
I've stayed a little over a month and it seems like I arrived yesterday. I've done SO MUCH, lived SO MUCH and ate so much times three.
I got a roommate who enjoys eating as much as I do, so you can imagine what happened. Not one day went by without us sitting at a restaurant.
The result? Another list of my (new!) favorite spots to share with you guys.
I mean, the one I made last year (HERE!) is still on. I tried several spots again: Gjelina (still my favorite in Venice), Toast (right around the corner and PERFECT for breakfast!), replaced Bar Marmont by the hotel's restaurant, where I became a regular, Boa is still incredible… A bunch of places I love and go every time I'm in LA! So don't forget to check last year's Top 10 ok?
And now to the news: the ones I tried and loved this time. Shall we?
Oh, yes, I added two extra ones to the list. This top 10 thing is a little limiting… So off I went.
Cecconi's is one of the best Italian restaurants in town. Very traditional. Delicious.
The crowd is a little older, all dressed-up (the whole restaurant is super fancy) and the food is amazing.
Just loved it!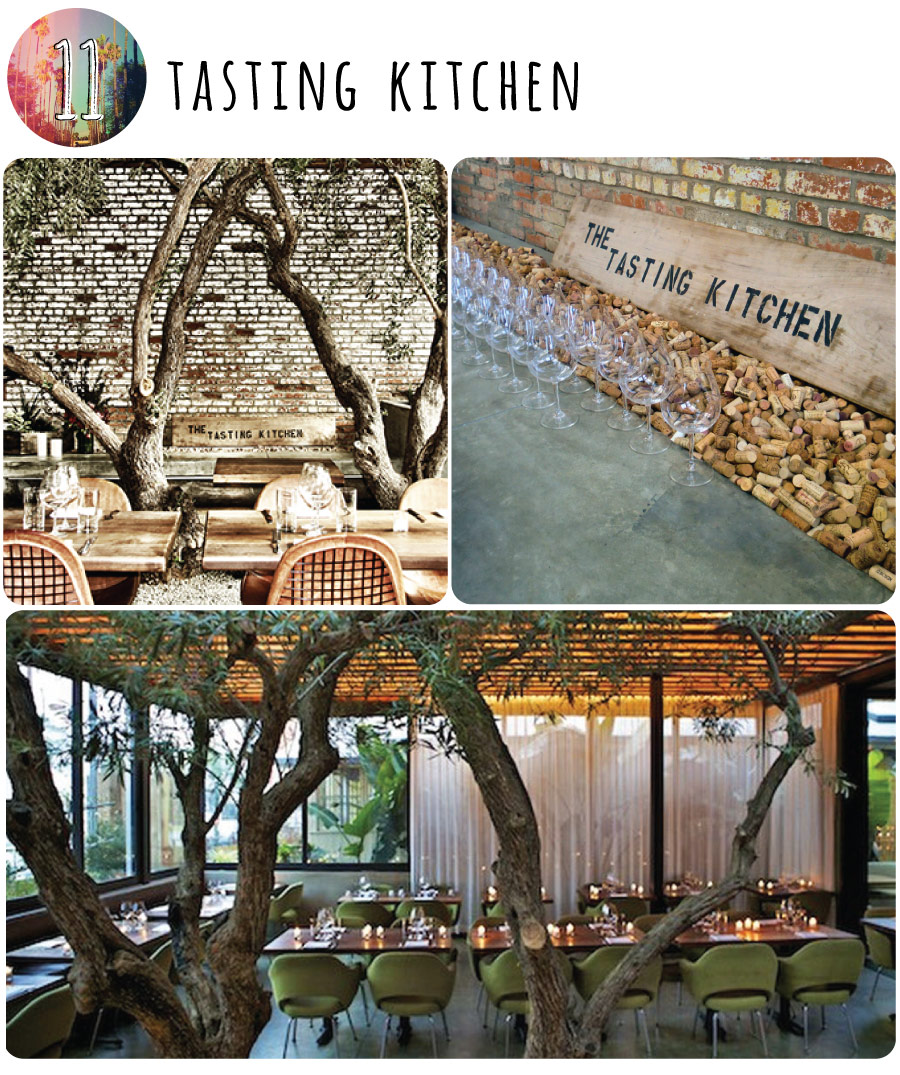 Tasting Kitchen was recommended by a friend who lives in Los Angeles for 6 years now. It's his favorite in Venice. Gjelina remains as my personal favorite, but I really appreciated his recommendation.
It's also Italian, and a little pricey. We had no reservations and sat at a communal table. Good food and all. But they sat us upstairs, where's empty, while downstairs is where the actual fun is.
If you're in Venice, it's worth the visit. I still wanna try it again, with reservations this time, to sit downstairs and feel the vibe properly!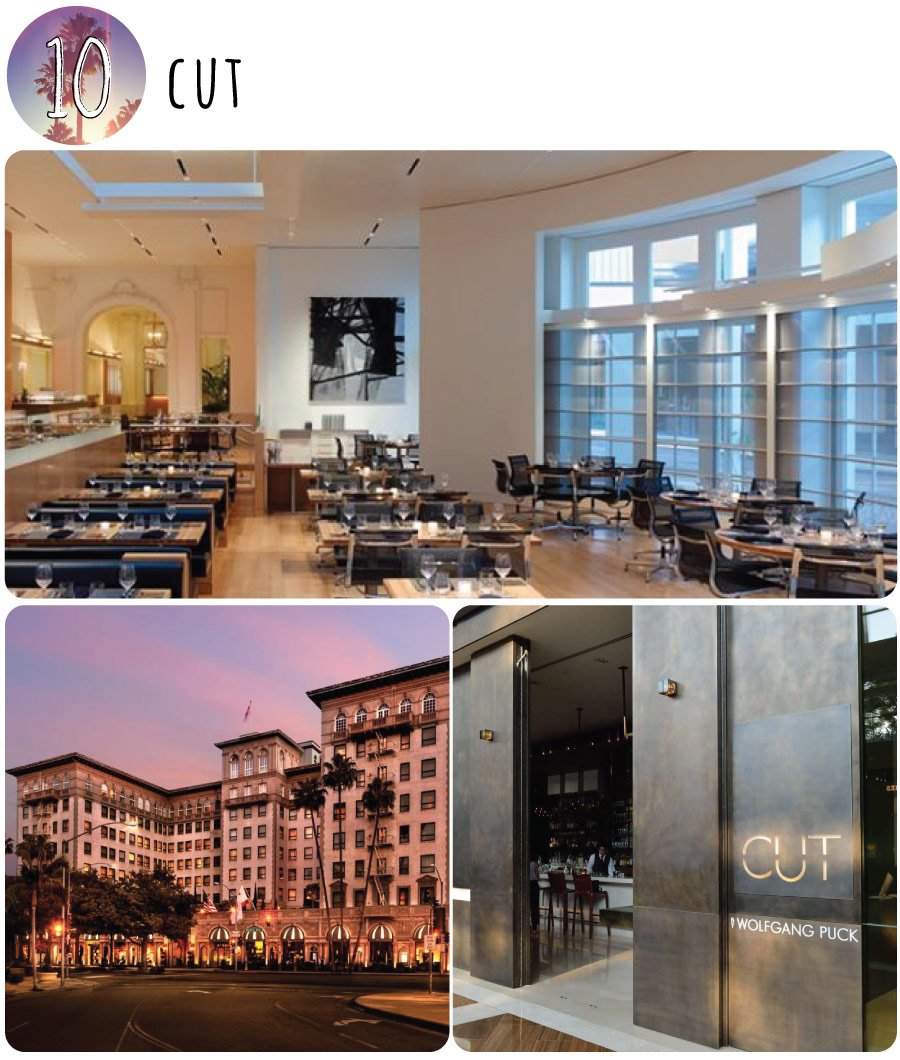 My friend who recommended Cut told me it was the best meat place in Los Angeles. Boa was at the top of my list of meat places, so I was curious to check it out!
It's located inside the Beverly Wilshire hotel, where they shot Pretty Woman. The hotel is a gem and the restaurant is pretty cool as well!
The food is reeeeally good. The meat was pretty good too!
Don't forget to book!
Perfect for breakfast, Urth is always packed.
Also good for meetings, seating with your computed outside, you know? Or even grab a coffee and peoplewatch.
It's full of organic products and has its own coffee and tea line.
I went for lunch, had an amazing prosciutto sandwich one day and a delicious lasagna on the other.
It's always packed!
Little Next Door is door to door with The Little Door, which I included on my previous list.
Delicious for brunch, breakfast or lunch. Reeeally good food, cozy atmosphere and full of beautiful people. So
If you're in for a more special dinner, Little Door is amazing and super romantic. Little Door is more laid-back!
Both are always packed with beautiful people!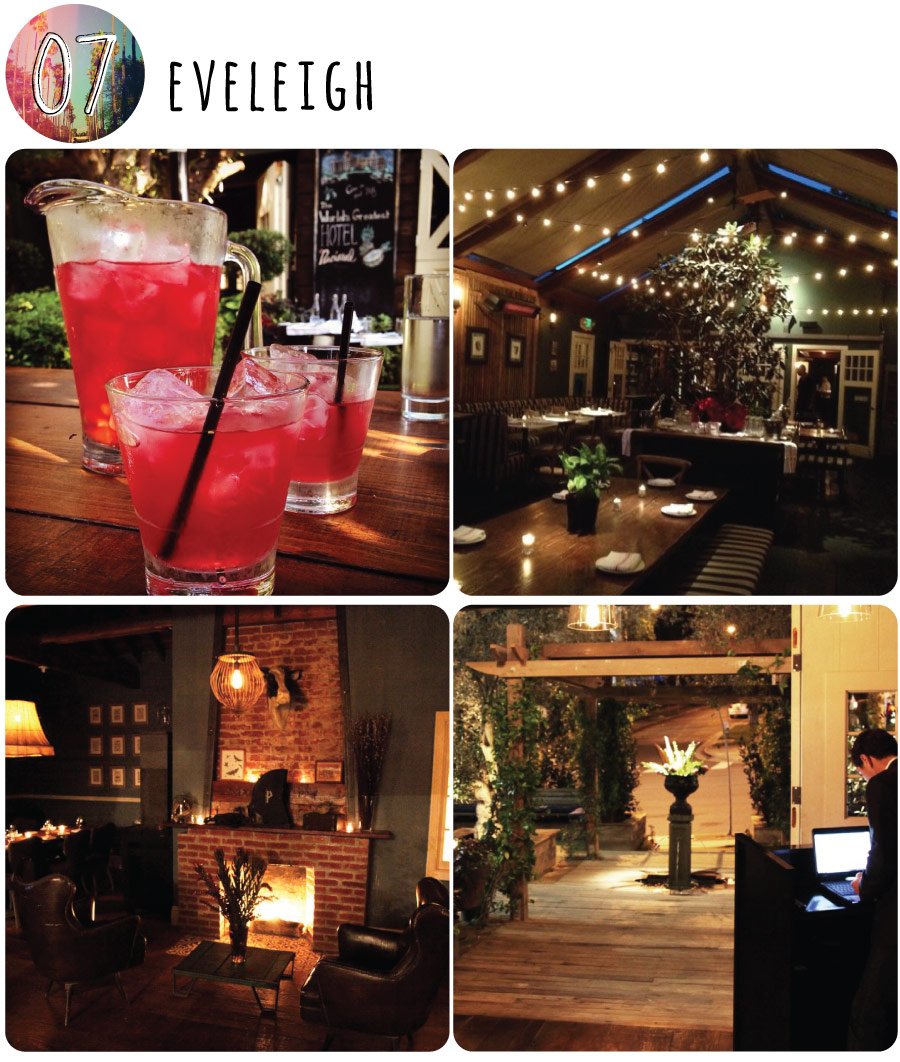 Eveleigh is the hot spot of the hour. You need to book and on Wednesdays it's veeery hyped up.
They have an incredible balcony (it's said to be the best outdoor patio dining in LA!), cocktail jars for up to 6 people, several dishes to share… It goes well with large tables.
I've been there with a friend and we tried a bunch of appetizers: amazing oysters, spicy artichokes, incredible burrata, delicious cauliflower, calamari with some pretty good toppings…
Everything was delicious! And the place was full of beautiful people!
Including the waiters and waitresses. All gorgeous!
High is one of the only roofs in Venice, if not the only one.
PERFECT for sunset cocktails! The view is breathtaking and the menu includes just a few appetizers, no dishes.
I had a delicious quesadilla, had some wine and watch the sunset curled up on one of their sofas.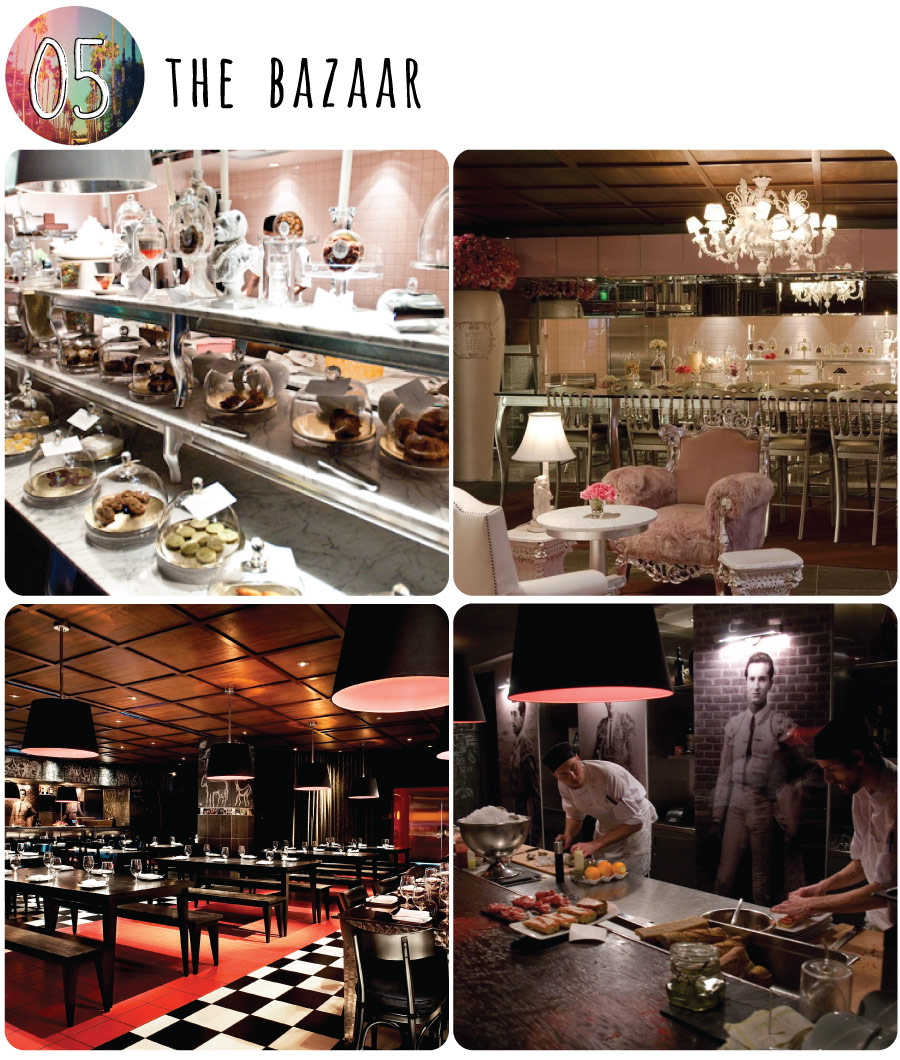 Bazzar is one of Thaila's favorites – she recommended it to me.
It's located inside SLS Hotel, suuuper cool hotel entirely decorated by Philippe Starck.
The place is huge! Several rooms. When you get there, you can have cocktails sitting at little tables where old movies are screened on the placemats. It's amazing!
Then, you change places for dinner. Last, but not least, there is the beautiful patisserie for desserts – another room!
The chef is pretty famous so they have that unpleasant policies such as disregarding your order with no pepper or your request for mustard. They don't even have salt on the table!
The idea is to eat exactly what the chef prepared. Like, he's put everything that was necessary, you don't have to (or can't! what?) add anything.
Don't forget to try the amazing croquetes, as well as a bread with melted cheese inside!
Hummmmmm… Delicious!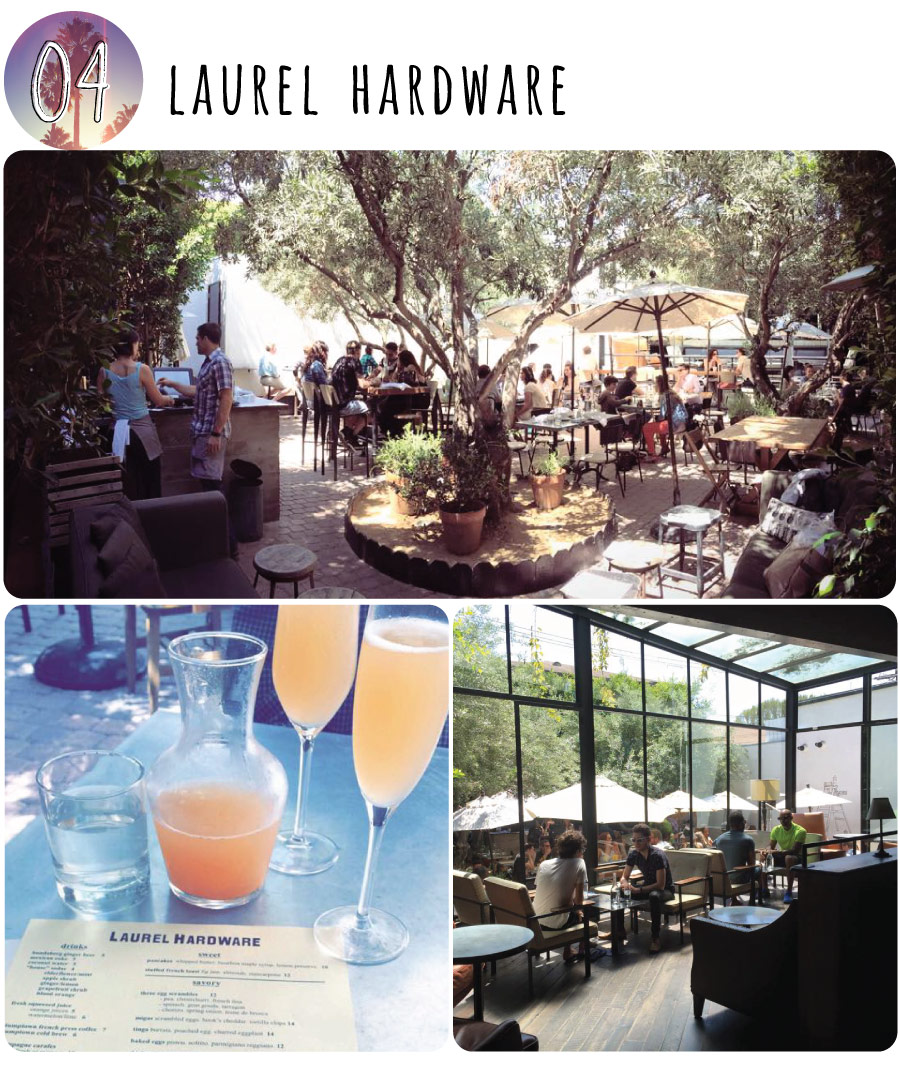 Want to flirt enjoy happy hour with beautiful people?
Laurel Hardware the best spot currently in Los Angeles!
A good option is going for dinner and then sitting and ordering cocktails by the garden or at the bar, which is always packed!
Delish!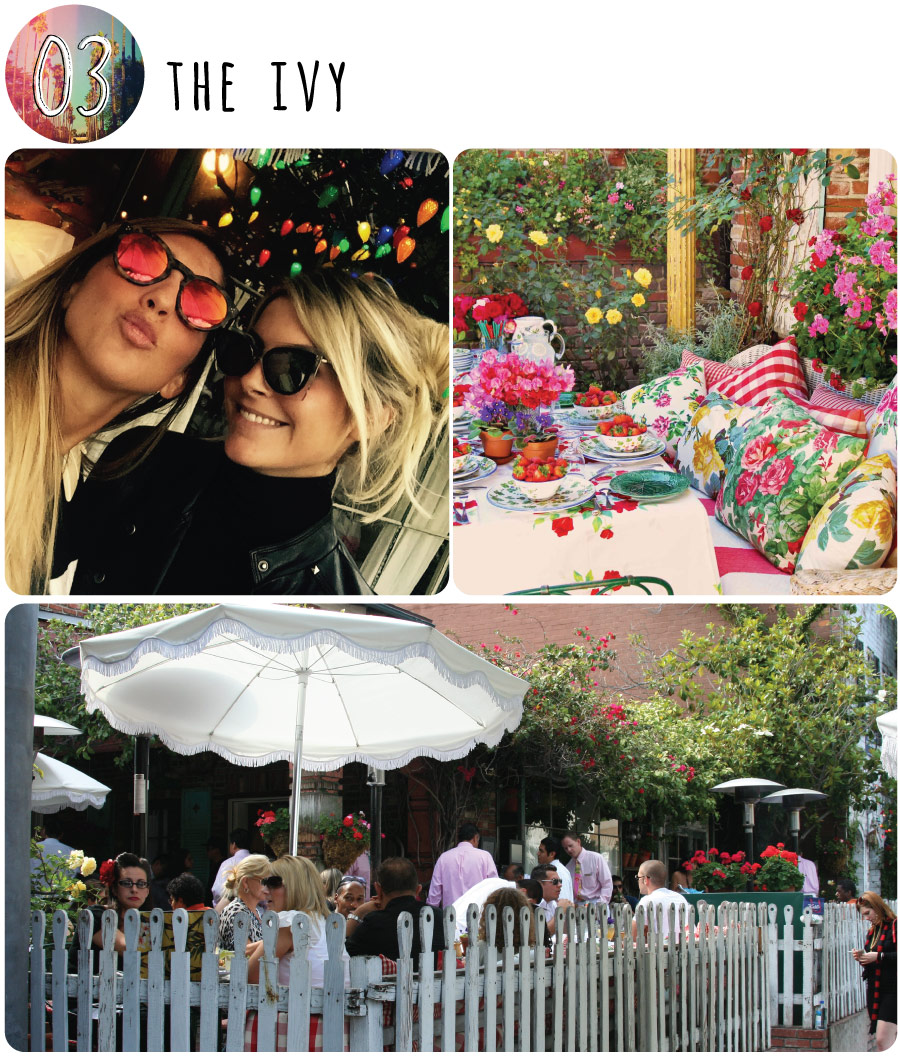 O The Ivy is the cutest thing and super hyped up from the start.
I've shown it several times on snapchat (julia-faria) you've probably seen it, right?
It's filled with flowers, super cute and has delicious food, not to mention the great wine menu.
I find it better for lunch. Kinda cooler. I've actually never been there for dinner.
But during the day it's pretty good!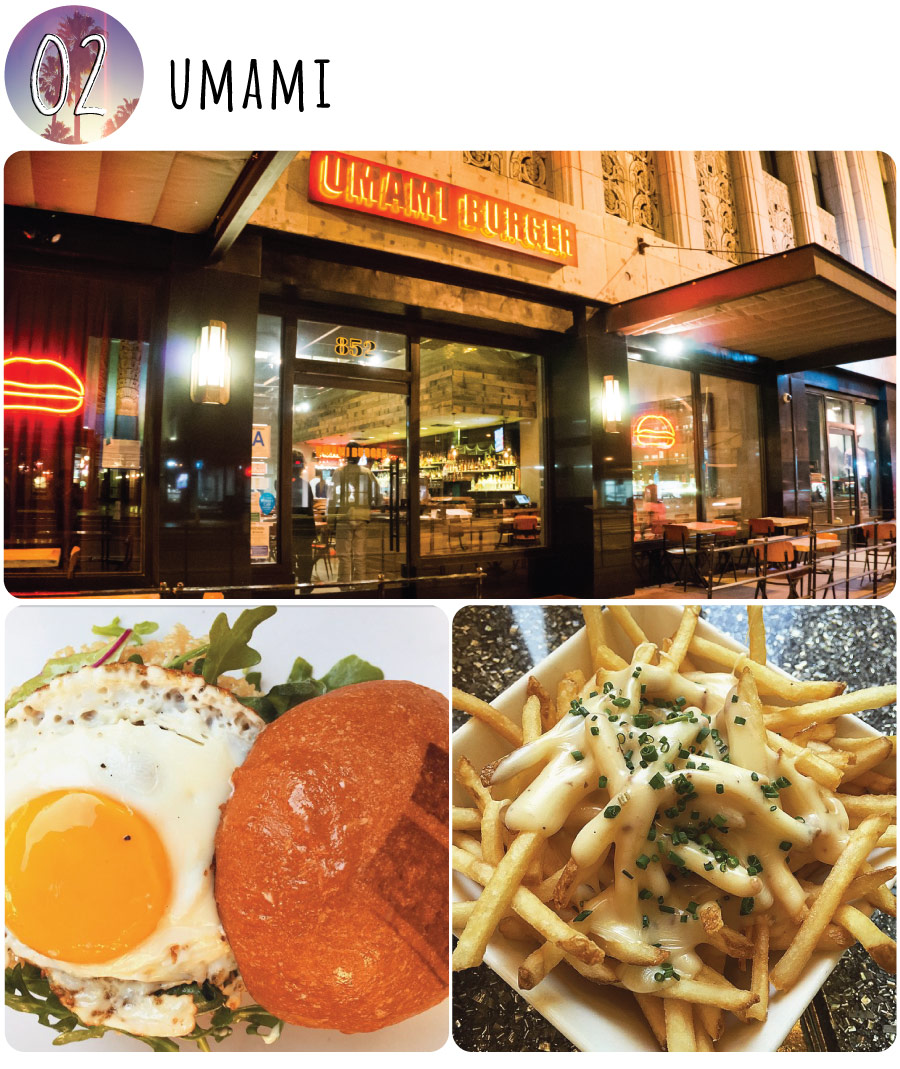 Umami has THE BEST TRUFFLED FRIES I'VE HAD IN MY ENTIRE LIFE. Just sayin'.
The truffled cheeseburger is also from out of this world. Seriously. Unbelievably delicious.
If you enjoy truffles and sandwiches, it's a MUST-GO.
After you have it, just come back here and thank me, ok?
When I said in the beginning of the post I became a regular at the Chateau, I wasn't exaggerating. I meant it.
I went there at least twice a week for dinner or lunch. It's located inside one of the coolest hotels in town and you won't be able to seat unless you have reservations.
You might even get a table at the lobby or inside, as long as you arrive at a not very busy hour or with a large group. Otherwise, forget about it.
The deal is to get a table at the balcony, where the atmosphere is great. Perfect for lunch, dinner, cocktails. Everything!
We love it so much that we celebrated Thaila's birthday there and today my farewell party will be there too! Our ACTUAL favorite! Nothing compares…
For those who enjoy spotting celebs, that's the right place! I bumped into Drake the day before Coachella, Justin Timberlake, Katy Perry, Kelly Osbourne, Adrien Brody, Mischa Barton and Cee Lo Green. All that in a month!
IMPORTANT: If you like truffles, it's MANDATORY to order the truffled rice cake with salad. It's one of the best things I've had in my entire life. Even the salad (which is not my favorite dish) is divine. I tell all my friends to have it and everyone gets addicted to it. It's UNBELIEVABLE. Argh, is it dinner time already?
Thankfully we still got a last round today, since I almost passed out (craving and missing it all) just by writing this post.
If you have any other tips about good restaurants in Los Angeles just tell us on the comments so we put everything together!
All I know is that I treated myself really well.
Really, really well…
Lucky me!
Hope you enjoy the tips!
See you soon, gorgeous LA!